'Sully Night' at the DARC Collective
'Drawing is metaphysical striptease' says Chilean artist Pato Bosich, one of three artists including Raul Pina Pérez and Jorge Rojas Goldsack, exploring the practice and experience of "Drawing."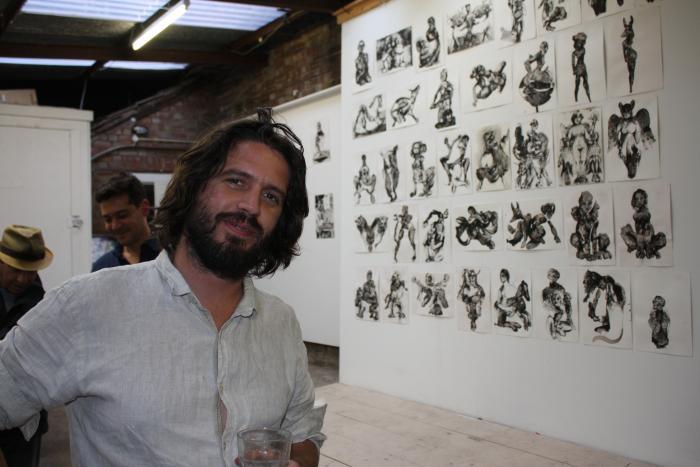 Raúl Pina Pérez described being "… fascinated by drawing since I was five years old, because I discovered it was like a kind of meditation. I liked not only to draw but to see the things and… after seeing them, to understand them… to comprehend how the universe was created. The 'book' says, at the beginning there was light, but light always comes with shadow, so the artist creates a concept in between, which is the 'line', even though it doesn't really exist".
Rojas on the other hand said that, for him, it is precisely that 'line' that is paramount, with the properties of the materials used, be they paper, ink, a pencil or tracing paper. [Drawing] is [therefore] personal and unique, like handwriting… there is a fragility … I have done installations and painting" adds Rojas, "but I am happiest when I draw."
Pato Bosich, doubled as one of the organizers and guest speaker. He also presented sections of an ongoing series of drawings entitled 'Antiquity', where 'mythological voices cross and transmute the organic into stony textures, animal and human are freed… opening a realm of the fantastic and supernatural'. Raul Pina Pérez from Mexico, focussed on the re-examination of symbols from Pagan and Christian traditions, questioning, reinterpreting and continuing from the Old Masters. And lastly, Jorge Rojas Goldsack, (Chile) in his series of drawings entitled 'Citizens', explored a very different view. far more political, delving into difficult themes such as immigration and isolation, and introducing a narrative element, which he plays with, juxtaposing and changing the sequences and exploring the powerful effects of proportions.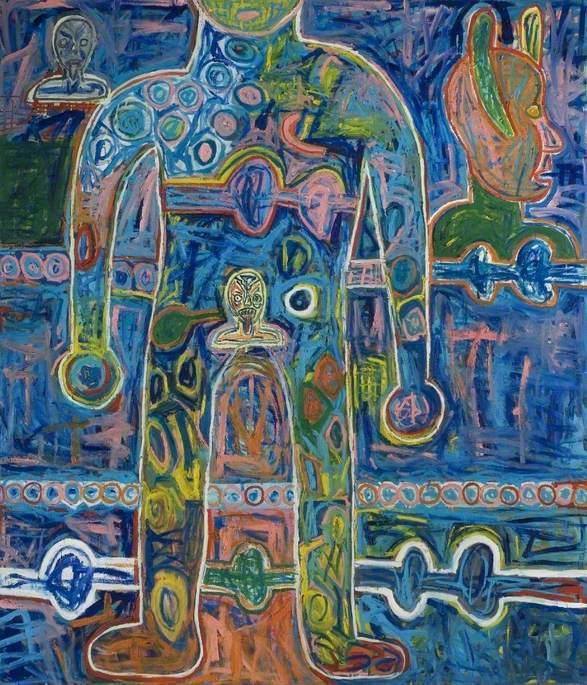 'Death of Painting' by Pina Perez
Many artists and thinkers have commented on the art of drawing, not least Quentin Blake, whose comment was on the cover of the Daily Telegraph Magazine: "Drawing is the most important thing there is", or Paul Klee, who, true to form, was more whimsical when he said: "Drawing is taking a line out for a walk".
These 'Sully Nights' are organized by DARC, the 'Documentation Action Research Collective', a group that examine the relationships of this world with art work and existence. This inter-disciplinary collective, founded by Manuel Vasson, and composed of six core members, has been supported by ACE (Arts Council England) and partnered with the SPILL Festival and the University of Roehampton. The Documentation element is a text that DARC share with DOCAM (The Document Academy) which, in turn , is a global collective that celebrates documents and documentation of all kinds.
The choice of the word 'SULLY' is not arbitrary, it is an old English word that means dirt and contamination, and so the group debate whether art is contaminated by commercialization. 'Sully Nights' are held on the first Tuesday of every month, an event accompanied by debate and discussion. The guest speaker can be an artist, as in this case, or a scientist, philosopher, or thinker to 'ignite a conversation towards specific topics'. As it is described: It aims to encourage a creative virus that offers the opportunity for exchanges, getting together, debating and inviting alternative views.
Every Sully Night is different, and it includes a nice break with some home-cooked food. It is informal and interesting as everyone present is able to participate freely and the debates can get very animated. There have been Sully nights with 'live acts' by Ana de Matos (March 2017), Luisa Nóbrega (Brazil) with her presentation 'Voice and Gesture' (June 2016), to mention a few.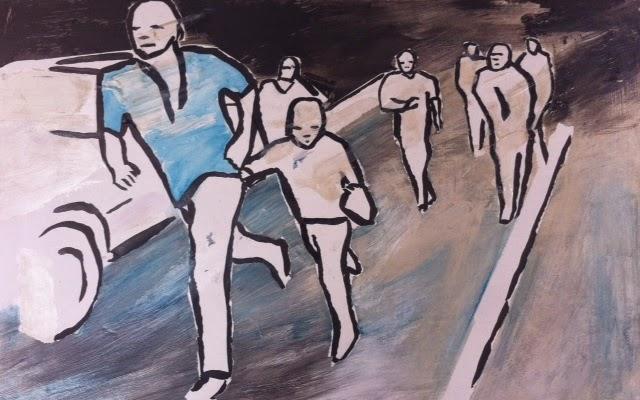 Jorge Rojas Goldsack
This idea of documentation does not always sit well with some artists however, for instance, Pato Bosich who spoke at the last Sully Night, opened his presentation with the words:
"It is amazing to be invited to an event about documentation. I, as an artist, am against documentation. Like Heidegger, I believe you are what you do. If you draw, you never document, and perhaps that is why it would be a nice way to start by talking about drawing: What is drawing? What's happening when you draw?
Drawing is a way of relating to the world through which one is transformed… a child is not a child if he does not draw. It is a natural way of being connected to the world, so there is something mystical… the act of drawing is a way of bonding, of becoming one with the world.
Drawing has also been very different during each period or age. You can distinguish what is generally called, the outline. You leave your body, travel across space, for instance, to that bonsai tree over there [on a shelf], and you start to touch it with your eyes, and your eyes are no longer differentiated from your hands, and your hands are moving. This also appears in many books, which I strongly advise you not to read, [they say] that if you don't look at what you are actually touching with your hands, you will see that, usually, the drawing will be really bad, but the line can still be good because you have become one through that perception. Like children, who can learn a language in a weekend."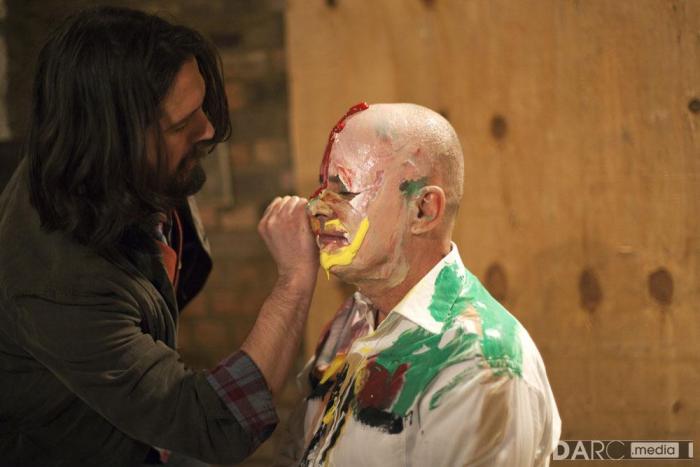 Pato Bosich working in his studio
Bosich's work is particularly interesting given the unusual textures that he has developed using ink and wine: -
"I found an amazing poem by an Andalusian mystic [Abraham Abufalia, from the creative period in Cordoba in the Middle Ages) that speaks about having a revelation. He understood the essence through a strong battle to separate blood and ink, and for me these are super important symbols. The ink is obvious, it is what is there, but the blood is not so obvious. Although wine could be related to the Christian tradition to equate blood with wine, for me, a good drawing is always bled, in the sense that you make it with your own confusion."
Bosich developed his drawing technique through his attempt to understand some of the power of the antiquities that he was studying in the British Museum.
"If you see a granite goddess from Egypt with all the signs of life watching you, from five thousand years before Christ, no one can draw that! How to compete? How to converse with that figure? So, I chose two secondary elements, ink, and just as important, wine, that is a metaphor for blood, and I started to mix them and I don't really know why, because it might not be original, but it was original for me. The wine curdles and breaks up the ink, so I have to work in a liquid state drawing directly on a flat surface, and I go drying the image with blotting paper and kitchen towels. I could never have done any of these without these textures that are so potent."
Pato Bosich: www.patobosich.com/    and https://youtu.be/7KAacnx_Yrw
Raul Pina Perez: http://www.londonsartistquarter.org/artist-hub/users/raul-pina/profile
Jorge Rojas Goldsack: http://rojasgoldsack.blogspot.co.uk/
Cuba's natural setting, with its own historical and cultural...
From garage parties in Panamå to the awards ceremonies of Miami, how...