The Accidental Hero
Once a struggling rock star in Bogotá, Carlos Vives became a national symbol almost overnight by fusing Colombia's traditional vallenato rythmns with modern rock and pop. As if to represent the unity of a country in conflict, the universal popularity of this carefree Caribeño has surpassed any other musician in Colombia, including Shakira and Juanes. In this exclusive interview, the vallenato rock star tells Latinolife what fame feels like, the value of roots and authenticity and much more.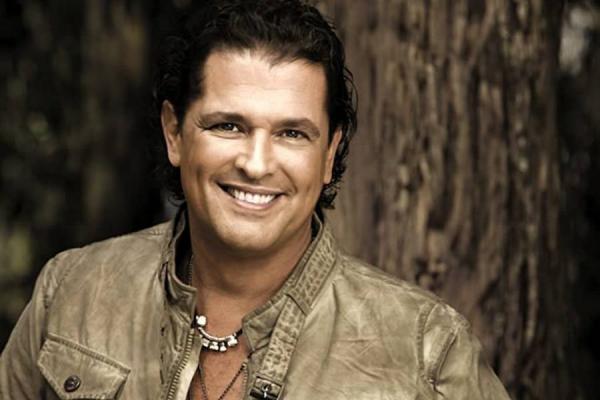 A sturdy drum-heavy rhythm, electric bass and guitars, make way for a sweet Colombian gaita pipe. A diatonic accordion joins in and envelopes you in a melody so catchy and overpowering that without even realizing, you are dancing to La Gota Fria. This was the song that in 1993 marked a milestone in Carlos Vives' career as an international Colombian pop star, long before Shakira and Juanes.
The song is a traditional vallenato composed by Emiliano Zuleta in 1938. At that time juglares (troubadours) settled scores by improvising and Zuleta accused rival singer Lorenzo Morales of breaking out in a cold sweat ('la gota fría') and leaving the party early in an attempt to avoid an accordion duel he was doomed to lose.
Originally a rock musician, Carlos Vives' transformed the traditional vallenato sound of the Colombian Caribbean. Traditionally played with an Afro drum (caja), an indigenous guacharaca and a European accordion - a perfect metaphor for Colombia's mestizo heritage - Vives' rock interpretation captivated the youth audience.
"I recorded those vallenatos because I wanted to find another way of expressing this tropical musical heritage that is uniquely our own, different from the Cuban tradition which is typically orchestrated with timbales and congas. Of course what Cuba was doing was very important, but we wanted to return to our indigenous roots and start again."
Born in Santa Marta (Magdalena) in 1961, Carlos lived there until he was twelve. When his parents split up, he moved to Bogotá with his mother and his brother. By the end of the 1980s he had recorded three rock albums – which were not very successful – and played several roles in soap operas.
In fact, it was as an actor that Vives' break came; in the 1991 soap opera Escalona, based on the life of Rafael Escalona (1927-2009), one of the most important vallenato composers of all time. Vives not only played the role of Escalona and sang his songs, he also released two albums of classics like 'La casa en el aire', 'El testamento' or 'Honda herida'.
Having got this break, Vives' next records Clásicos de la Provincia (1993) and in particular La Tierra del Olvido (1995), which brought together big Bogotá names ('Teto' Ocampo, Iván Benavides and Carlos Iván Medina) and traditional musicians (Egidio Cuadrado, 'Papa' Pastor' or Mayté Montero), catapulted him into a status of national idol, as if his music could in itself deliver peace to a nation in conflict.
Most Colombians hate or or love vallenato, as if it defined them personally. But every Colombian loves Carlos Vives. Not surprisingly, as if by accident, Vives became a symbol of unity, sanctified like no other Colombian pop-star.
So, how has fame treated you?
"I am 54 now. Perhaps because of my education or my family, I quickly learned not to get carried away and to be grateful. I was 18 when I started on TV. I had just finished school and was in prime time soap operas, so it would have been easy to be stuck up. But maybe my environment, the people I grew up with, or the reality of the land I am from, helped me understand that my job is like anyone else's. If I've been lucky enough to have a life that's a little more comfortable, I try to serve and help other people. My brother and I have a bar/restaurant in Bogotá called Gaira and I still work there. We have 200 people working, between actors and staff".
I have so many questions: did he know that his vallenato rock was going to be so popular? Cumbia is now hugely popular, is the same thing happening with that?
"I wanted to record vallenatos because I thought that what happened with rock and roll in the U.S. could be done here too. The blues was folk music, of humble origin on the Mississippi river, which was later industrialized, electrified. Cumbia and vallenato are also matrixes, like blues. In Colombia we have talked so much about cumbia as Colombia's greatest afro contribution to Caribbean culture. However, although it is Caribbean, cumbia's major influence is on the Andes, where the indigenous cultures are, and it has stayed in the Andes, to the extent that from Argentina to Mexico people think of cumbia as local. I even wonder if Selena knew before she died that the patterns of her music and arrangements came from the Colombian orchestras that tried to play cumbias in the traditional way."
Roots are clearly important to Vives and he mentions the power of cumbia in Bomba Stereo who" definitely explored and exploited catchy lines and rhythms which work so well with electronic music." He does, however, warn young musicians against creating music for the market rather than for its own sake:
"There are many young musicians who are more focused on the market and less on a music, with lots of social media and new fragrances… but without music!"
Yet it is also clear that Vives' value for authenticity isn't a provincial view limited to his own music. It only takes a mention of Argentine rock star Charly García to get him started (he recorded Charly's songs in one of his 1980s albums)."Charly has left a mark. Charly to me is… a god. I respect his work a lot, it fascinates me,"
And how about reggaetón?
" When people talk about reggaetón I find there is a lot of confusion and I get frustrated by people's ignorance. For example, it's easy to complain about some of their poor lyrics or sounds. But what I've found is that, when you look at reggaetón's history and you go to Puerto Rico and Panama where it all started, reggaetón's origins are very, very ancestral rhythms. And cumbia is there in reggaetón, no doubt about it. Cumbia is one of the big ingredients, so raggaetón is a new machine, a new expression of very old patterns".
When Carlos mentions the blues as sharing patterns with these two very popular Latin American rhythms, I cannot help but think of Gabriel García Márquez. The influence of William Faulkner and other writers from the US South on the Colombian are well-known. And Gabo himself described his book 'One Hundred Years of Solitude' as a vallenato, a long story that talks all about life in the Caribbean.
"The town where Gabo was born, Aracataca, is only 30km from Orihueca, where my grandpa had his small ranch. There are so many connections between Gabo and his dear friend Rafael Escalona. Both created fantastic worlds, one with words and the other with songs. And the whole region is so full of fantasy and creativity".
Vives can also be seen as part of this tradition, of bringing the landscape of magical realism to a new generation, through music rather than words. Talking to Vives is like plucking clues. If I were a musician I would be writing everything down as rules, indicators, for example the importance of relying on great musicians in the creative process.
"We've had some big dogs, so when people like Teto plugs in the guitar or Papa plugs the bass there is very little I can say. Today I work with Andrés (Castro) on guitar and also as a producer, but we've always been a big team and work with lot of freedom".
Vives' music has changed over the years, the earlier songs more experimental, linked to vallenato. Recent ones like Más and Corazón Profundo are slower and more melodic. Carlos is far from defensive about this suggestion.
"Yes. We recorded it after a break of about eight years during which we were working on and producing other projects. That made me see more clearly and making the album was easier, less entangled in terms of the kind of sounds and the concept I wanted. In the previous stage there was a lot of experimentation and we always tried out a lot of things. Today things flow well as result of the learning process we went through. I think the original drive is still there, and the original motivation is intact. Of course, I feel these albums more commercial than the previous ones. I'm not talking of custom songs or anything like that, but many things happened in the meanwhile, many years of transition".
Vives' honesty reflects his friendliness and modesty. When I mention his show in London, he responds like an excited child, "Qué groso, si estás en Inglaterra, groso!" (In England, you rock!), as if he doesn't.
In fact, he recognizes he doesn't really need to play in England.
"Usually concerts happen in the places you sell CDs," meaning that in the UK, he doesn't really sell CDs. "That's why we generally go to Spain, there is a strategy of promotion and doing shows, and there is a historical relationship with the community. Coming to London is like an 'extra', an opportunity to come and play for our Colombian and Latin community here. They have been asking for us to come and we're really happy we are making it this time!"
Carlos Vives is performing two shows in London in June. The first is at O2 Academy Brixton on Friday 24 June, this show was originally scheduled for March 31 and tickets for that date are valid for this show. New seats and standing tickets have just been released for this show http://www.comono.co.uk/live/carlos-vives/
Due to overwhelming public demand Carlos has added a second show the following night at the Royal Albert Hall on Saturday 25 June http://www.comono.co.uk/live/carlos-vives-rah/
An Ethnography of the Peace Community of San José de Apartadó,...