Akumal - A Corner in Paradise
If Tulum is too trendy and Playa del Carmen's party vibe isn't your scene, take time out at Akumal. Just don't pester the turtles, says Elizabeth Mistry.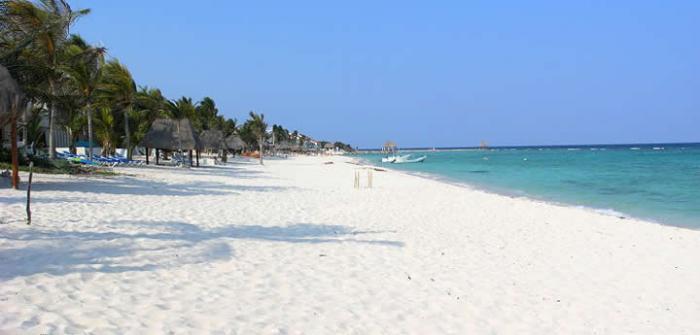 The sun is peeping over the horizon when we creep down the stairs from our apartment facing Jade beach - a crescent-shaped bay almost halfway down the Mexican Caribbean coast which stretches from Cancun in the north to Chetumal on the southern border with Belize.
There are no high rise buildings on Jade Bay. Las Villas (28 spacious apartments with ocean or garden views) is a pleasant arrangement of three two storey buildings topped with a palapa roof where we found a relaxed restaurant run by very accommodating ladies who know the secret to keeping families happy is plenty of fresh fruit, decent coffee and a relaxed attitude to breakfast time.
At such an early hour, only the resident iguanas are out by the pool catching the first rays of the day while directly in front of the property, a solitary pelican swoops low over the water.
We pass by reception to borrow snorkelling masks before slipping through a gap in the hedge, taking care to skirt a large dip in the sand right on the other side. In our efforts to give it a wide berth we almost trip over another a huge cavity.
I need to stop for a moment to ensure I don't blunder through the dozen or so holes scattered around us. Each one a small triumph for some of the marine world's most endangered creatures - the green and loggerhead turtles whose forebears have returned to the beaches of Quintana Roo for centuries - heaving themselves up the beach and digging their nests - all while we were tucked up in our heavenly beds just a few steps away.
We're heading to the main beach at Akumal where turtles are known to congregate near the sea grass beds just offshore. En route we pass several private houses and scamper around more marked nests, some several weeks old. A weathered tree trunk washed up on the shore line briefly becomes our imaginary boat and we fantasise about living here and paddling up to the ruins at Tulum which was once an important ceremonial site for the Maya who inhabited the Yucatán peninsular for hundreds of years before the arrival of the Spanish.
The sand here is coarse and crunchy - a reminder that the reef is just a few hundred metres offshore. At times it is difficult to avoid treading on the tiny pieces of coral, little bleached bones of a larger sub marine skeleton or much bigger 'brains' - all of which are officially protected - as are the turtles which has lead to an inevitable conflict, even in this little corner of paradise.
Our little family of three plans to snorkel responsibly. We know that means maintaining a minimum distance of at least 5 - 10 metres from any turtles we may be lucky enough to see as well as keeping away from the coral which has been badly damaged in the past by swimmers using flippers which have stirred up sand and smothered parts of the reef. We're wearing rashie tops instead of sunscreen (if you must wear protection, make sure it is reef friendly, not just biodegradable and avoid applying insect repellent if you are entering the water).
We're also aware that moves to limit the number of visitors to beach - along with a bid by a private organisation to charge people (including unfairly, locals) a fee to access the beach at Akumal resulted in some unpleasant confrontations earlier this year. At the time of writing, while the issue is still to be fully resolved - meaning that some visitors who approach the beach from inland may be asked to pay to proceed - it seems that the moves to limit numbers are partly to avoid further environmental damage.
It isn't long before one of our party peels away before returning to report a slow moving "turtle-shaped" object on the edge of the sea grass about 20-30 metres out. Two of us return - but the turtle has moved on and we begin to head back, my disappointment hidden as best I can.
And then, when I least expect it, I see two strolling along the sea floor just a little way below us.
Just for a moment, a shaft of light pierces the water and illuminates them. We move away almost immediately in order to avoid disturbing them and swim back to the shallows - and breakfast at Las Villas.
GETTING THERE:
Aeromexico (www.aeromexico.com) flies to Cancun via Mexico City six times a week from 446.00
Buses from Cancun to Akumal depart several times daily.
Las Villas Akumal (lasvillasakumal.com) has one, two and three bedroomed apartments from £94.00 per night plus local taxes.
Accommodation was provided by Las Villas Akumal.
A book which tells the story of the Amazon and its ports-towns near...