Albita - The Latina Alter-Ego
Grammy and Emmy-winning singer Albita, once a protégé of Gloria and Emilio Estefan, is now performing in 'Carmen La Cubana' - the tragic tale originally adapted into the famous opera 'Carmen' by Georges Bizet from the 19th century novella by Henri Meilhac and Ludovic Halévy - re-adapted with an authentic Cuban feel. Albita plays a newly introduced character of a 'Santera' who guides us through the play. We talk to Cuban-American diva about her journey from Miami's most unique Cuban Salsera to London tage diva.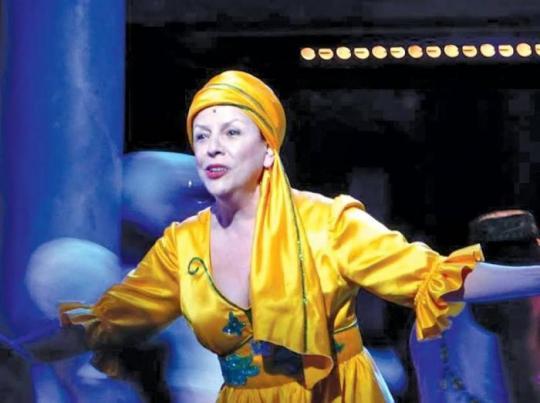 Set in the explosive times of the 1958 Cuban Revolution, Carmen la Cubana, inspired by Oscar Hammerstein II's Broadway hit Carmen Jones and with a huge cast of 40 dancers, singers and musicians, opened its tour in Paris to rave reviews. The production has been in Germany and is at Sadler's Wells until August 18th. The role of 'Santera' (a worshipper of Saints) was especially created for Albita Rodiriguez, who is not so known internationally but has been one of Miami's best known Cuban singers for decades, by the dance-opera's director, Christopher Renshaw, and Albita was delighted:
"This opera is probably one of the most famous and traditional. The Cuban arrangements by Alex Lacamoire are spectacular! For a country that has been known largely for its politics it gives us an opportunity to a show the variety of rhythms and the richness and versatility of [Cuban] music. This interpretation is really my 'salsa'! When we presented it in Paris, where this opera is so well-known, I was really scared … but luckily, it was very well received."
This is a truly successful version of Carmen Jones. The music and the orchestra are electrifying and the dancing is fresh and the stage erupts with colour and shapes. Many of the spoken dialogues are funny and witty and the whole show is enormously entertaining. The characters are well defined and, in parts, delightfully non-PC which was so refreshing. It was unexpected with such a huge cast to find such a high standard of singing and dancing. Luna Manzanares Nardo is totally convincing as the sexy Carmen. The whole show oozes natural spontaneity and sexual energy. There is something about these Cuban beats and rhythms that even men in suits dancing to them look sexy, no matter how thin or fat. Saeed Mohamed Valdés, as José sings the arias with sensitivity and melodic sensuality. Here is a story around a strong woman who holds her own in a world of men.
Indeed Cuba provides both the perfect setting for one of Opera's most sassy, sexy and dramatic protagonists, not least because of the pool of huge talent and high level of training that exists in Cuba in all the play's required elements - music, song and dance. For this small island in the West Indies has given birth to some of the most sophisticated dance and music in the world. In Cuba, the richness and wealth of its music is appreciated in it's diversity; the traditional and elegant 'danzón' in the 19th century; the Rumba, developed by ex-slaves in the 1890s, using a variety of percussion instruments, including the congas, the claves and marugas (iron shakers); the 'Son' bands, usually sextets with vocals, maracas, claves, a tres (type of guitar), bongos and a double bass and the Mambo; a direct descendant of the danzón which was commercialed worldwide with its riffs and fun dance style that is all hips, shoulders and above all, attitude. There are the other rhythms like cha- cha-cha and boleros that also developed from these musical bases. All of them, both sophisticated and highly danceable.
In the 1970s, these wonderful rhythms merged in New York, into what is known today 'Salsa' e term first coined by a Venezuelan Radio DJ, and marketed worldwide by Jerry Masucci and his 'Fania All-Stars' of incredible bands and singers (Tito Puente, Hector Lavoe, Ray Barretto, Mongo Santamaría, Johnny Pacheco, Eddie Palmieri, Carlos Santana, Jimmy Sabater, Celia Cruz, Willie Colón.
This rich core set the precedent for many stars later on, and Albita is one of them. Discovered by Gloria and Emilio Estevan in the 1990s in MIami, she was different to everyone who went before her, a strong powerful presence, here is a woman, who refuses to be pigeon-holed into traditional female latin roles, and the first openly lesbian salsa star to breakthrough in that highly macho world.
Albita's magnetic presence on stage in Carmen is backed by her versatile singing that can effortlessly move from big-voice salsa to the gentlest ballad. Not surprising, as she was born to talented and musical parents (Martín Rodríguez and Minerva Herrera) in rural Cuba, who were already well-known for playing the local folklore: -
"I was brought up in a home that was super traditional, my family were farmers and peasants… but my parents were great singers of the country music of Cuba … music like that of the 'payadores'… that is based on improvisation…I might have decided to leave Cuba… but I never really left. I carry Cuba in my heart, no matter where I am."
Albita refers to her parents as poets and she was so prolific with the improvisation of lyrics herself, that already at the age of seven, she would ask her parents to play the guitar for her so she could create the verses.
"But from the day that I had my first guitar and learnt the first chords, I immediately started to compose my own songs. In the end, I learnt entirely on my own, by ear, singing… in the street…practising and listening to a lot of music and always trying to remain open to all the different cultures."
When she decided to defect, Albita was in Colombia, where she remained for 3 years. When she moved over to Miami, almost immediately, in 1994, she landed the opportunity to record with Emilio Estefan's (husband of Gloria) record label, Crescent Moon and brought out her first USA single: "Qué Manera de Quererte", (What a way of Loving You), followed by her album "No se Parece a Nada" (Like Nothing else). She has never looked back.
Her most recent single 'Se te Cayó el Tabaco' (You Dropped your Cigar), initially released in 2017, immediately won a Latin Grammy and with its Cuban 50s Big Band sound it has been a hit. It will now be released in the UK as a single and an album which will also include the saucy 'L-O-V-E', the classic 'Angelitos Negros' (Black Angels) and 'La Vaca Mariposa', (The Butterfly cow).
Albita has shared the stage with many renowned singers and musicians, including Phil Collins, Juan Luis Guerra, Gilberto Gil, Hugo Sandoval, Paquito D'Rivera and most importantly Celia Cruz: -
"Celia was a magnificent person. She was banned in Cuba, so I didn't know about her, although, when I left, I started to hear her music although I had never met her personally. When I began to have some success, her manager called me to say that Celia would like to work with me requesting a list of my conditions. What?! I said. Tell Celia that I will accept anything she wants! So, we were able to work together and I learnt so much from her, not only about music, but about being a human being! She was so generous of spirit!"
Taking part in a musical is perfect for Albita, it exploits her acting talents as well as her musicality. But it is not the first time she has performed in this way, as in 2005, she was in the 'Mambo Kings' musical (based on the 1992 film with Antonio Banderas).
It was a success which surprised her: "There were some excellent reviews. I was terribly nervous because it was massive challenge for me. I don't speak English very well, I can communicate, but it's not my mother tongue and therefore not very fluent, but I was the one that had to be the 'narrator' of the story! It was tremendous! But there were some really great reviews and in the end it all went well.
Carmen is also a huge challenge, as if you had died and someone tells you to continue… every night. But in the end, I am passionate about all music.
Music is like making love, to do it, you have to be in love!"
'Carmen La Cubana' is at Sadler's Wells from August 1st – August 18th 2018.tickets here
Director Christopher Renshaw (The King & I/ We will Rock You/ Royal Opera house and Glyndebourne)
Orchestrator & Arranger Alex Lacamoire (Tony & Grammy Winner)
Scenographer Tom Piper (Seas of Red at the Tower of London/ Zorro)
Choreography Roclán González Chávez/ Graduate of Escuela Nacional de Arte in Havana /dancer with Ballet Revolución, Cuba
Scripwriter Stephen Clark (Martin Guerre- Olivier Award for best Musical)
Scripwriter & Lyricist Norge Espinosa Mendoza (Critic, essayist, poet and dramatist from Cuba)
Cuba's natural setting, with its own historical and cultural...
From garage parties in Panamå to the awards ceremonies of Miami, how...