Bar Esteban, Crouch End
North London's Quirky Crouch End is home to a charming Catalan-Basque-Scottish infused Spanish restaurant, buzzing with personality and ambition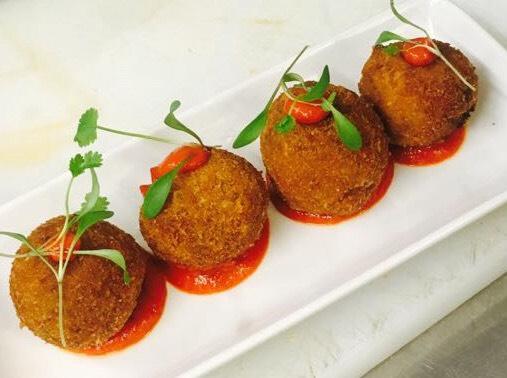 When you walk into a Spanish restaurant and feel like a sherry, it's a good sign. Especially when, like me, you never feel like a sherry. Strangely, there is little obviously Spanish about this quirky abode, tucked away in North London no-man's land. But there is a warmth, despite the sparse décor and retro furniture, that is immediately relaxing. Less seems to be more here, especially when Naroa, Esteban's infectious hostess, fills the bare-bricked space with life, amidst the fairy lights.
The menu beckons with both classic Spanish dishes and others with a distinctive sense of adventure. I would recommend venturing out of your comfort zone of padrón peppers and boquerones, for the more unusual dishes are truly outstanding. We opted for pig's cheek croquetas, which were really something special, and a divine courgette flower stuffed with goats cheese, tingling with a dash of honey.
The arroz negro with crab is definitely the star of the show, the white meat sitting on a moist bed of black rice to unleash a deliciously soft salty taste. The lamb cutlets were juicy and accompanying aubergine purée, full of flavour. And the chorizo with lentils and migas, a dish that may not normally jump out from a menu, were in fact spectacular tasting...a gastronomic dark horse.
One gets the sense that something just clicks in this place. The food, though a little pricey, certainly delivers on both taste and ambition. Of course its the luxurious array of sherries and desert wines that might tip the bill over the edge, but they are much too tempting to resist, especially when the food is so good. I would highly recommend holding back on a few olives and salted almonds to indulge in the deliciously smoky-sweet manzanilla en rama.
In the end, what makes you want to return is a feeling that is less tangible, that I sense is the result of an interesting and intimate team having fun. The Scottish owner Stephen (aka Esteban) has certainly chosen well in his Catalan executive chef Pablo Rodriguez (previously at Michelin starred Jean luc Figueras before being poached from London's Moro) and the effervescent Basque Naroa.
Indeed, something must be working, with a sister, Escosesa, in Stoke Newington and talk of a third child. "Perhaps we'll call her Naroa," Stephen says, with a touch of recklessness. What the hell, it's recession time, give me another sherry.
Bar Esteban 29 Park Rd, London N8 8TE Tel: 020 8340 3090
Cuba's natural setting, with its own historical and cultural...