....Best Mexican Albums of 2014/15
Some of the Latin America's best music is produced in Mexico. Here is Latino Life's top ten selection of best Mexican Albums of the Last year
10.- Juliòn Álvarez y Su Norteña Banda - Soy lo que quiero ser (Indispensable)
A Mechanical Engineer who left his career following this dream, and always shows the he gives all of him in every song he has recorded. After a successful season as a coach in the Mexican version of The Voice, and the great work he did with this album best seller album, he had it all last year.
Songs to listen to: Te hubieras ido antes and Y así fue
9.- Kalimba - Cena para desayunar
An ex member of one of the most important groups of the nineties, OV7, delivered last year a much grown up and very polish sound in his seventh solo album in which he shows his maturity and confirms that no matter what happens in his personal life, he has one of the best male voices in Mexico.
Songs to listen to: Este frío and Un nuevo mundo sin ti
8.- Pepe Aguilar - MTV Unplugged
When MTV ask you to do an Unplugged, you automatically say yes. This is the dream of most of the musicians in the world. It's a celebration of their careers and a way to get to new public. Aguilar did an excellent job in this album showing that mexican artist have what it takes to make more albums like this.
Songs to listen to: Mi credo and Miedo.
7.- Siddhartha - El vuelo del pez
The name (the flying of the fish) describes perfectly the third album of the new mexican rock group Siddhartha, which brings a fresh and magnetic sounds, with compositions so unique that keeps latin youth asking for more. If you haven't heard them already, it's a great option to change it up a little bit.
Songs to listen to: Bacalar and El aire
6.- Lila Downs, Niña Pastori, Soledad - Raíz
The first album that this three amazing women do, deserves a standing ovation, they did such an excellent work with this sixteen songs that represents them, and it was praised by many in the business. This very colourful and mexican recording debuted fifth place in iTunes.
Songs to listen to: La raíz de mi tierra and Que nadie sepa mi sufrir
5.- Santana - Corazón. Live from Mexico: Live it to believe it
Carlos Santana is absolutely the most famous guitarist that Mexico has exported to the entire world. In this concert, he plays with amazing musicians and singers, like Gloria Estefan, Diego Torres and Juanes. One of the bests live recordings of the year.
Songs to listen to: La flaca, Corazón espinado and Una noche en Nápoles.
4.- José José - 30 años de ser el Príncipe
The Prince of the song, is one of the most important recording artists in Latin America, and commemorates thirty years in the music business with songs in which he collaborates with the greatest performers in the world such as Marco Antonio Muñíz, Camilo Sesto and Rocío Dúrcal.
Songs to listen to: Tiempo, El triste and El amar y el querer.
3.- Alejandro Fernandez - Confidencias Reales
A live production recorded in the Teatro Real of Madrid, a one in a lifetime concert, with most of the El Potrillo hits. Released in December, and is currently in the top of the charts in Countries like Mexico, Puerto Rico and United States. A must have for any Fernandez fans.
Songs to listen to: Hoy tengo ganas de ti, No se olvidar and No.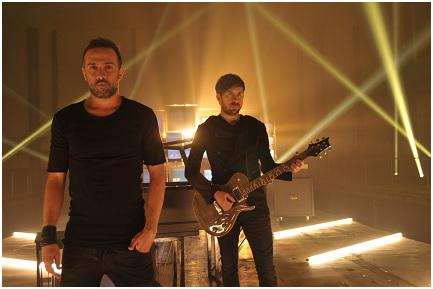 2.- Camila - Elypse
The most important pop group right now in Mexico, after three years, comes back with a very powerful and well done product, even better than the last one. Elypse is a great way to show others how can a band evolve and keep true to themselves. It can be find also an Instrumental version and a Track by Track Commentary one.
Songs to listen to: Perdón and Tu decidiste dejarme
1.- Los Ángeles Azules - Cómo te voy a olvidar (Edición de super lujo)
From Iztapalapa to the world. If this must be defined by a sentence it should be "Mexican music event of the year". A recording that not only compiled their greatest hits, but also united some of the best musicians in Latin America, such as Ximena Sariñana, Kinky and Álvaro López. This music material should be in every latin collection.
Songs to listen to: El listón de tu pelo, Cómo te voy a olvidar and 17 años.
Corina Poore talks to Gustavo Salmerón, who made a unique film about...
This month's dancefloor hits by award winning Cuban DJ, Javier...