Between Poetry and Politics - an interview with Gael García Bernal
GAEL GARCÍA BERNAL gets on a roll about poetry, fascism, idealism and power as he talks to Latinolife about the times we live in…oh, and his latest film, NERUDA.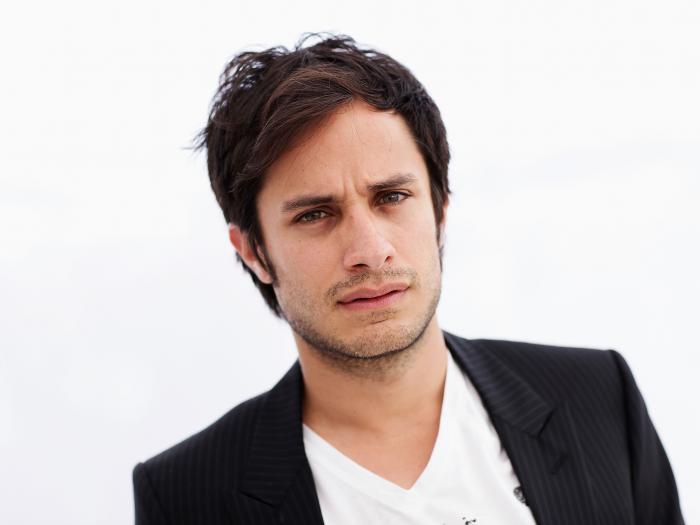 From Mexican independent cinema to household name, it's been quite a journey for Gael Garcia Bernal. He started out with the best, in the films of Alejandro Iñarritú and Alfonso Cuarón, and continued with them to conquer Hollywood. Of all of Mexican movie darlings, however, Bernal has probably been the most outspoken. And when we met in London, the actor's passion for politics was more evident than ever; a readiness to make parallel's between the film he'd come to promote, NERUDA, and the Trump era, softened by his unpretentious demeanour, dashing looks and ever-winning smile.
Bernal's talent seems to have come, at least in part, from his genes. His mother (Patricia Bernal) is an actress and model and his father (José Ángel García) an actor and director, even his stepfather is cinematographer Sergio Yazbek. Having started out as a child actor, appearing in short films, plays and the soap opera El Abuelo y Yo, Gael jumped at the chance to be the first Mexican ever accepted at London's Central School of Speech and Drama.
Not long after leaving Drama school, Gael caught the world's attention in Alejandro Iñarritú's Amores Perros (2000), closely followed by his appearance in Alfonso Cuaron's Y tu Mamá también (2001). Since then, he's had the skill to choose diverse but quality scripts, from playing Che Guevara in The Motorcycle Diaries to Hollywood comedy La Casa de mi Padre, with Will Farrell. At the same time, Gael has never shied away from confronting political and social issues, in films such as 'Even the Rain' (2010) which cleverly compared colonial Spanish and modern-day US exploitation in Bolivia or Jonás Cuarón's Desierto (2015) about a group of Mexican migrants crossing the US border.
In fact, the last time the Mexican worked with Chilean director Pablo Larrain (Hollywood's latest Latin darling and director of 'Jackie'), it was in No (2012) set during the plebiscite that decided whether Pinochet remain in power. Now, in NERUDA, Bernal plays the investigator (Oscar Peluchonneau) tasked with finding Pablo Neruda, after an arrest warrant was issued for the then diplomat (later famous poet) in 1948.
Latino Life: What was it like working with Pablo Larraín again?
Gael Garcia Bernal: It's always wonderful! He is so joyful, when we are doing the film, you know, it's like… when he is shooting he just lets everything free and loose and there is a natural rapport now and I am so lucky to have found such a great … or he found me…I don't know, we found each other in this way, because I feel he is a person I want to work with all my life…he is a fantastic director, and great friend as well. We laugh a lot and we can go deep, and we can go very shallow as well, we can just go in any direction, I don't know … I also like his understanding of cinema, how he makes films that are films, film as film, not like the first episode of a series.
LL: Larrain asked Luis (Gnecco) to put on weight, so what did you have to do to prepare for the part, because it is quite a restrained role you play - how did he want you to prepare?
Bernal: Well, we don't rehearse with Pablo and that's what is wonderful! We talk a little bit, we have sporadic phone calls, you know, and we just start to talk about how to do this, and we start to do the homework, as actors, also having worked with him, we understand more or less where we are heading, and I wanted to play this policeman that has many elements of a policeman from a film noir, that makes him avant-garde in a sense, because this film is set in 1947. There are aspects, you know, that sets the kind of person he is, you know. He is the bastard son, and the son of a prostitute, all of these elements add up to the construction of a character. So, the process is like working with a piece of clay. You start to mould him and later it becomes something,
LL: How important was the moustache? It seems to make the character…
Bernal: It is very important, yes. And the haircut, the moustache with the haircut! Because that haircut is what many footballers are using right now and they do not realize that they have fascist haircuts… but it is… it is…it is a fascist type of haircut…I couldn't believe it when I saw Messi playing in the Champions League in Berlin, in the Olympic Stadium and I thought, oh man, you look like a little Franco, you know, running around!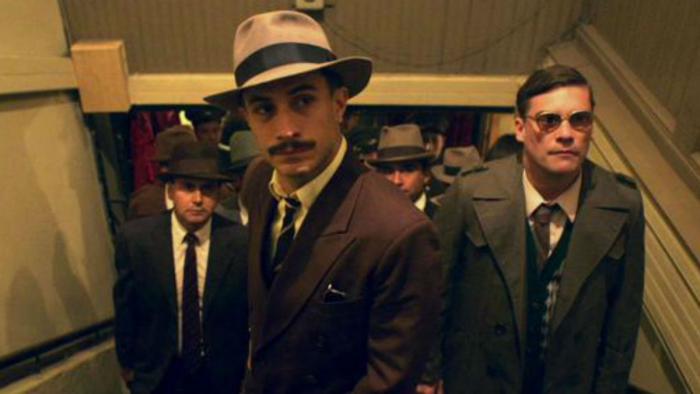 LL: What is the relationship between poetry and Fascism because your character is sort of afraid of poetry…
Bernal: Yes, there is a relationship, you know, they are opposites! Fascism is afraid of thinking altogether. That is why poetry is so… so powerful, because it inspires people in such a way that, you know it takes all the resources and energy of a system to try to shut down a person's thoughts. We've seen this in many periods of history, but even now… I mean we live that, and it is incredible how … I mean…I hope that this film gives that kind of spin as well, that inspires people in many ways, it is not a goal, but it is something that we hope that it happens, now or in the future.
This is a moment when we need poetry, to describe, to ask new questions and look for answer for because fascism doesn't do that, its huts down the questions and stops us finding solutions to the problems we face.
Fascism is like a shaman…"I will fix it, I will fix everything, because I know all the answers!" In times of fear people are attracted to certainty, and fascism manipulates that. And poetry is anything but certain! Poetry achieves a more mathematical, even quantum, explanation of things that can be anything, yet at the same time reaches a conclusion that is much more …for the common good, and it incorporates… it is not dangerous in that sense. There is a beautiful thing that Alain Badiou wrote recently about Poetry & Communism- how they are, I mean, the direct relationship between Poetry & Communism, or socialism now. Poetry is the maximum expression of the common good.
LL: Was the humour in the film planned from the beginning or was there some improvisation?
Bernal: It was always in the script, but it was also … well, of course, I am performing it, and reacting to the situations that come up. I think the pillar of humour is intrinsic in the whole system trying to shut down the poet. It is like the government trying to shut down Monty Python. I mean, the whole idea of trying to stop a person thinking and the person is saying, actually I am just going to keep on thinking is funny in a way. But it's also a tragedy. There is always a fine line between the two.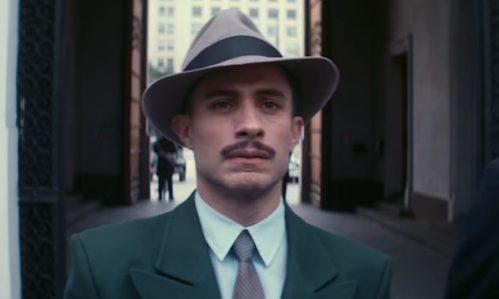 LL: And what about this tragedy, in poetry and politics, how do you see this relevant in the world around us today
Bernal: This man who I play should have been the natural recipient of Neruda's poetry. He is a marginalized person of society, who all of a sudden chose the very bleak, short-term and implosive view of Fascism instead of the expansive, ambitious, flexible and creative aspect of Socialism.
This is a choice that people were facing all around the world post second world war. In the US, not so much, because they had decided on their capitalist path, but what we are living now is incredible because now they are having to face these choices. They have shown their true colours. Yes, they have tried to put themselves as the good guys of the movie, but they are not! No, no, they are a bunch of racists, let's be open about it.
But in 1947, early 20th century as well, but mainly post-war, there were many poets, intellectuals, illustrators, in many parts of the world that were also part of the governments, you know. In England writers, like… Bernard Shaw, Chesterton, in France, Aragon, Valerie, Malraux, I mean , in Mexico, Octavio Paz, Frida Kahlo & Diego Rivera, … in Chile, Pablo Neruda. We need to have these creative kind of people in government, with this expansive kind of outlook on life, instead of this propaganda that appeals to the narrow and negative: "I know nothing therefore vote for me! I am not a politician, therefore vote for me!" If anything maybe that is something this film can express.
NERUDA will be released in the UK on April 7th 2017.