Bilbao Berria
An exceptional Spanish eating experience that marries the traditional with the modern in a way that is unique.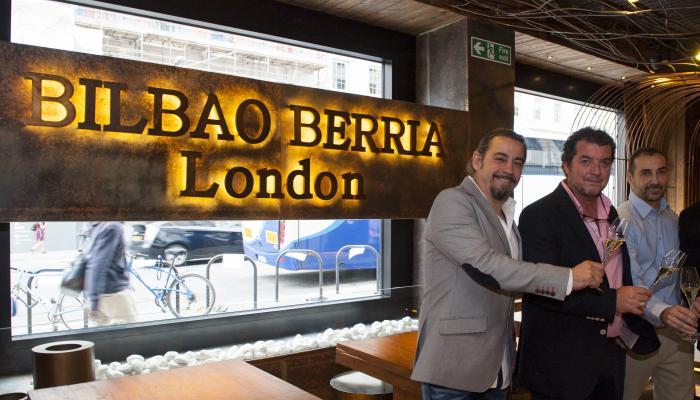 Bilbao Berria in Lower Regent Street is an attractively designed restaurant with a modern rustic décor and tables spaced out generously serving high end tapas, new takes on Spanish classics with an equally modern wine list of new Spanish wines from the regions of Spain.
We particularly enjoyed Chef Leo's croquetas served with a delicious tomato and olive shot (£6) and courgette flower stuffed with truffled cream cheese on an intensely courgette flavoured soup and a perfectly cooked mini courgette (£7).
There was a "must have" for tuna lovers "Tataki de Atun con Marmitako (£14) with plenty to share, and then a superb version of the Madrid classis heuvos rotos (which is basically smashed up egg and chips). This take had tiny matchstick "chips" and a perfectly fried egg with the yolk held in paper thin melba toast, the whole dish flavoured with a delicious "dust" of dried Jamon. Unbelievably good.
Every dish was like meeting an old friend who had suddenly become so much more interesting and it is worth taking a lot of advice from the very helpful staff to get the most out of this very exciting new restaurant.
Most of the reasonably priced wines are available by the glass as well as the bottle and we particularly enjoyed the Flowers and the Bee 2013, a white from Ribeiro (£5.50 a glass) and a red from Toro a Rejardorado Roble (£6 a glass).
Bilbao is an exceptional is an eating experience that marries the traditional with the modern in a way that is unique. Quality sourced Spanish food with a modern twist. The presentation is fantastic as are the flavours! They also pride themselves on their wines. Service is first class.
We will be returning soon!
BIlbao Berria: 2 Regent Street, London SW1Y 4LR, United Kingdom
Tel: +44 20 7930 8408
Corina Poore talks to Gustavo Salmerón, who made a unique film about...
Can Venezuela's new state-sponsored cinema live up to its Cuban and...