Brazil: Transport is not a Commodity
Ali Rocha & Nayana Fernandez report from Sao Paolo on the series of mass protests against hikes in public transport fares.
by:
Ali Rocha & Nayana Fernandez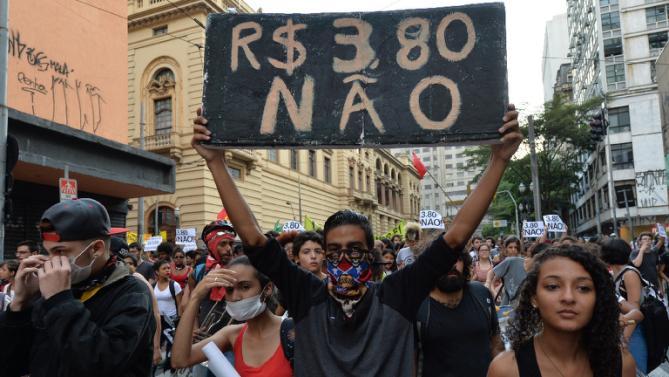 Recent weeks have seen the resurgence in São Paulo of a series of mass protests against hikes in public transport fares. The increase in tube, metropolitan train and bus tickets from 3.50 to 3.80 reais was announced by state and municipal governments in December 2015.
Movimento Passe Livre (MPL) is the free fare movement which led the 2013 protests, forcing authorities to cancel the 20 cents fare increase proposed at the time (from 3.00 to 3.20 reais). Now MPL has taken to the streets again demanding the fares stay as they are.
With support from other social movements, MPL in São Paulo has been organising protests every week in different parts of the city since the increase came into force on January 9. The police have used excessive force to curb protests and dozens of people have been injured.
Fair fares and decent transport
The main demand of MPL is free and fair transport for all. Brazilians already pay enough taxes to the government, which gives massive subsidises to the automobile and oil companies. Why not subsidise transport for its citizens?
The price of public transport in Brazil is too high. If it were subsidised to the same level as fares in Beijing, Paris or Buenos Aires, for instance, then a fare in São Paulo would be only 1.27 reais.
According to Lucio Gregori, former Transport Secretary for São Paulo in the early 90s and one of the thinkers behind the Free Fare Project, bus companies operating in the city have profit margins that range from 26 to 34%. If profits were cut to 12%, the municipal government would save R$ 6.9 billion, enough to subsidise bus transport for 4 years. The MPL says the government is more interested in protecting at any cost the profits of the private companies which run bus and underground services.
If the high fares paid by São Paulo citizens paid for good quality and efficient transport services, people might be happier to accept them. But the huge profits made by the transport companies are not invested back into the system.
For working class people who live in the suburbs, where there is no underground network, the journey to work can take up to three hours. Travelcards (Bilhete Unico) allow passengers to make up to four journeys in 3 hours, but most workers still have to pay at least two fares per day.
Trains and metros, which are run by the state government, are terribly overcrowded, have frequent breakdowns and other technical problems. And when that happens the companies rarely provide adequate information to passengers and offer no alternative services.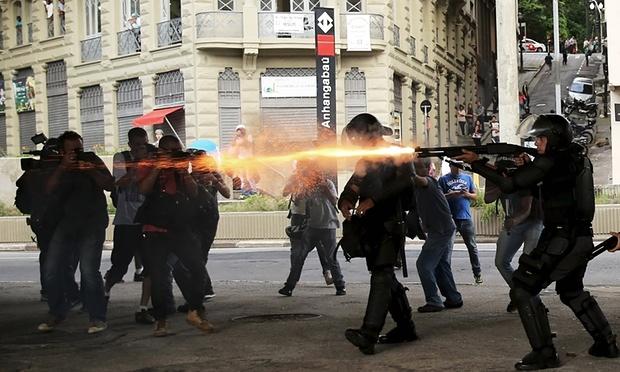 The right to protest
Since 2013 human-rights groups have condemned the State for failing to respect people's freedom to protest, using excessive force, using tear gas, stun grenades and rubber bullets, as well as closing off streets and transport terminals, carrying out arbitrary detentions and random searches, and kettling protesters (a tactic ruled unlawful by the European Court of Human Rights, whereby police officers contain a crowd within a limited area and prevent anyone from leaving, regardless if they are protestors or merely bystanders). They have also launched several lawsuits against the São Paulo state government calling for a halt to the abuses committed by military police during demonstrations. According to federal Constitution the right and freedom to protest is protected by law.
Recently it was revealed that no-one has been tried or punished for the violence and vandalism of previous protests. The alleged vandals, black-blocs 'terrorists' who supposedly attacked the police and destroyed private property, walked free. Prosecutors claimed there was no evidence to claim these were connected to the MPL or black-bloc groups.
Equal impunity was extended to the police, who had injured dozens of people including journalists and photographers, one of whom has lost the sight in his left eye, when shot in the face at close range. Journalists were also violently beaten by police during several of the protests.
Back to the streets
The January 2016 protests are taking place mainly in São Paulo city, but also on a smaller scale in other cities across the state and elsewhere. MPL has been calling for two large marches per week, meeting each time at a different central station or bus terminal.
The protests always start peacefully but are heavily guarded from the outset by a huge contingent of heavily armed military police from various special units. At some point things turn ugly – according to the police, when they are attacked by one or more masked protesters lobbing stones or a home-made bomb at them. The protesters claim that the attackers are undercover policemen. The police respond with a fusillade of indiscriminate firing into the crowd.
In some recent protests the police have been caught red-handed trying to plant artefacts in rucksacks belonging to participants who have already been detained.
MPL wants the governments to cancel the increase and make progress in talks that could one day provide a system of free transport for all. Authorities have invited the MPL to present its demands at meetings in state buildings behind closed doors but they have refused because they claim they cannot decide anything on behalf of people who are not present. They have instead invited authorities to an open discussion outside City Hall on January 28.
The latest demonstration called by the MPL was held on 28 January opposite São Paulo Town Hall. This, the seventh large demonstration in the City, was called a 'protest meeting', as the movement invited the mayor and the state governor to come down from their offices and engage in dialogue. Neither politician showed up, and they sent no representatives. There was a huge police presence, but the demonstration finished peacefully. MPL members declared that it is now time to build up their strength and engage further with Brazil's oppressed communities. The next large protest is booked for February 25, but in the meanwhile, smaller mobilizations will continue.
For the present, it seems unlikely that the state and city governments will back down.
Photos for this article by Ricardo Mezzacapa Kurt and José Eduardo Bernardes.
This article was written by analysts from the Latin America Bureau. If you would like to read the unabridged original version, or for more articles, please visit www.lab.org.uk. Facebook (facebook.com/latinamericabureau).
After a debut La Ciénaga (The Swamp 2001) that shook the world of...
Ciro Guerra's El abrazo de la serpiente/Embrace of the Serpent takes...