Brazilian Strings: Interview with Cellist Tania Lisboa
Corina Poore interviews Brazilian cellist Tania Lisboa, who celebrates 30 years based in the UK with a charity concert playing the sublime music of Villa- Lobos, Debussy, Guarnieri and Bridge with Scottish pianist Elizabeth Mucha.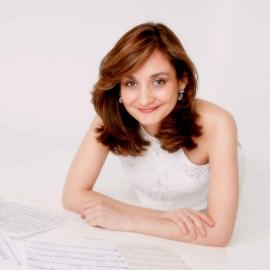 International cellist and star from Brazil, Tania Lisboa, has just celebrated 30 years in the UK, having arrived on a British Council scholarship, with a concert for the Faith In People Charity, alongside her colleague and equally renowned pianist, Elizabeth Mucha. The sound of these two instruments blended effortlessly to this dramatic and moving music, so that even the many children who were present, who were initially fussing and fidgeting were mesmerized into silence.
Tania Lisboa's sensitive and engaging cello playing emerged from a family immersed in music at all levels. Her great grandfather arrived in Brazil from Italy and proceeded to breed a whole 'orchestra', carefully teaching his 12 children a different instrument each.
Tania Lisboa explains: "…so…my grandmother played the piano, and her brother played the violin… another played the clarinet… and they built up a Jazz band and they used to play in town. From there on, there remained an [important connection], which is the 'Conservatoire' which is now one of the largest conservatoires in South America. It is completely free and people come from all over south America to study there: my mother was a piano teacher there and my grandmother as well."
Tania Lisboa started her musical life on the piano and it was only later that she took up the cello, totally fascinated by the instrument: -
"The sound! It is the sound! I can't say anything else. I started to play the piano very early on when I was four. By the age of twelve I was … performing with an orchestra and playing solo. I could see the cellos in the back and I got interested. Then I saw my mother accompanying a cellist when they used to rehearse at home. When I saw them playing I realized that was it… I wanted to play it! Having learnt all the basics with the piano… I was able to progress really quickly during the first few years on the cello. I could read music and knew how to hear, so it went really fast which was good, as very soon, I managed to play with an orchestra and make friends and all the social elements of the music-making world, which are so important as motivators and from there I just… ended up in England!"
Lisboa was awarded grants from the Brazilian government and the British Council to work on her career and follow a Solo Specialist Course. This led to a Master's Degree and a PHD (Sheffield). At this point she began to develop interests in other areas relating to music: -
"I was teaching a lot [at the time] … and the psychological aspects of teaching are very important. By psychological aspects I don't mean 'Psychology' as it's normally understood, but … for example, when you're preparing for a performance, you don't only do the physical work of practising six or eight hours a day, there's also a lot of musical understanding… a lot of cognitive work that goes on, to fully understand the piece of music and how you then connect that understanding to the music and prepare for the performance.
So, these are the 'psychological aspects' of the preparation, that include mental exercises of concentration and memory, and this has been the focus of my work for the last 10 years. This is a collaborative project between the Royal College of Music and the Centre for Performance Science where I work as a Research Fellow together with psychologists from the American University of Connecticut, as this particular project links with them. I've been working with Roger Chaffin on this project and he's actually going to be at the concert of the 14th June as he is coming over."
Roger Chaffin: http://musiclab.ucconn.edu
We've already published a number of papers in that area relating to memorisation. The most recent being in 2016… in the 'Frontiers Journal'. We've published in the Psychology of Music Journals of music as well… a very large paper there in 2010 … so that's one of my areas of research but, the other area, which is more recent now, relates to the connections between Music and Autism. [That is], making music, but not in terms of Art Therapy, but teaching children who are on the autistic spectrum how to play an instrument, with the impact that this may have in their social development and communication."
This important project is being developed with composer, musician, teacher & researcher Professor Adam Ockelford from the University of Roehampton.
Tania Lisboa is also the mother of a pair of five-year old twins, and it is staggering to think she is involved with performance, teaching, and research as well. So, it is no surprise that she admits she seldom has time to sit and listen to music, but when she does, she has very defined tastes: -
"Schumann is my favourite composer and very close to my heart. There are others I could mention…I could not be without Bach, but then, I like quite a lot of Jazz as well. But I don't have much of a chance to sit down and listen … I'm so busy… I teach, research in music and perform, so it is a full- time schedule in the week. I don't put on that many CDs, but I love all the Brazilian composers and [they are] my mission since I came to England (and I am now celebrating 30 years here).
I have recorded all the works of Heitor Villa- Lobos, who is probably the greatest and best- known Brazilian composer. There are others who are not so well-known in Europe, but who are at least as representative of Brazil in different ways, like Camargo Guarnieri. He lived in São Paulo and taught at the University of São Paulo. I also recorded all his works for cello and piano and I feel that it has been my mission to bring this [music] to England and share it, and the interest here has been great."
It is no coincidence that a cellist like Lisboa would relish the thought of playing Villa- Lobos. He himself was a cellist and developed a profound and intrinsic understanding of the nuances of the instrument. Even when she was still a solo pianist, Lisboa would include Villa-Lobos in her repertoire. Villa- Lobos travelled around playing the cello to earn a living and composing pieces as he went.
"All the pieces explore the melodic qualities of the cello and are very well written for the instrument because he played it himself. Some of the pieces are also arrangements that he adapted from orchestral pieces or vice- versa. He would often write first for the cello and then adapt it for orchestra. For instance, the Trensinho Caipira, (a movement of Bachianas Brasileras N°2) … everyone loves that piece – The very well-known version is for a full orchestra, but the story goes that he first wrote that for the cello, [on the train] as he was travelling around Brazil. "
Trensinho Caipira, Heitor Villa-Lobos: : https://youtu.be/BB_Xas4C10A
"Of course, you cannot forget the Bachianas Brasileras for 8 cellos and soprano or Bachiana Brasilera N°1, is which is just for cellos! Such beautiful works!"
Bacchiana Brasilera n°5 Heitor Villa- Lobos for 8 cellos and solo soprano - Anna Moffo: https://www.youtube.com/watch?v=anxdAcilnsM
Tania Lisboa studied in Paris with Maud Martin Tortelier: -
"I've worked with musicians from all over the world. The most recent, (which is quite a long time ago now), was with Maud Martin Tortelier, the wife of Paul Tortelier. I admired him very much but working with Maud, for me [was wonderful]. She was a lady, a woman, with small hands and she was not very tall, so the adaptation of her technique was very relevant for me and she produces the most beautiful sound I have ever heard!"
There has long been a strong musical link between Brazil and France, hence the choice of repertoire for the concert on June 14th. :-
"This concert was also a celebration of my 30 years in this country and the cultural exchanges that I have experienced throughout these years, between Brazil and the UK. I shall also be playing French music, which links me [personally] with Maud Tortelier, but also because Brazilian composers were very influenced by French compositions. The whole programme of my concert will be music from the beginning of 20th century. I will play Claude Debussy, who influenced Heitor Villa-Lobos, as his compositions were also from the beginning of the 20 century and Frank Bridge, of course."
Despite continuing as a soloist, Lisboa insists that one of her most fervent dreams, apart from sharing her love of Brazilian composers, is to continue to work with children: -
"Now that I have got to this stage of performance, I wish to carry on with this project that focusses on the benefits of music and brings together my experiences as a teacher, a researcher & a musician… hopefully to develop the research that I hope will have an impact on the treatment and development of children on the Autistic spectrum. [To see that] these children don't just have music therapy as an intervention, but so it could become more inclusive and that these children could be included … and [actually] learn how to play an instrument. In my experience, which, I acknowledge, is very limited, they have such an amazing engagement with music. We can, and we should, be more prepared to work with these children in the same way that we work with other children. I am finding that the benefits are actually huge."
Lisboa will be playing with Elizabeth Mucha the Scottish pianist. Mucha, together with British Flautist Kirsten Spratt, won the prestigious 'South East Arts Young Musician's Platform' in England, which led to the recording of a number of successful CDs. She is also a chamber music player with various ensembles as well an arranger and has gained a notable reputation for being a superb accompanist and is very much in demand by sopranos and singers as well.
Selection of Recordings all available on Amazon.
'O Violoncello do Villa: Complete Works for Violin, Cello & Piano Vol 3- Piano Trios 2-3 (2009)' Heitor Villa-Lobos, by Tania Lisbao, Miriam Beraga and Richard Milone.
'Villa-Lobos- Complete Works for Cello & Piano: Volume 1 (2009)' by Tania Lisbao and Miriam Braga
'The Brazilian Cello',by Tania Lisboa
Dedication: Vol 1, Neil Latchman Tenor / Tania Lisboa Cello / Coady Green Piano.
A book which tells the story of the Amazon and its ports-towns near...