Bridges and Walls
With 1.5 billion YouTube views, a 3x platinum debut album in Mexico and a second album premiering at #1 all over Latin America and several Grammys, what makes Jesse and Joy one of Latin America's biggest emerging acts? As they prepare to release their first dual language album in the UK, the Mexican siblings talk to Elizabeth Mistry about their unusual upbringing, music and (what else?) bridges and walls.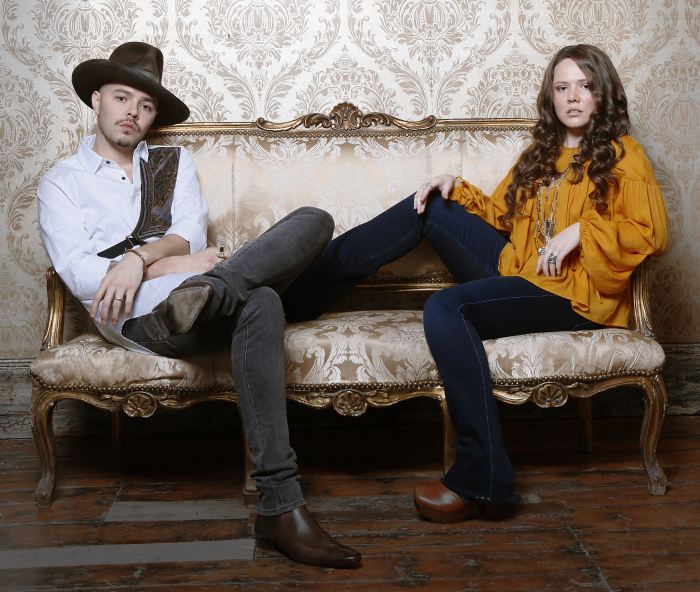 Miracles happen in the most unlikely places. Almost fifteen years ago, when brother and sister Jesse and Joy Huerta Uecke were trailing around after their itinerant preacher parents in Mexico City, they came across a pile of old instruments under the stage at one of the churches their late father, Eduardo, preached at.
Over time, Jesse, then in his late teens, taught himself to play, starting with the drums, moving on to the piano and finally taking up the guitar which his sister, three years younger, also plays.
"A lot of practice" saw Jesse getting good enough to play credible covers early on and, at one point, one of the more conservative members of the congregation walked in on him rocking out and denounced him for playing 'the devil's music'.
"He said, 'You can't play the music of Satan!', recalls Jesse who, wearing his trademark black hat and ripped jeans, introduced himself moments before with a friendly smile and a warm handshake - definitely more caballero than diablo.
Music may not have been their first love - Joy, a fervent animal lover, dreamed of being a vet - but it was part of their lives from early on with their Mexican father and American mother Michelle, ensuring a bi-cultural playlist at home.
"We grew up listening to the music our parents played; Carol King, Jonny Cash, Bob Dylan and Pedro Infante," remembers Joy. "Then one day they encouraged us to choose music ourselves - it hadn't occurred to us we could do that until then, so it was kind of a revelation to find out we could choose our own."
Joy pauses to try and remember her earliest purchase - which she thinks "could have been Shania Twain" but her brother has pretty much instant recall about buying his first album from a Mexico City supermarket. "It was by Coldplay. It cost 50 Pesos."
It must have had a profound influence on him because there's more than a nod to the mega selling band in the opening bars to 'Echoes of Love', the track which was originally written in English but not released until after the Spanish version, 'Ecos de Amor' notched up several awards including a Latin Grammy.
The English version, released as a single on the pair's new album - the first to feature a mixture of songs in English as well as Spanish - is getting airplay in the UK, helping propel the album up the chart of a well known online vendor named after a legendary female warrior even before the official release here this month.
Called 'Jesse and Joy' - what else? - it is a chocolate box favourite selection of some of their biggest hits - including a couple of Latin Grammy award-winning songs that have won the pair millions of fans - mostly across the Americas and the Spanish-speaking world - though that may change if their poppy, folky sound catches on this side of the Atlantic.
You don't have to understand Spanish though to enjoy their tunes, especially the catchy earworm More Than Amigos and Espacio Sideral, one of the highlights of the album which has a throwback, feel good feel to it.
Given that they both came relatively late to music - after quite a sheltered growing uphood - and that neither had any formal training, their success - after crashing into public consciousness via an appearance on the Teletón (Televisa's answer to Children In Need) and supported by long periods of touring - must have taken some getting used to.
Perhaps the fact that Jesse has also been a hands-on parent for the past eleven years, almost the whole time they have been recording, has kept him grounded. That, and their remarkably easy going demeanour and almost child-like excitement. Barely five minutes into our interview Joy bursts into song in the middle of a hotel lounge.
"Our parents just loved to sing even though it used to embarrass us when they did it outside. I think they did it on purpose sometimes," laughs Joy who says looking after her "amazing" nieces is good preparation "for when I have my own kids to embarrass."
Together, Joy's soaring vocals and the assured instrumentals have helped the son and daughter of a preacher man garner millions of social media followers and over a billion views music video views on YouTube.
It seems surprising that they waited so long before releasing material in English, I probe, since their mother is from Wisconsin and has Swedish German heritage.
"Our mum and record company were keen for us to release material in English but I guess we didn't want our original fans to think we were going to give up singing in Spanish, or that we'd use it as a stepping stone and then stop making music for them, explains Joy.
"We grew up speaking both languages at home. We don't just think in one language - but our mum made sure we spoke both properly - no Spanglish - even though we are always switching from one to the other, back and forth," they tell me.
In fact they've recorded in English before - contributing to the soundtrack of The Book of Life, Jorge Gutierrez's 2014 animated movie based loosely on the Mexican Day of the Dead tradition - which Jesse - half jokingly - says he "almost ended up hating because my daughter insisted on watching it about 10 times in a row."
The siblings - along with Jesse's wife and two daughters now aged 11 and four - have a special fondness for England. They spent several months in London recording over the years, first with producer Martin Terefe - who learned guitar as a boy growing up in Caracas - and subsequently with Fraser T Smith, the mastermixer behind acts including Adele and Tinchey Stryder.
Smith worked with the duo on their album 'Un Besito Mas' whose title track is a duet with Dominican superstar Juan Luis Guerra - a classically bueatiful Bachata track with a Country and Western twist.
"I loved every minute working with Jesse and Joy." Smith told LatinoLife. "Their artistry and attention to detail puts them up there with some of the great artists I've had the privilege of working with. I was delighted to have won a Grammy with them."
So they're happy to be back in London on a cold January day - albeit without Jesse's girls who he says have very good British English accents - to do some advance press for the album's imminent release and isneak out for a quick trip down memory lane which means their old haunts near Hyde Park and Notting Hill where they lived for a few months.
Later in the year, they hope there will be some live dates. By then the political landscape in Mexico and the US may look quite different I suggest, knowing that the pair have been vocal supporters of peace initiatives - in 2013 they were awarded The Voice of Peace award by Yoko Ono's Non-Violence Project - and openly supported Hilary Clinton's candidacy.
How do they feel about President Trump's attitude towards Mexicans?
It is the only time Joy looks as though she is about to tear up but then she gets serious.
"It's not what we wanted, but we're in this situation now and we are going to have to figure out how we're going to get through it."
"Trump's the one piloting the plane now and we're all on board whether we like it or not. No one is going to cheer for the plane to crash when we're in this situation. We've got to navigate our way through it and come out the other side somehow," said Joy.
Puentes no muros. Comfort and Joy.
Jesse and Joy is available on Rhino Records
www.jesseyjoy.com
https://twitter.com/jesseyjoy
https://www.facebook.com/JesseyJoyOficial/
In his film X500 (2016) Colombian-Canadian director Juan Andrés...
There is still a commonly held view that 'Day of the Dead' is Mexico'...