Bullish Grace - an Interview with Flamenco God Rafael Amargo
Flamenco legend, arguably Spain's sexiest man and star of the Latin UK Awards 2014, Rafael Amargo, is back in London teaching intensive flamenco masterclasses at Ilusion Flamenca Dance School in Central London. Angela Alonso talks to the Andalucian dance god ahead of his anticipated arrival...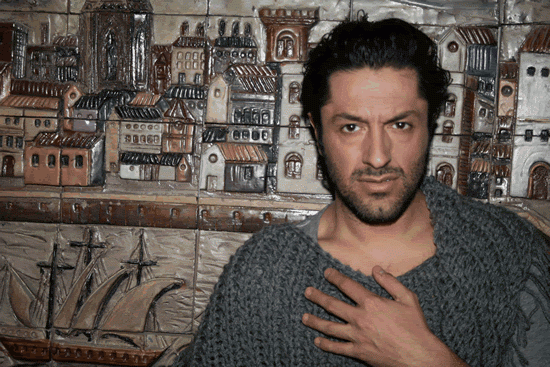 Rafael, explain to us what "Amargo" your artistic name means?
My full name is Jesús Rafael García Hernández, my artistic name is Rafael Amargo. Amargo means "bitter" in Spanish and it refers to the "Romance del Amargo", poem written by Federico García Lorca, who is also from Granada.
So tell us, what are you up to at the moment? What projects are you involved with?
At the moment I am touring with my show "Alaire" which is a show which fusions street/urban dance. It features the best street dancers. We have been all around Spain. I am also performing with my award winning production "Poet in New York", next shows will take place in Valencia on the 7th and 8th of November. I am also involved in a theatre play called "Piedras Preciosas" about the life of Jean Cocteu. Currently I am also one of the judges at the Italian version of "Dancing with the Stars" on national Italian Tv. I have also just launch my own clothes brand in Italy and also collaboration as guest in "Trencadis" on Catalan Tv.
Waw! That's a very busy agenda! Tell us about "Poet in New York" and Granada…
I had spent the summer in Granada performing at "El Generalife" which is a fantastic open air theatre at the "Alhambra" gardens, a very magical and special stage which merge with nature… I have done 40 shows over one and half months and it has been a total success. Sold out every night. I have enjoyed it very much as I am from Granada and its public has warmly welcome me.
Going back to the art of flamenco, What is your first flamenco memory?
The popular parties celebrated in the Sacromonte (gypsy borough) of Granada called Zambras Flamencas.
Who is your favourite dancer, singer, guitarist....?
Amongst my favourite dancers are Israel Galván, Alejandro Granados, Adrián Galia, Farruquito to mention some of them… Singers I like Enrique Morente, Sorderita, Diego Carrasco, Miguel Póveda and guitarists Moraíto, Flavio Rodriguez, Manuel Parrilla, Vicente Amigo, and of course the great master Paco de Lucía.
Who do you admire most from the past (or from the older generation)?
Carmen Amaya, Manuela Vargas, Vicente Escudero, Antonio y Rosario and choreographer Rafael Aguilar.
So tell us what brings you to London?
I am teaching some flamenco masterclasses at Ilusion Flamenca School in Covent Garden beside some possible projects in the city. We are offering courses to all levels from beginners to advance. We will be studying Tangos and Bulerias. I invite everyone to come and learn with me. You should know I am addictive and you will want to return to my course next time I am in London…
What do you think of London?
One of the main capitals of the world, cosmopolitan, a place where everyone has an opportunity. If you succeed here you stuff yourself earning money because when the pound is very high you get a lot of money, ja, ja ja… People are very open minded and nobody looks at nobody, people are free.
Did you enjoy teaching students in England?
It has been a very enjoyable and satisfying experience for me because students here love the art of flamenco and I love teaching people that love flamenco. I will definitely repeat. I will soon come back to teach another course organized by Ilusión Flamenca! School. Teaching is something I am interested in and I like very much. I invite all the "aficionados" to come to taste my "bitter" flamenco, ja, ja, ja… I see you all in class!!!
For info about Rafael Amargo new workshop, please visit our website www.ilusionflamenca.co.uk email us amargo@ilusionflamenca.co.uk or call us on 0793134754. He will be teaching on the 10th and 11th of October 2015.
Cuba's natural setting, with its own historical and cultural...
From garage parties in Panamå to the awards ceremonies of Miami, how...