Casita Andina, Soho
Heart-warming dishes that evoke Cusco's deliciously intense and cosy cuisine, make a perfect night out for a romantic winters evening in London.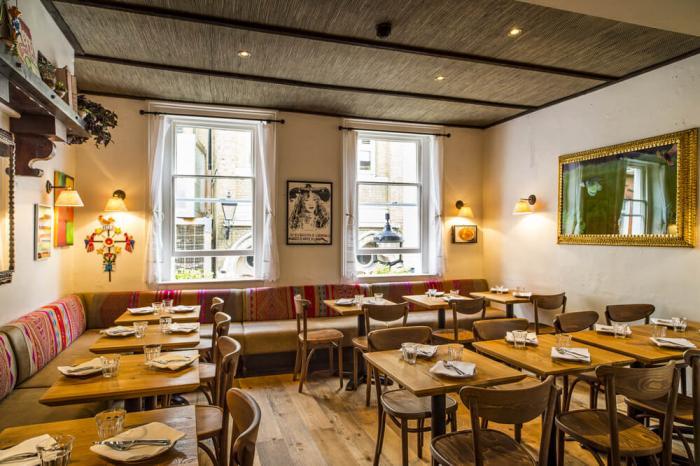 On a cold winter's evening, as we step into the cosy second floor room of a creaky house, tucked away in one of Soho's narrow streets, it's easy to imagine being welcomed into someone's home in Cusco. The colourful Andean textiles immediately lifts the spirits and makes you feel at ease.
This is exactly the effect Martin Morales wants to produce with this latest chapter of his Peruvian gastronomical adventure. 'Casita' is inspired less by the fashionable Nikkei and Peruvian haute cuisine, and more by his grandmother's cooking.
Indeed, for those of us who have long eaten ceviche and make it at home (it's quite simple once you get the knack) the array of marinated fish starters, though excellently done, was not the highlight of our visit. Instead we were blown away by the elaborate and original meat dishes, all involving a high degree of skill and technique, each unique and full of flavour.
The Short Rib Escalopada, braised beef with flamed scallop carpaccio, chilli gelée and spicy potato purée, was so deliciously intense that we cleaned it up in a flash and were about to ask for another one. Luckily, with the portions being tapas sized, the Pato Santiago (braised smoked duck leg) swiftly appeared, this time with an incredible butter bean and pumpkin purée, as delicious as the meat was succulent.
A third meaty morsel followed - sweatbreads in dark beer sauce – only to torment our tastes buds into ordering yet another meat dish– the Annato-marinated Maca lamb (below) accompanied by uchucuta herbs and cancha powder.
The magic here is in the rich sauces and their secret ingredients, as well as the excellent purées and other wonderfully original accompaniments; we couldn't get enough of the peanut and chilli dip that came with the roasted potato chips.
The above was of course washed down with plenty of Pisco sours, which I would recommend over the fancier cocktails on the menu. And so we emerged from Soho's little Peruvian cottage, happily immune to prospect of a cold ride home on the Vespa. It was indeed the perfect Andean antidote to a London winter.
Casita Andina, 31 Great Windmill St, Soho, London W1D 7LP Tel. 020 3327 9464
Cuba's natural setting, with its own historical and cultural...