Challenging Motherhood in São Paolo
Set in São Paolo, Good Manners (2017) explores the relentlessness, chaos and fraught nature of motherhood in a drama that blurs the edges between fantasy and horror. Corina Poore talks to its directors Marco Dutra and Juliana Rojas.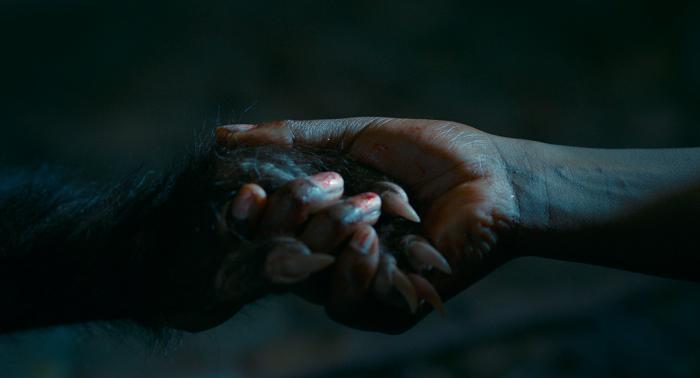 Marco Dutra has always been passionate about horror movies and fascinated with the idea of introducing challenging dimensions, with 'shadows and ghosts', into the lives of apparently ordinary people. This is his second feature with co-director director Juliana Rojas, after their first "Hard Labour" became a Sundance /NHK Award Finalist.
Structured into two distinct parts, 'Good Manners' examines the duality of our lives through the relationship between Ana and her maid Clara, the conflict between black and white, class conflicts with its social divisions, rich and poor, those who are normal and those who are not, the ambiguity of relationships, and what, in the end, can anyone say, constitutes a 'family'? There is humour and there is horror.
Ana (Marjorie Estiano), a mysterious, heavily pregnant woman who lives in a wealthy part of town hires a helper Clara (Isabél Zuaa), to be the nanny of her child. Ana expresses strange and restless behaviour during some nights, and gradually Clara becomes far more than a servant. The two women bond together so powerfully that an unexpected and fateful event leads Clara to have the courage to take a brave decision. Later we see how Ana's child, Joel, who has been raised entirely by Clara in her 'favela' home to very strict rules and precautions, still has to face the challenging consequences of his nature. "A fable of love, fear and kindness".
The film delves into a fairy- tale dreamland of myths and creatures, this emerged right at the start, from the original idea that came to Marco Dutra in a dream, about two women raising a child that was not human. The image persisted and, over a period of 4-5 years, together with his long-term colleague Juliana Rojas, they developed the idea and storyline, as Marco Dutra explains: -
"The idea of motherhood and the implications of having that baby was significant for all sides, from the pregnancy aspect of motherhood to the [actual] raising of the child. We wanted to show both [ of these] stages. Also, because it's a film about love and how love can be very sophisticated but also a very physical [visceral] feeling."
There is a fascination in having a character that is haunted by its own duality: is it man or beast? Then there are the issues of raising a child that gradually becomes self-aware, with the consequences of that consciousness. The Directors chose to use the traditional structure of fairy tales, where there are unexplained gaps, so that, even after 'many years have passed', the curse can still return.
Marco Dutra: "The two parts complement each other, both aesthetically [and emotionally]. The 'look' of each section relate the each other, even though they each have their own identity. This applies also to the music, as well as the cinematography (sensitively handled by Rui Poças) and the events that take place... We knew it was a fantasy, but we realized that it was 'our' take on this narrative and it should remain 'our' version. So, we chose to play & manipulate [the images with] a team of visual artists, with the use of matt paintings in the old school way. Painted skies & moons, as well as views and horizons, like in The Wizard of Oz or Edward Scissorhands. These imbue the images with a magical quality, when, in different circumstances, they might be realistic. So that became 'our' version of São Paulo for the film and a very important element for the visuals. The Art & the Production designer came up with the idea of the castle and the woods surrounding it, like a fairy tale … with all the relevant colours and textures. "
One reviewer, Trace Thurman, wisely wrote "I'm going to do something I have never done before in any of my reviews, and that is to tell you not to read it!" There is no doubt that this film benefits from the viewer knowing as little as possible about the sequence of events. It is a fresh look at a very old myth. A myth so ancient that it has no beginning. Juliana Rojas discovered an ancient book on the subject of Lycanthropy written by a French Priest in the 19th century: -
"It's a very interesting book because he relates how almost every culture has an equivalent of the werewolf myth: half man, half beast. [There are] British, French and even native American versions of this tale… even in Brazilian native [Amazonian] mythology, there is character that becomes a mix between a boar [and a man], so that whole theme of a person transforming into a beast is common in all human mythology… For me the werewolf myth is very popular because it deals with an issue that we all face. The need to be civilized versus the need to control primitive instincts or urges…The pressure of having to behave [in order] to be able to live in a so-called civilized society. We are always dealing with that, we have violence but at the same time we have affection, and as humans we are struggling to balance our true nature with the need to relate to others… and living according to expected behaviour, hence the name [of the film] 'Good Manners'… We can be cordial but at the same time we might have repressed emotions. Ana Clara & Joel are all outside of expected social behaviour, so they have to confront society."
The directors prefer the film to be classified as 'fantasy'. The viewer should come to the film with no pre-conceptions, but that is almost impossible. The movie plays with different codes and form. That is why the fairy-tale element becomes so vital:
Marco Dutra: "You are suddenly presented with a different kind of language which has the quality of taking the viewer into another dimension and realm... It takes you to a place you are never going to visit in the film, it only exists in the imagination. You want the countryside where Ana comes from to feel like a fantastic place. The style of the drawings was inspired by Elleswood, a Disney concept artist and we wanted to bring that kind of reference to the film. [To create the sensation of] a story told by the fireplace. That fireplace is still with Juliana, the actual prop. It's fascinating to see that, it drives you and takes you to another place, that big fire."
This combination of elements is exciting and organic but creates its own problems when it comes to raising money or with distribution and marketing.
Dutra: "We then had to face the marketing aspect of how to promote the film, how to make a trailer or even how to write a synopsis? Many people have pointed out that this movie is best seen without any kind of preconception, but that is hard for the market. How do you say to people: 'Come and see my film'? Then they will say: 'What is it about?' 'Ah. No, I can't tell you!'
That's not how markets work!"
They were very fortunate to get Sara Silveira on board. She is a daring producer and exceptional in that she focuses on up -and -coming directors work. Once committed she fights for the projects energetically. Without her, the film might had struggled to clinch the financing. But nevertheless, when a film does not fit neatly into a box for cataloguing, it can have repercussions.
directors Marco Dutra and Juliana Rojas
Good Manners has done well in the festival circuit with a clutch of nominations and awards, despite this, they have not found it easy to get distribution for the film in the UK so far. It is the kind of film that may well fall into cult status in certain genres. It has got distribution in the USA and a number of countries but it is not easy to place. Meanwhile, it is enjoying the exposure at the international festival circuit, as Dutra emphasizes: -
"[The festival circuit] is very important. It is good to export the film to the festival circuit because it puts the film in touch with many different audiences, so it helps [us] to understand the film's potential. It is a way of opening doors & helps the film to navigate around the world. It also helps the Brazilian release, especially if the film has won awards and nominations. That generates a buzz around it that attracts people to go and see it… the dialogue that it generates is very important. But that is the way that films circulate these days."
This modern take on an old myth tackles, through it, themes of motherhood & social divisions, with humour, some horror, music and melodrama. Quite a feast!
Cast: Isabél Zuaa, Marjorie Estiano, Miguel Lobo, Cida Moreira, Andrea Marquee, Felipe Kenji
Producers: Sara Silveira, Maria Ionescu, Clement Duboin, Frederic Corvez
Cinematographer: Rui Poças
Production designer: Fernando Zuccolotto
Costume designer: Kiki Orona
Editor: Caetano Gotardo
Composers: Guilherme Garbato, Gustavo Garbato
Casting director: Alice Wolfenson
Production companies: Dezenove Som e Imagens, Good Fortune Films, Urban Factory
Sales: Urban Distribution International, Montreuil, Paris (contact@urbandistrib.com)
Awards:
Rio de Janeiro International Film Festival 2017: Best Film (FIPRESCI Prize) & Best Fiction Film (The Petrobras Award) and 'Best Cinematographer' for Luiz Poças at the.
Sitges Catalonian International Film festival: 'Blood Window Award', Special Mention 'Best Actress' for Isabél Zuaa, Winner Best Film Critic's Award
Locarno International Film Festival: Special Jury Prize.
L'Etrange Film Festival: 'Film Audience Award.
A book which tells the story of the Amazon and its ports-towns near...