Colombian Street Kitchen @ The Green Rooms
From delicious 'Growing boys' arepas to the thinnest patacones ever - there is something for everyone at The Colombian Street Kitchen in Wood Green's Green Rooms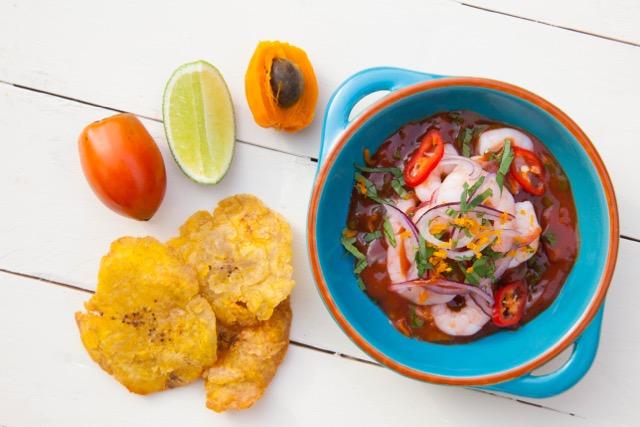 The first thing that you notice on entering Green Rooms is what a great space it is. In most restaurants, tables are crammed into every possible space and you have to actively try not to hear the next table's conversation. At the restaurant at Green Rooms, an 'artists hotel', that gives afforadble rates to artists and also offers rehearsal space, it's a pleasure to eat with space around you.
The Green Rooms also has an interesting food concept. The venue invites local chefs to set up residencies. The current resident is Colombian Street Kitchen, headed by Medellin born Esteban Arboleda, who has a passion for delivering the best traditional dishes of his home country, to a high standard and in a sophisticated style (as well as a passion for music by the sounds coming form the speakers - Colombians are known for their great music taste).
Indeed, we could taste the real freshness and quality of the ingredients in our starters - a sweet potato guacamole and patacones with salsa - which is essential in any Latin cuisine, and sadly not always a given, as many pseudo latin restaurants (especially the chains) feel no shame in serving up pre-prepared frozen guacamole from a jar. The other wonder was the shere thinness of the patacones - deep fried wafers of plantain. How could you possibly get a plantain that thin without it breaking? Esteban's secret, apparently, which he would not divulge. But this slither, dipped in a fresh tomato salsa (or the guacamole) was something certainly worth a trip to experience.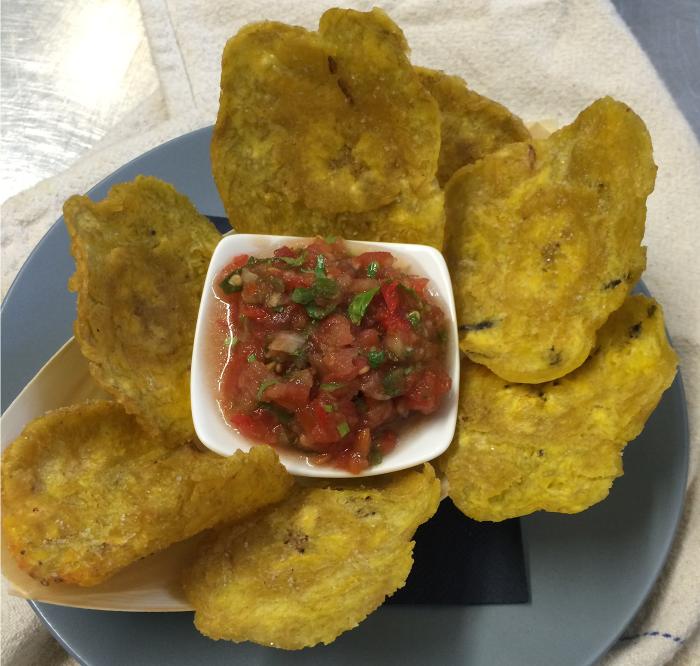 The world's thinnest patacones?
The sweet corn fritters with homemade melao (cane sugar and rosemary) were a real treat for the kids and the chicharrón was also exquisite; huge chunks of pork in a sweet honey marinade, with ample crackling, and a spicy Colombian-style pickle. Divine.
Next we had the empanadas, crispy and delicious, with meat and potato filling and another with cheese . The prawn ceviche was also good, by my co-diners report, although he would have preferred a fish option to be on the menu, as well as prawn. Then down to the arepas, corn-cakes filled, stuffed or, in this case, piled, with goodies. If you like your sandwich option as eaten on the streets, then this might not be your thing. Esteban's arepas are the full dining option, with all the 'stuff' piled on top - beans, spicy salsa, guacamole and coriander, with an option of feta, shredded beef or chicken. My son wolfed down the feta version claiming it was delicious. Definitely 'growing boys' food. These arepas are seeded with black quinoa and toasted sunflower seeds, not that you would notice underneath the the layers of ingredients piled on top.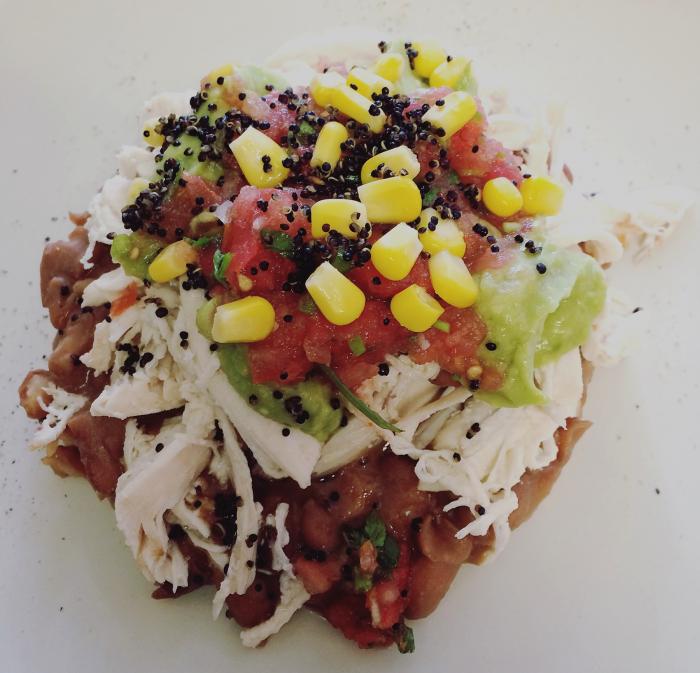 Arepa deluxe
We finished off with some fried pastry (Colombia's answer to churros, but can't remember the name!) which we dipped in extremely rich Colombian chocolate sauce. Perfect if you love chocolate. The tropical fruit trifle - a lighter and healthier option - was also yummy.
Just as we were finishing dinner, my favourite salsa track of all time came on. How many places can you eat delicious Colombian food and listen to the smooth honey voice of Azuquita? This reviewer's definition of heaven. A whole load of Latinos and salsa discotheque would have topped it off. I mean surely, all that space is an invitation to do more than just dining!?
Colombian Street Kitchen will be at The Green Rooms till February 2017. The restaurant is open six days a week:
Tuesday to Friday 12-3pm and 6-10pm.
Saturday and Sunday 12pm-10pm.
Closed on Monday.
For more info or to make a reservation, call 020 8888 5317 or email info@greenrooms.london
Address: Green Rooms Hotel, 13-27 Station Road, London N22 6UW. Website: www.greenrooms.london
Opposite Wood Green Station on the Piccadilly Line. Parking is available at The Mall Wood Green which is a few minutes walk away.
Cuba's natural setting, with its own historical and cultural...
From garage parties in Panamå to the awards ceremonies of Miami, how...