The Cuban
A buzzing Latin venue, a perfect break whilst weekend strolling in Camden Lock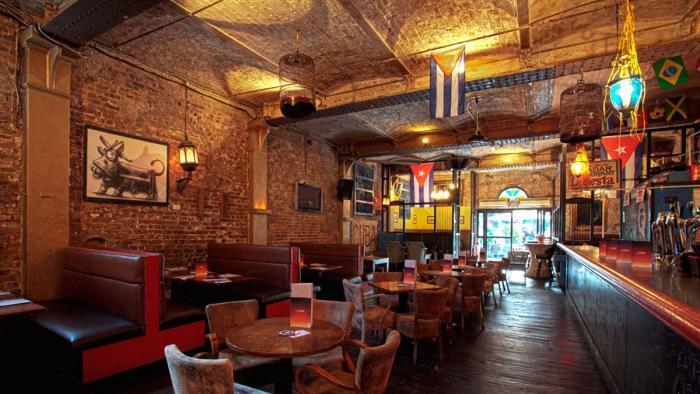 You couldn't ask for a more vibrant location for this two storey Cuban restaurant planted in the very centre of Camden Stables Market, where the eclectic mix of artists, bohemians and cocky vendors are eough to give you head-rush; by the time you arrive at the Cuban you are ready for a proper Cuban Mojito. Rumba music filled our ears and as we approached the bar, the smell of mint filled the air as the bartender crushed and cut fresh mint leaves for the many mojitos fuelling the lively atmosphere. That was a very good start.
The diversity of the choices on the Tapas menu make it a good choice for a communal eating experience; the items can be described as 'new Cuban cuisine' - more of a crossover to American menus featuring Cuban flavours.
We chose an innocent pitcher of sangria, and nine tapas to sample including Cuban favourites pan-fried tiger prawns, albondigas (Pork and beef meatballs flavoured with cumin), pan fried chorizo, Cuban calamari and deep fried cassava (yucca or manioc root). We added some more tapas like Sicilian arancini (stuffed rice balls), Mexican nachos and quesadillas, and an olive selection to round off our meal. The more traditional Cuban dishes are available in the Specialties section.
We did not have to wait very long before we received our order and it was executed beautifully. The tapas are tastefully presented on traditional wooden long serving dishes, perfect for sharing. My daughters and I loved the albondigas, meatballs, which were meaty and delicately flavoured with cumin, and served in a rich beefy tomato sauce. The Sicilian arancini were also well presented with a garlic dipping sauce. We also loved the delicate deep fried cassava. The quesadillas were crispy and delicate, dripping with gooey spicy cheeses and salsa. Another big hit were the nachos which come with big heaping spoonfuls of flavourful guacamole and sour creammm.
All in all, the Cuban Camden's Tapas menu is perfect for an afternoon in London with friends or family. Its location makes the anticipation to the meal fun and lively as you stroll up Camden High Street to the restaurant. Once inside, the Cuban music and mojitos create the feel of an old style Havana lounge and only made better by the delicious and tastefully tapas on offer.
The Stables Market, Chalk Farm Rd, London NW1 8AH, United Kingdom 44 20 7424 0692
Corina Poore talks to Gustavo Salmerón, who made a unique film about...
With a name like Che Sudaka, you can't help but be curious. We...