In Defiance for Art
In 2016, the world said goodbye to the Buena Vista Social Club in a farewell 'Adios' tour that included shows in the White House, where they performed for President Barack Obama. Or so the world thought. Defined as 'the finest guitarist of his generation' Eliades Ochoa is defying expectations to hang up his guitar, as he prepares for another sell out show at The Royal Albert Hall. And why not? As President Trump all but tears up the good will that Obama offered towards Cuba, Ochoa is using his defiance in the cause of more great music, as Latino Life discovers talking to one of the few remaining artists that represent a unique Cuban generation.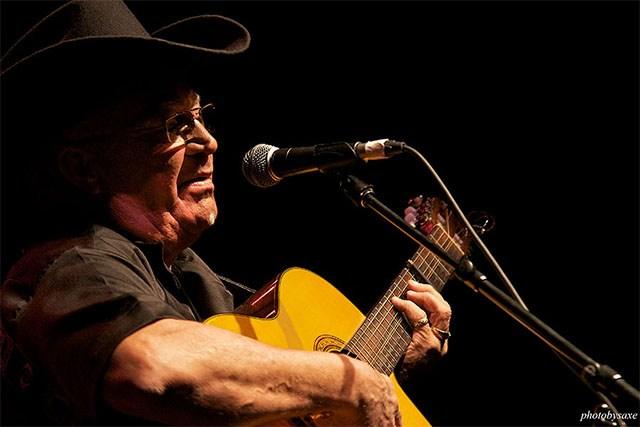 The iconic Buena Vista Social Club album and the 1999 film directed by Wim Wenders did something quite incredible when it led some of Cuba's finest musicians to sudden global fame. Already in their seventies, Singers Compay Segundo (1907-2003), Ibrahim Ferrer (1927-2005), Manuel 'Puntillita' Licea (1921-2000) and Pío Leyva (1917-2006), pianist Rubén González (1919-2003), bassist Orlando 'Cachaíto' López (1933-2009) and guitarist Manuel Galbán (1931-2011) enjoyed the glory and glamour for only few years before they passed away. But at least the world tours and millions of albums sold, ensured the long awaited rewards for their families
Today, two decades after taking the world by storm, Eliades Ochoa (71) and Omara Portuondo (87) are the most visible faces of the great Cuban band, along with other musicians such as laud player 'Barbarito' Torres (b. 1956) and trumpetist 'Guajiro' Mirabal (b. 1933) who are still active.
In London to promote the concert, Ochoa's voice sounds as warm and charming as when singing "El carretero", and although he did not play his guitar for us, the conversation was friendly and inviting. He pauses a few seconds, after I ask about his feelings in relation to the fact that many of his compañeros are gone.
'My brother, I belong to my audience. I feel happy when I see I'm still strong and willing to keep making music and still be the Eliades I've always been, one more among my people. About those great maestros who have now physically passed and are not among us any longer, what we need to do is remember them with respect, fondness, love… and know that we have been so lucky to have been by their side. Compay, Ibrahim, Rubén, Pío Leyva, Puntillita all those people are now gone….but they're with us and enshrined in history.'
When the Buena Vista phenomenon hit the world, some presented it as in opposition to the Nueva Trova led by Pablo Milanés, Silvio Rodríguez and the cantautores (singer-songwriters) who supported, and were supported by the Castro government. The Buena Vista music was presented as that which the revolution had silenced, but Ochoa denies any such divisions among local musicians. Infact, he says, their music was never silenced in Cuba as some suggest. It was always alive, just not exported.
'In Oriente, in Santiago, the traditional Cuban music was always kept alive, the Casa de La Trova [House of Trova] was always full with people listening to trova and downing drinks. Throughout. When the Nueva Trova Cubana appeared, it was something new, but traditional trova continued. The musicians of the Nueva Trova came to La Casa to share their music with us. The same way they showed to the world Cuban music, Buena Vista opened the doors to traditional Cuban music…the 'son', which is the root of everything, even salsa. Salsa is just a commercial name [prominently Cuban son –but also other rhythms merged with jazz and other North American styles]. When people used to ask me about salsa, I would always say, 'the only salsa I know is the one I eat with pasta, with meats!' The same happens today, now reggaetón exits but it did not stop people from listening to son. Young Cubans may go and listen to it today, but the next day they'll go to listen or play son, the two part of each other, they are not mutually exclusive'.
Indeed, it seems the young generation, such as Decemer Bueno, known for his hit 'Bailando which became a worldwide hit Enrique Iglesias, seek out his elders for duet.
The eldest son of peasant parents from nearby Santiago, in the eastern part of Cuba, Eliades was only five or six when he started to play music. Both his parents played the tres, a kind of harmonic guitar with three strings. Eliades would copy what the adults did and later spent hours under a tree until he was able to play and sing the songs. Born in 1946, in times of Ramón Grau (1944-48), later Carlos Prío Socarrás (1948-52) and dictator Fulgencio Batista (1952-59) governed Cuba previous to the revolution.
I wonder what memories he has of the old Cuba.
'I never was a child. I was always a boy. Childhood was for those who could afford it. In my case, from very early in life I had to earn my living, shining shoes, selling caramel-coated peanuts at the doors of the zoo, and at night playing my guitar and busking for tips. I'm not ashamed about this. I like people to know this. I tell this story in the book Eliades Ochoa, de la Trova para el mundo (Grisel Maria Sande Figueredo, 2009), and many artists in Havana said I should have not spoken about it for the world didn't need to know that but I said why not, if there's truth greater than that; that I did not sleep in a golden cradle, I had to work a lot since I was very young.'
Eliades's guitar has a very particular sound, partly because he taught himself how to play, and partly due to modifications he implemented to bring into it the sound the tres (doubling some of its strings with very thin metal strings).
'I think that I keep playing the guitar the same way I used to play it in the hills… [laughter] Only, I feel very lucky that people like what I do and support me, I have no other way of doing things.'
In his prologue to Eliades's book, Silvio Rodríguez rescued a story he thought people should know about Ochoa: 'Something that is not well known is that thanks to Eliades's support, Compay was able to return to the music and record his smashing hit Chan Chan.' Ochoa does not like to talk much about himself but concedes…
'The truth is that Compay was making incredible music at the time, and he arrived in Santiago with a ragged Guayaberita shirt. He wanted me to sing some of his music so that he could earn author rights. At the time he was selling tobacco for a living, and life wasn't easy for him. So he stayed with me in Santiago and we started to play music, to rehearse. That was how the Chan Chan was recorded for the first time.'
What do you feel about the fact that recognition arrived so late in life for many of you. Compay died aged 95, Ibrahim 78, Rubén 84, Pío Leyva 88, Puntillita 79…
'Things arrive when they do. Simply, they died with all the honors, all the honors… And the world knows who they were. The world got to know these personalities of Cuban culture who are no longer with us. That's why I say all comes in good time.'
Ochoa himself has been probably more active than ever. He collaborated with Malian musicians Toumani Diabate and Bassekou Kouyate in the project and album Afrocubismo, which was finally recorded in 2010, thirteen years after originally intended. Few people know that it was this project – a collaboration between Cuban and Malian musicians – that was supposed to happen but never did back in 1997, and whose frustration turned into the recording sessions of Buena Vista musicians instead. The story goes that producer Nick Gold had been waiting in Havana for Toumani Diabate and co. to arrive but they never made it to the island. Instead, Juan de Marcos told him about these amazing musicians, who were struggling to make a living Cuban music, such as Ibrahim Ferrer. The rest is history.
So, Ochoa's recording the Afrocubismo sessions 13 years later rounded a full circle.
For those who saw the Orquesta Buena Vista Social Club farewell tour at The O2 in 2016, with plenty of musicians on stage and a few thousand people in the audience, the Royal Albert Hall show will feel more intimate.
'This time it'll be only 6 or 7 of us,' he says.
Does it compare in any way with your Buena Vista Social Club shows?
'Well, you know. It'll have some things in common. Do you know why...?'
No…
'Because the audience are used to us playing songs they really like such as "Chan chan", "El carretero", "El cuarto de Tula" o "Candela", and they won't allow us not to play them. Even if we have twenty new songs, they'll still want to hear these. Now, we have a little surprise also… A young Cuban artist whose songs have gone around the world and earned several Grammys will be playing with us. We recorded a video clip very recently, it's a 'beautiful' song.'
We'll leave you guessing on that one.
Eliades Ochoa will play at the Royal Albert Hall, preceded by the Buena Vista Social Club: Adios (Film) Wednesday 25 April 7.30pm. https://www.comono.co.uk/live/eliades-ochoa-7/
Cuba's natural setting, with its own historical and cultural...
From garage parties in Panamå to the awards ceremonies of Miami, how...