Divine Sensuality
From his lyrics that verge on magical realism, to his intensely sensual melodies, the undecipherable enigma that is Juan Luis Guerra has defined a generation who have danced to his music and dreamed his dreams. Latino Life steals an exclusive moment with the Dominican hero and one of Latin America's most sublime music makers.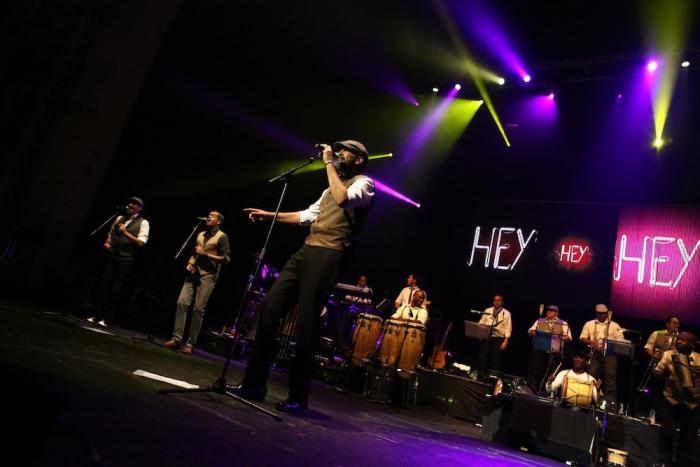 "Inspiration can come at any moment. For me, creating music is a habit, like eating or sleeping. Sometimes a song comes in minutes, sometimes it take longer…but it always comes." This is how Juan Luis Guerra, probably the most influential Latin musician of his generation, loved worldwide for his merengue and bachata hits, sweeps away the question of finding inspiration to write great music.
The simplicity of the Dominican's answer, and indeed every answer in our interview, sums up the power of an artist whose songs are enshrined in the memory of a continent. Every answer makes me think: yes, of course, that's how he would answer that question. Neither dismissive nor arrogant, what he says simply reflects his world: a world infused by his surroundings and his identity, which are reflected back through a music that makes people dance, cry, laugh, and feel unequivocally Latin American.
Amazingly, despite producing some of the continent's greatest music, Juan Luis Guerra grew up with no musical influences. No one in his family played an instrument. As a teenager, the Dominican taught himself the basics of guitar and, after winning a contest, attended the National Conservatory on a scholarship, prior to studying at the famous Berklee Conservatory in the United States.
Guerra didn't seek fame. If he had, he wouldn't have returned from California to the Dominican Republic to play plena y bomba, bachata and merengue – music that was generally seen as poor people's folk, and generated little interest beyond the island. He founded a band, Los 440 – named after the universal tuning pattern of the A note, 440 Hertz – wrote music and began rehearsing with friends in a garage on Sunday afternoons.
It's astonishing to think that bachata was once shunned, including by Dominicans, when today it has replaced the bolero and even salsa as the most popular romantic music in Latin America, producing huge hits and making superstars out of teenagers. But Juan Luis Guerra's 1990 album 'Bachata Rosa' changed everything. The record sold over five million copies, brought bachata into the mainstream in the Dominican Republic and gave the genre an international audience. Guerra says that it was simply the music that came out of him.
"In my youth, my uncle Oscar used to take me to school on his truck, and always turned on the bachata radio station. That is how my love affair began and the desire to write romantic bachatas. It was those journeys that first inspired me to write lyrics full of metaphors. That's where 'Estrellitas y duendes' comes from, 'Bachata Rosa' y 'Burbujas de amor', and all the merengues from 'A pedir su mano' through 'la Bilirrubina'. They stem from those sights and sounds of my childhood that seemed magical."
Cycling Across Niagara Falls under Coffee Rain
Guerra describes that period as "truly transcendental for us." It was even more transcendental for Dominican music which, unlike Cuban or Puerto Rican music, had never left the island. Without 'Bachata Rosa', there would be no Romeo Santos, no Prince Royce, or any of the young bachata artists currently topping the Latin and US charts.
At the same time, Guerra's metaphorical lyrics took bachata beyond the realm of party anthems and catchy melodies. Latin Americans cherished his poetry, which even a good Spanish speaker would struggle to understand, as their own secrets. His 1998 release 'Ni es Lo Mismo ni es Igual' (Neither The Same Nor Equal), which won three Latin Grammys, was a case in point. It featured 'El Niágara en Bicicleta' (Riding Niagara on a Bicycle), one of Guerra's most famous songs and a nod to when Guerra was very ill in hospital. Guerra explained:
"The hospitals around here are not well equipped, and a lot of their equipment is broken. When I was getting out of there, I told the doctor I was going to write a song about my experience. After that, I wrote 'Niagara en Bicicleta'.
'Niagara on a Bicycle' is a typically Dominican turn of phrase, referring to any task that is impossible, a virtual miracle. The chorus reflects a magical reality so many Latin Americans, especially in the countryside, experience:
Don't tell me that the doctors left.
Don't tell me you don't have anaesthetic.
Don't tell me someone's drunk the alcohol
And sewn the thread for stitches into a tablecloth.
Don't tell me the forceps are lost,
That the stethoscope is off partying,
That the X-ray machine has burnt out
And the serum has been used to sweeten the coffee.
While Guerra's merengues and bachatas touch on problems that Latin Americans face on a daily basis, in recent years his songs have made increasing allusions to God. He explains: "I found that, even though I was successful in my career, I was still somehow feeling very empty inside."
Some critics feared his music, so cherished for its unique quality, would descend into the banality that characterizes some Christian music. But as Guerra himself argues, "one of our most popular merengues, Las Avispas (The Bees), is completely inspired by the word of God and narrates the love and protection experienced by those who receive him into their hearts. There's no denying the music we make is for dancing. But, would I like my listeners to experience this love that transcends understanding? Of course!"
Defying his detractors, Guerra's evangelism has neither affected his ability to make hits, win awards, nor the respect from the best of his peers like Rubén Blades, who said: "Juan Luis is an excellent musician, a gentleman, a spiritual person, a friend. A proud Dominican for all." Yet, the goofy giant still seems the most unlikely superstar and creator the continent's most danced-to party anthems, even confessing "I spend most of the time at home with my family, I read, I compose, I look after my garden…"
Perhaps, for religious sceptics, it's easy to ignore the subject in his lyrics which, even in Spanish, can be as cryptic as those of his favourite band, The Beatles. "I never understood what the Beatles were saying until I was older. Not long ago I studied the words of 'Eleanor Rigby' with my niece, and I finally understood them. I used to sing it but had no idea what it was about."
"Did you ever meet any of the Beatles?" I ask.
"No, but every time I go to London, I cross Abbey Road and take some photos…." Then, he laughs at a thought…"I'd love to do a bachata with Paul McCartney, ha ha!"
Ultimately it is Guerra's melodies and celebration of the Latin Caribbean that continue to connect with his audience. As DJ Jose Luis, the UK's foremost Latin DJ, explains: "He plays pop to a super sophisticated level, his melodies are timeless, his songs from twenty five years ago sound like they were recorded yesterday. He transformed folk music into pop music and made it universal, reinvigorating merengue, taking bachata to the masses twenty years before today's bachata Boom. And it's all down to the quality."
So, having opened the doors for the international success of Dominican music, what does he think of the new Dominican artists making an impact globally?
"There's a new generation of Dominicans doing good work, both in merengue and bachata. I'd encourage them to continue keeping the music of our country up there where it is globally"
As always, the Juan Luis Guerra makes the almost impossible task that he achieved sound so simple.
Want to know which great artists influenced this great artist? Read Juan Luis Guerra's Fantasy Island Tracks here
A book which tells the story of the Amazon and its ports-towns near...