Eduardo's Enchiladas Verdes
When I was a child, we used to go every Sunday to visit my grandma, together with all my uncles, aunties and cousins. There were lots of dishes but my grandma would always make enchiladas verdes (green enchiladas) for me only! All my cousins were so jealous as I was her favourite (and still am!). Enchiladas verdes are very easy to make if you have the right ingredients, time and passion! You only need corn tortillas, green tomatillos, chicken breast, white cream, queso fresco and onions.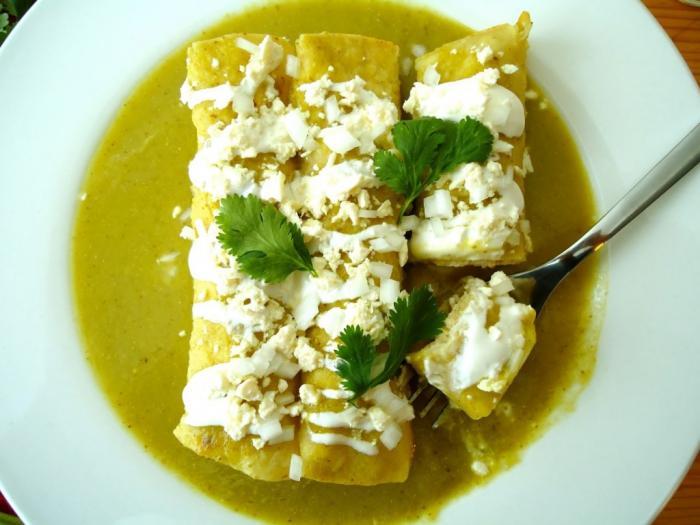 Ingredients:
12 to 16 Flour Tortillas or Corn Tortillas
4 large Shredded Chicken or Chicken Breasts cooked and cut up in small pieces
2 cans Cream of Chicken Soup
8 oz. can Green Chiles diced
1 pint of Sour Cream
2 cups Monterey Jack Cheese grated
2 cups Sharp Cheddar Cheese grated
1 small can Black Olives sliced
1 small Onion grated
8 Green Onion Tops chopped
Directions
1. Combine soup, onion, green onion tops, sour cream, Chiles, and black olives. Add most of the cheeses, saving some for the top. Set aside 1 cup of this mixture without the chicken. Then add the cut up chicken to the remaining mixture.
2. In a 9 x 13-inch greased shallow baking dish, fill each tortilla with some of the chicken mixture and roll up, folding ends in if you so desire. Pour remaining sauce over the top of filled tortillas and sprinkle with remaining cheese.
3. Bake at 350 degrees F for 45 minutes.
Eduardo runs Tequila Fest, which takes place this weekend http://www.tequilafest.co.uk/buy-now-london/
Get your ingredients from www.mexgrocer.co.uk
Cuba's natural setting, with its own historical and cultural...
From garage parties in Panamå to the awards ceremonies of Miami, how...