El Chacal comes to England with a point to prove
Even among boxers, Guillermo Rigondeaux's story is pretty incredible. Once Cuba's pride and joy, the twice Olympic gold medalist and twice world champion was exiled in his own country for two years after caught trying to defect, only to escape in a boat to Miami in 2009. Now a professional, undefeated in 16 fights, the Cuban super-bantamweght - better known as 'El Chacal' (the jackal) – finds himself in a bittersweet position as he prepares to take on local-boy James Dickens over ten rounds in Liverpool's Echo Arena.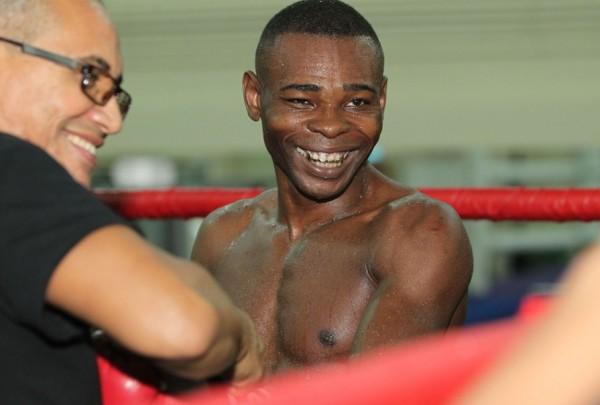 Since turning professional, Rigondeaux boasts an impressive record of 16-0, with ten of his victories coming via knockout. In December 2014, following a RTD victory over Japanese fighter Hisashi Amagasa in Japan, Rigondeaux held the WBA (Super), WBO and The Ring super bantamweight titles; yet since that date, the Cuban has only entered the ring on one other occasion – beating Drian Francisco in a unanimous points decision in November 2015.
His eleven-month hiatus came as a result of various political power struggles within the world of boxing. Major television broadcasters were hesitant to support fights involving 'El Chacal' due to concerns over the entertainment value of his fights. Added to this was the reluctance of suitable opposition within the super-bantamweight division to fight against the in-form Cuban, leaving Rigondeaux ostracised from professional boxing – a position he knew all too well already, having been banned from boxing in his native Cuba whilst still an amateur.
During the early days of his career, Rigondeaux dominated Cuban boxing, winning the national championships at bantamweight for seven years running. He won gold for his country at the 2000 and 2004 summer Olympic games, as well as two amateur world titles in 2001 and 2005.
In 2007 he was selected to represent Cuba in the Pan American games in Brazil, however he and his teammate Erislandy Lara failed to show up for their scheduled bouts – in an attempt to defect and sign a professional deal outside of Cuba. The two were eventually caught by Brazilian authorities, and returned to Cuba, however upon return to their homeland they were banned from all competitive boxing, as well as practicing in any boxing gyms within Cuba.
Rigondeaux spent two years as an exile within his own nation, before finally escaping to Miami on a boat in 2009, leaving his family behind in Cuba. This time round he was successfully signed as a professional, and cruised through his opening few fights before winning his first title later that year. His seventh fight saw him come up against interim WBA super-bantamweight title holder Ricardo Cordoba in front of 70,000 people in Dallas. The match went through all twelve rounds, with both boxers knocked to the floor at some point; however, Rigondeaux managed to land more punches throughout the fight, and so won his first world title on a split decision.
The Cordoba fight was broadcasted on HBO, leaving Rigondeaux worried about public perception over his fighting style. He worked on becoming more aggressive, and won two of his next three fights through by technical knockout – the other of which he won with a KO against Rico Ramos to take the WBA (Regular) super-bantamweight title. A year later, 'El Chacal' faced WBO and The Ring champion Nonito Donaire in a unification fight, which he dominated throughout, winning a unanimous decision points victory to become WBO and The Ring super bantamweight champion of the world.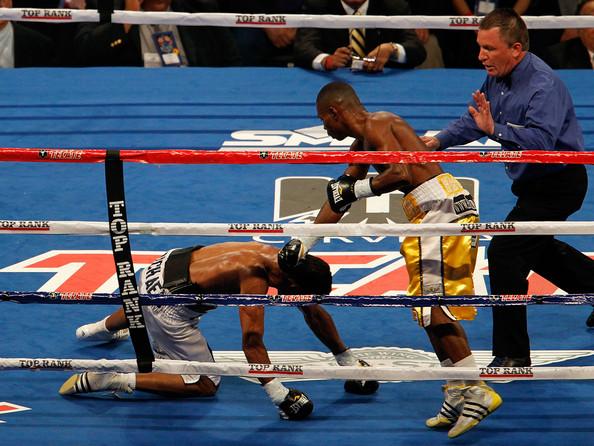 Over the next year, Rigondeaux retained his title with three fairly evenly matched fights, however struggled to entice any of the top super-bantamweight fighters into facing him in the ring. The Cuban has openly criticised British super-bantamweight boxers Scott Quigg and Carl Frampton, once calling the two "cowards" for "finding ways to avoid the best in their division." The two Britons meet in the ring just a few weeks before 'El Chacal' makes his U.K. debut, setting up a potential mouth-watering clash between the winner of the Quigg-Frampton fight, and Rigondeaux – as the Cuban seeks to reclaim the titles stripped from him during his hiatus.
Speaking ahead of his upcoming fight in Liverpool, Rigondeaux goaded the two Britons, stating "we wait in anticipation to see if the winner of a great fight between them would step up and step in the ring with me, so the whole world can see who the best 122-pound fighter is." He then added, "fans should come see the real super world champion in Liverpool, as I'll be ready to put on a show and be in a position to happily knock out the winner, if either would even fathom the idea of stepping in the same ring with me."
Rigondeaux' first visit to the U.K. will be a bittersweet occasion for the Cuban, as without a doubt he would much rather be facing one of Frampton or Quigg in a title deciding fight. For now, he must settle for an exciting up-and-coming opponent in James Dickens, which will provide a good test for him as he as he looks to regain momentum coming into the twilight of his career. Now 35 years of age, 'El Chacal' will look to recapture the explosiveness that won him his world-titles, in order to earn a title-fight to award himself one final opportunity to win back the titles he believes to still be rightfully his.
See the fight in Liverpool's Echo Arena on March 12.