Esteban's Colombian Pandebonos
Medellín-born Esteban Arboleda runs Colombian Street Kitchen and since August he's been wowing guests and visitors to Green Rooms hotel in Wood Green with his authentic Colombian Street Food dishes. He's halfway through a six month residency at the hotel and checks out at the end of January, so catch him soon. Here is his take on Pandebonos - Colombian cheese bread buns made of corn flour, cassava starch, cheese and eggs.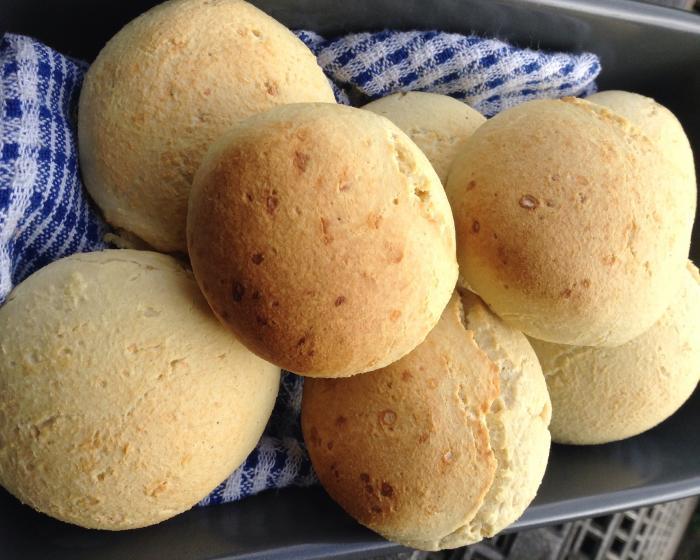 Pandebonos are a cheesebread that is very popular in some Latin American countries, including my home city of Medellín, Colombia. There we often eat pandebonos as part of our breakfast alongside café con leche, hot chocolate or juice. I love this because it's my favourite afternoon snack! If you're making them in the UK, the ideal cheese to use is feta, which can give really good results. Add a pinch of yeast to help them rise if it's needed.
INGREDIENTS
400g of grated feta cheese
250g of Mogo flour (cassava flour)
60g of fine cornmeal or ready to cook polenta
20g of sugar
100ml of whole milk
1 teaspoon of baking powder
1 egg
METHOD
Mix all the dry ingredients in a food processor.
Add the egg, then add the milk slowly until you obtain a soft mix.
Divide the mixture into 12 equal parts and roll into balls.
Place them onto a greased tray and bake in a pre-heated oven at gas mark 5 for 20 minutes, or until they look slightly brown at the top.
Enjoy them with cafÈ con leche!
You'll find The Colombian Street Kitchen at The Green Rooms in Wood Green until the end of January
facebook.com/colombianstreetkitchen
A book which tells the story of the Amazon and its ports-towns near...