Explosive Alegría
It would seem that anything Gente de Zona touches turns to gold. Whether it's putting Enrique Iglesias back at the top of the charts, or keeping Marc Anthony relevant, everyone who'se anyone in music goes to this Cuban Reggeatón outfit to make global hits. But it hasn't happened over night. Alexander Delgado and Randy Malcolm, who songs have amassed almost 9 billion YouTube views, know the meaning of endurance. Ahead of their UK debut in May, where they will also receive the LUKAS international Act of the Year, Latinolife found Cuba's most famous duo oozing the best of Cuban pride and happiness. It's no surprise these Cuban boys are contagious.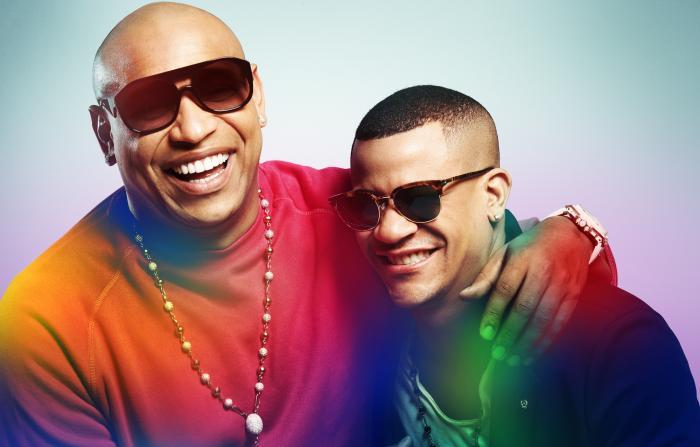 Latinolife: Coming from an island that has given so much music to the world, how does it feel to fill the shoes of so many great musicians?
Gente de Zona: Well, you cannot hide from the musical heritage that Cuba has, as the birthplace of so many great musicians and genres that have conquered the world! It makes us super proud to be the group which, at the moment, is representing Cuba globally, especially with a genre that was frowned upon by the authorities. We feel like we've broken a barrier, here and also abroad with Reggaetón Cubano, by showing it is also part of the same tradition that created Cha ha Cha, Songo, etc. We mix the roots of Cuban music with what is happening right now, but like all new things, not everyone accepts it at first.
LL: Well that takes me straight into my next question, how did you manage to thrive doing Reggaetón when at one point there was talk of it being banned in Cuba?
GDZ: When the music is good, when there are well-written lyrics and a positive message, no barrier can stop you. The new generation and the current times have also helped because we make music for the world, for all ages, so the art and the message go beyond the genre.
LL: You have been doing this for a very long time…
GDZ: It has been sixteen years! And that experience has been crucial. We started as a rap outfit in Havana in the early 2000s and now we are mixing up all these things happening in the music world. There have been many changes and we feel that we have adapted, while still staying true to ourselves, and that makes you stronger. We feel capable of doing any genre and we can feature with any artist from Jazz to Salsa. For us it is a real privilege to have the ability to move across different types of music and develop our music in any circumstance.
LL: Puerto Rico has been the powerhouse of urban Latin music for years, do you think that influence is coming to an end and the Colombia and Cuba are becoming more influential?
GDZ: We don't think so! They have artists who are incredibly popular with fantastic trajectories such as Daddy Yankee and Don Omar and they will always be there. Look at Daddy Yankee with Despacito…number one everywhere. Don Omar is coming back very strong after a few years after a few quiet years. But i guess a new generation is coming, Colombia has some really big names such as J Balvin and Maluma and well Cuba, Gente de Zona are in a great space at the moment. Thank god! But also you have Cubans like Jacob Forever and El Chakal who are very good.
LL: Who do you feel coming out of Cuba has enough talent and skill to break into the international market?
GDZ: Loads! So many artists in the island who are pretty much unknown outside the island but have tremendous talent. Jacob Forever, El Chakal, and Yakarta to name a few. Cuba has a very discerning public and continues to produce world class artists. We grew up listening to great music legends such as Adalberto Alvarez, Isaac Delgado, Irakere, Los Van Van, NG La Banda…imagine, people have the references to compare anyone new to. Cuba is a place where artists and sports people have an important role in society, and there is a new generation of kids coming through, full of talent and they for sure will surpass what we have done.
LL: You have had some fantastic hits featuring so far, Pitbull, Enrique Iglesias, Daddy Yankee, Sean Paul…any new projects coming up?
GDZ: At the moment we are working on our new album. Soon we will release a single, with no featuring, and after that, loads of featuring…but we are not telling you who with now otherwise you won't be calling us for another interview in the near future (laughs)…but we also want it to be a big surprise for our fans.
LL: The European tour, tell me more about it…
GDZ: We have a 12 piece band. They are part of Gente de Zona. This is not just Randy and Alexander! They are as important as us and they are as proactive in the live shows as we are. We just did four concerts in Spain: Madrid, Bilbao, Barcelona and la Coruna and the new leg of the tour will cover London and the south of Spain, so you will all have to come and see what all the fuss is about with Gente de Zona!
Gente de Zona will make their London concert debut at The Troxy on May 23, and receive the International artist of the Year at the LUKAS Awards ceremony before hand. Tickets here
A book which tells the story of the Amazon and its ports-towns near...