A Fan's Dream Comes True
What happens when the UK's most famous music fan and his long time idol, arguably Latin America's most gifted guitarist, get together? Corina Poore visited Jools Holland and Jose Feliciano to learn about an English presenter's lifelong love for the Puerto Rican musician that led to their current tour and recording.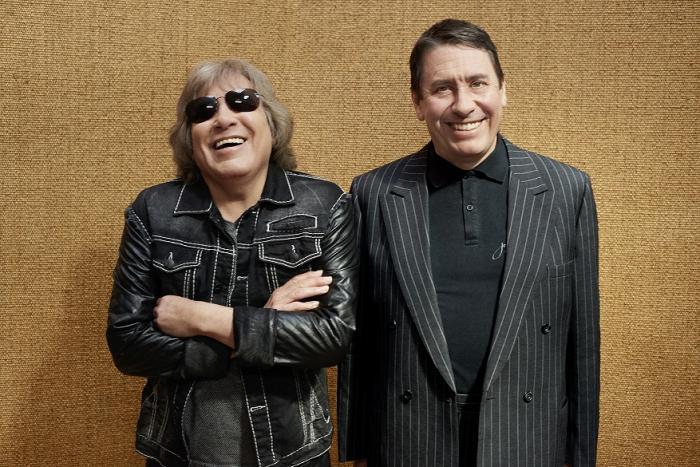 On a sunny Monday afternoon, the large wooden gates of the Helicon Mountain studios in Greenwich open to reveal a facsimile of 'Portmeirion' style houses with a tower to match. It turns out that Jools Holland has always been an avid fan of the TV series "The Prisoner" (starring Patrick McGoohan), that was set in the enigmatic north Welsh town of Portmeirion. Inside comfortable recording studios, Jools Holland & Jose Feliciano are waiting for me.
Some might find it an odd pairing: a quintessentially British R&B pianist from the suburbs and the blind guitarist from Puerto Rico. But little in life is purely accidental, as Jools Holland quickly indicates: "in my teens, when I was very reluctant to go to school, I used to lie in bed and listen to the radio and when I heard Jose Feliciano, it would make me want to jump out of bed."
Indeed, this is very much the case of the world's luckiest fan who, at a ripe-old age and with an illustrious career of his own as presenter of the nations' favourite music programme (BBC's Later with Jools Holland), has the clout, excuse, and the guts to propose what would have once been unthinkable: that he record an album and go on tour together with his life-long idol.
Jose Feliciano is lucky too. As we know, a career isn't just about talent, and this blind and supremely gifted Latino found himself becoming one of the first Latin cross-over artists in the age of segregation, which brought its problems as well as successes.
Jose Feliciano suffered a form of glaucoma as a young child that left him blind. Yet, with the odds stacked against him, the young Latino two hits – 'Light my Fire' and The Sun will Shine' in 1968, that rendered Feliciano a household name in the US. This led to him being the first Latino to be invited to play the national anthem at the 1968 World Baseball Series. Despite the beautifully unusual rendition, it was too much for some racist viewers and commentators, whose inevitable backlash severely damaged the Latin American's career. But over the years the admiration of his peers who've queue up to do duets with him and be touched by his genius, of which Jools is the latest in a long line, that have kept Feliciano's career alive.
"I always enjoyed singing in English and in Spanish, and not that many Latino artists have had success in both languages. But fame came very suddenly with "Light My Fire" and I don't think any artist can ever be ready when they suddenly become successful. Back in the 60s, the executives of the record company did not really know what to do with me," Feliciano recounts.
"I remember going to the Mar del Plata Festival in Argentina and I said I wanted to record some boleros, like La Barca (The Boat), El Reloj (The Clock), … and I recorded them with only my voice, my guitar, a bass player and two percussionists, one on maracas and one on bongo. We created a unique sound, and people loved it, because the bolero was already fading [from the music scene] and people were happy that I recorded them again. The girls, in particular, loved these tracks and I got the same reactions from the public as a Palito Ortega or someone like that. Sometimes it was a bit embarrassing, you know, because those guys, they were really handsome and I was … just a musician with his guitar who liked singing. I think I am more of a guitarist than a singer, but I try to do them both at the same time".
Feliciano is approachable, friendly, full of humour and an enthusiasm for music and life, looking two decades younger than he is. When complemented, he laughed and insisted there was not Botox anywhere! I believe him, there is nothing false about Feliciano or his attitude to life and the world. Undoubtedly his positive attitude and likeability, instilled by a loving family background, have helped him overcome adversity.
Right from the start Feliciano's talent and love of music was supported by all his family. His uncle played the typical 10-string Cuatro from Puerto Rico. From the age of three, Jose became a proficient percussionist on the biscuit-tin he had pinched from his mother, accompanying his uncle as he played traditional Jíbara melodies.. He played the accordion for a while, until he discovered the guitar.
"In my collection I have some by my earliest guitar maker whom I loved and I play his guitars still, although he is no longer with us, which was what kind of stopped me playing his guitars."
Avidly listening to Latino musicians that he loved, like Tito Rodríguez, Lucho Gatica even Julio Iglesias and Rafael, helped Feliciano develop his enormous versatility, and he attributes his distinctive style to these influences, but living as he was, in the USA, he was also exposed to the sounds of country, blues and rock music that was around him there: -
"The only thing that I did that was different is that I started to play the bolero introducing my American influences, in the themes… singing with a blues feeling… or even swing … and the young people loved that, especially the girls. Then later, I reversed that and played songs [like California Dreamin' or Light My Fire] using my Latin influences. I think that it is these combinations that, for me, distinguish me from other artists. This crossover, like in my album "That the feeling's good", but I love other albums too, like 'Fireworks' where I played Norwegian Wood as an instrumental."
Meanwhile, Jools Holland has an infectious enthusiasm, and he comes across as a person with enormous generosity of spirit, who genuinely enjoys all kinds of music, even though his particular forte and heart remains with the boogie-woogie, honky-tonk, and blues. He discovered music as a child, having been born to very young parents who shared a house with other friends: -
"There was a lot of music there which I liked, and they had early jazz and classical records… I lived with my grandmother for a while and she had a piano in her front room. My mother's younger brother, [who] would have been about 16 when I was 6, was my uncle although he was just a child himself, and he knew a little about boogie-woogie piano and so he showed me and I thought: This is really great!... That was when I realized that the chaos of the universe became ordered… and when I knew I wanted to work with music."
Thanks to this family background, Jools developed his musical skills and he was actively encouraged by his parents to listen to music of all kinds. When he decided to get together with a mate and start playing, Jools Holland was still only a teenager: -
"When I was about 15 or 16, I met the fellow from Squeeze, Glenn Tilbrook, who played the guitar. Being only around 15 [years old], we were desperate to find others to play with. Older people don't want to talk to you and the people who are your age are mostly not very good at playing. But we found each other and we would go into a pub where they had a piano and he'd have his guitar and we would just play. Playing in a public place taught us how to communicate music to people, as opposed to just playing in our bedrooms, because when you are playing to people, you want to make people dance or cry… to reach them… you learn to communicate, not just play."
"It was a great learning period… we weren't getting paid much, but we were getting enough so we thought really well, this is it!... This is a nice job and we don't have to get up in the morning…this is what we'll do!"
It was a long time ago, but Jools has never forgotten the impact José Feliciano's music had on him when he first heard it: -
"Jose Feliciano's records immediately jumped right out of the radio at me. I just thought: I love this man's voice… the way he's playing … I just love that sound. So, I got his records. The more I looked into him, the more I realized that what was great about him was that whenever he played a song, he made it sound better than the originals… much better! … I had heard a song a few times, (My Foolish Heart] probably by Frank Sinatra… and then I heard José doing it… and I started crying! OH! It was the most beautiful thing I had ever heard… and I was 14 or 15! So, I started to realize … again and again… that it was the 'singer' and not always the song in the music that brought it to life. You can hear a song and it is alright, but then you hear him playing it and he brings it to life!"
Fast forward a few years and Jools Holland was doing his TV shows and he wanted to get José Feliciano onto the show to perform, but it wasn't easy.
"… He didn't come to England so much and then when he did, it didn't coincide with the show… we only do 14 a year, seven at the beginning of the year and seven at the end… so it wasn't until last year that at last he was here and we could get him on! I was so pleased! … then …not only did he sound wonderful, you know… when he sings, he illuminates the song, but as soon as he came on, we really got on. We shared the same sense of humour, and loved a lot of the same music …found we knew the same songs… so that although I've been playing blues, boogie-woogie and ska, and he's playing his Latin guitar style, we found we had been listening to the same stuff. So we thought it would be great to capture this convergence on record… so we talked… you know… that mangers talked… the record companies talked… and it's quite complicated. It took a lot before everybody could get their heads round and see that it would work."
"On paper… it shouldn't really work… but it does and it shows how music is much broader that people think. I have learnt so much from José, just listening to him play… I still have to pinch myself to believe it. For years, I have been working with people and whenever somebody's got a guitar … a nylon strong guitar… I always say: 'You know that sound of Jose Feliciano' … and now when I no longer have to think "can't we make it sounds like José' … because it IS Jose! I can't believe it is actually him!"
AS YOU SEE ME NOW, is available on CD, vinyl and digital formats. JOols Holland and Jose Feliciano are also off on a massive 35- date UK tour (Tickets from £21.45).