A Fantastic Woman (2017) DIR: Sebastian Lelio
Last week's Oscar winner for Foreign Language FIlm, this deeply moving film about love, sorrow and the resilience of the human spirit, will have you feeling like rushing into the film to help.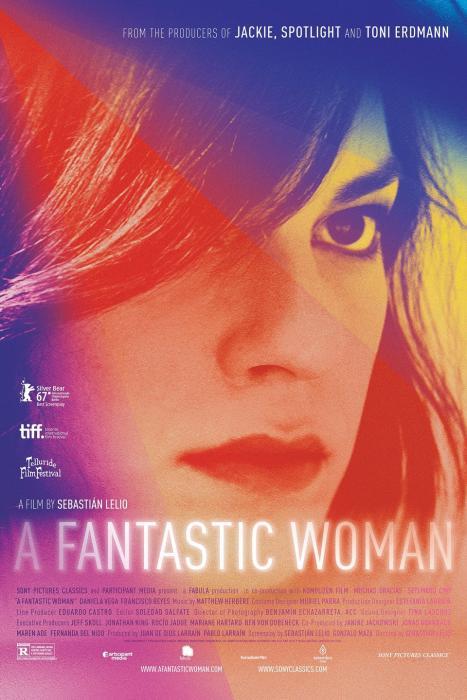 In A FANTASTIC WOMAN, the charismatic Daniela Vega plays Marina Vidal, a young transgender singer and waitress whose life is thrown into turmoil following the sudden death from an aneurysm of her partner Orlando, who is considerably older than she is. Marina rushes him to hospital only to find herself under suspicion and being insensitively interrogated by all with no regard for her own private grief or personal privacy.
Still overcome with pain, she has to face Orlando's family, who enter the picture brutally evicting her from the flat they shared, taking her dog and forbidding her from attending the funeral ceremony. Their total lack of empathy, mindless machismo and transphobic cruelty speaks of their own lack of grace and ignorance with which they end up tarnishing themselves, as they stand out badly when faced with the quiet dignity of Marina, who, despite losing everything she cared for, is prepared to fight back.
This is an intelligent and sensitive analysis of love faced by prejudice, with a supremely powerful and captivating performance by the young Daniela Vega. Unlike its predecessor 'Gloria', A Fantastic Woman, nominated for 'Best Foreign Film', has made the shortlist to everyone's delight, though, for some reason, it does not appear to have been submitted to the Baftas. Maybe next year?
Chilean films have been shining at the festivals of late. Pablo Larrain and his brother Juan de Dios Larrain, have brought us Jackie, Spotlight, Toni Erdman, Neruda, El Club, Princess, NO, Gloria, The year of the Tiger (El Año del Tigre), to mention but a few. Now he brings us this fascinating love story, fresh from preparing a re-make of Gloria, the 'ultimate free-spirited 50-something woman', (originally in Spanish with the wonderful, award winning Paulina García (2013) with Julienne Moore.
These new directors are rising effortlessly up onto the international stage, from this hugely creative phase in Chile after, one could say a dark period, creatively and in many other wasy, during the long 30 year dictators of Augusto PInochet. Sebastian Lelio is not new to darker subject matter. El Año del Tigre, (The Year of the Tiger 2011) is the moving story of a prisoner, whose escape is enabled by the destruction of his prison by a powerful earthquake, only to find a tsunami has destroyed his family and he is lost in ever more tragically affected areas, facing the overpowering destruction of nature.
Through his films, Lelio has expressed his thoughts on humanity and sensuality with a fierce truthfulness. There is a freshness in his attitude to the realities and foibles of human nature, and a grounding in the 'age' imperfections we all live with, a sagging waistline, not so young adults making love, or even exploring what it means to be feminine or transgender in a prejudiced world.
Lelio comes from a highly creative if somewhat 'nomadic' family, his father is an Argentine architect and his mother a ballet dancer. He was born in Argentina in 1974, and was brought up in the South of Chile. Some of his early shorts are quite experimental, eschewing dialogue in favour of visual improvisation and editing techniques. This experimentation comes out in later features, to the extent that in 'Gloria' 2013, the dialogue was totally improvised, without one word written in the script. This is in sharp contrast to A Fantastic Woman, which was totally written, there is almost no improvisation at all in the dialogue. The experimentation in this film lies elsewhere, in the daring subject matter and the brave approach to love, even more remarkable coming from director from one of Latin America's most conservative countries, in an already very conservative continent (until this year, Chile had one of the most restrictive abortion policies in the world, criminalizing its practice without exception and LGBT people still do not share equal rights)
One can't help feel that this film is a reaction to many things, that may be lost on an international audience, but it doesn't matter because Lelio has responded to the idiosyncratic with something absolutely universal. As Lelio says himself: "what motivates Marina is the need to say goodbye to her love. She has already come to terms with her trans-sexuality. She's an adult woman who is clear about her life, but now, she needs to face vital questions that she had never imagined because death appeared in her life so unexpectedly." It's the humanity and simplicity of it that has you feeling like rushing into the film to help in some way, it is impossible not to be deeply moved.
A Fantastic Woman is on general release in the UK
Director: Sebastián Lelio
Writers: Sebastián Lelio (screenplay), Gonzalo Maza (screenplay)
Producer Juan de Dios Larrain / Sebastian Lelio / / Gonzalo Maza
Music Nani Garcia and Mathew Herbert
DOP Benjamin Echazarreta
Editor Soledad Salfate
Prod Design Estefania Larrain
Sound Alberto Alén, Harald Ansorge
Cast (in credits order) complete, awaiting verification
Daniela (Dani) Vega Marina Vidal
Francisco Reyes Orlando
Luis Gnecco Gabo
Aline Küppenheim Sonia
A book which tells the story of the Amazon and its ports-towns near...