Fearless Soul
Multi-instrumentalist and owner of a unique voice, Natalia Lafourcade has become one of Latin America's the most successful artists. Ever since the young Mexican, daughter of a Chilean refugee, first broke into the charts in 2003, she's established herself as a multi-Grammy winning pop artist. Yet, her latest highly-acclaimed album, 'Musas', delves further into the roots of Mexican and Latin American folk, a journey both risky and instinctive that may well have earned her a place among Latin America's greatest female artists. Santiago Oyarzabal caught up with the rising star as she tours the world.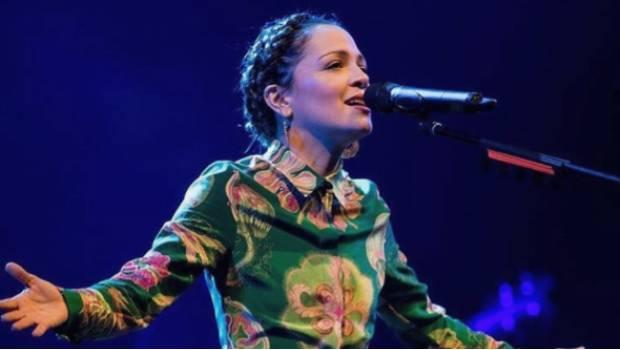 One could say that Natalia Lafourcade's destiny was set at birth. Daughter of two distinguished musicians, her Chilean father an acclaimed Clavichordist (a medieval keyboard used in Baroque music), she studied flute, piano, guitar, saxophone and singing and, at 10, was already singing in a Mariachi group. Her fate might well have been as a obscure classical musician and not that of a pop star.
So, now at 33, and with a successful pop career behind her, to fearlessly delve further into folk, is perhaps a risk that not every pop star would take. For, even while Hasta La Raiz (2015) was still winning awards, notably a Grammy for best Latin Rock Album in 2016, Lafourcade hotly followed it with Musas (2017) a self-declared 'homage to Latin American folklore.'
But perhaps instinct and bravery are closely allied and, well, who cares, when the result is already being considered one of the most impressive Latin American albums of the 21st century, granting the Mexican not only immense critical acclaim but also more popularity; Musas also just snatched the artist another Latin Grammy for Best Folk Album.
It turns out that bringing together versions of the region's consecrated classics with songs of her own, proved a risk worth taking. Musas not only shows Lafourcade at the very peak of her powers as a singer-songwriter but also well on the way to becoming herself a 'muse' joining the select club of Latin America's most loved singer-songwriters; Chavela Vargas, Violeta Parra, Mercedes Sosa, Elis Regina, Chabuca Granda, Celia Cruz, Omara Portuondo and Lila Downs.
Classics such as "Tú me acostumbraste" (ft. Portuondo),"Qué he sacado con quererte" or "Tonada de luna llena" talk the same language as Lafourcade's own "Soledad y el Mar", "Rocío de todos los campos", "Mexicana Hermosa" (anthem to the country's flag), "Mi tierra veracruzana" (dedicated to her native Veracruz), and "Tú sí sabes quererme" (the album's first single).
So, was Musas a risk-taking project or simply a work of passion?
"You're right," Natalia laughs. "Musas was a real challenge, but it also gave me a lot of pleasure. I also allowed myself to relax a little bit, because sometimes without realising we let ourselves be intimidated. I think one of the best things of this project is that we brought the younger generation closer to the universe of Los Macorinos (the legendary duet of guitars – Juan Carlos Allende and Miguel Peña). I wanted to break that barrier, and that's one of the things that makes me so happy about this project."
Los Macorinos accompanied the great Mexican singer Chavela Vargas until she passed away in 2012. The includes also versions of artists such as VIoleta Parra, Agustín Lara, Simón Díaz, Roberto Cantoral, Frank Domínguez and even Harry Warren's "That's Amore" (Son amores), popularised by Dean Martin with Jerry Lewis in 1953.
Not stopping there, Lafourcade will release Musas Vol 2 in early 2018, with more classics ranging from the traditional "Duerme negrito" (popularised by Mercedes Sosa) and "La llorona" (famously versioned by Vargas) to Lecuona's "Eclipse" and María Grever's "Alma mía". Some of Lafourcade's own compositions in Musas Vol 2 are "Danza de gardenias" (future single – its video was recently shot in Puerto Vallarta) and "Hoy mi día uno". Also the already classic – "Un derecho de nacimiento," which Lafourcade composed in support of the Mexican university student movement called "Yo Soy 132", a social movement against institutionalised corruption and bias media coverage of the 2012 general election in favour of President Peña Nieto.
One wonders how Lafourcade has managed to do all this whilst being on tour for the last three years!
"I tried to balance both aspects, touring and spending time at home, but I write the songs wherever and whenever inspiration hits me. I'm always trying to find ideas. Also, making the album with Los Macorinos was an enormous pleasure! We went to a house in the 'Desert of the Lions' National Park near Mexico City], and listened to a lot of music, selected the songs, rehearsed… And we recorded it all live there. For me this was very important because I'd never recorded an album like they used to do in the past and I wanted to experience that".
Natalia describes Musas as 'life-changing,' which is interesting considering that her life had already changed considerably when at only 17, her album "En el 2000" was nominated for a Latin Grammy. Yet, it was clear that Natalia Lafourcade decided her path would not be restricted to that of pop star, as she experimented with salsa, bossa nova and rock in the eclectic sound of Casa (2005).
Experimenting didn't seem to get in the way of making hits though, and Casa had several: "Ser humano", "Casa" and "Un pato", a Spanish version of the Brazilian classic popularised by João Gilberto in the 1960s. The album also won the Latin Grammy for Best Rock Album. Even more hits would come with the even-more-difficult-to- pigeonhole Hu Hu Hu (2009) with songs such as "Ella es bonita", "Cursis melodías" and "No viniste".
Reflecting about that time Lafourcade explains.
"I started as very young, when I was only 17 I had a strong need to search, to explore and to experiment. This has always been a constant, but back then I tried everything. Those albums were more eclectic and the range of styles was more diverse. Today my projects are more 'rounded', more contextual, more conceptual. 'Hasta la raíz' was a search for my own voice as a composer. Musas is Latin American folklore in a style that is a bit that of Los Macorinos and a bit my own."
Although the big breakthrough came with Hasta la raíz (2015), the album she is still touring –now together with Musas – it was her tribute to Agustín Lara in Mujer divina (2012) that catapulted her to the very top among Latin American musicians.
It's clear, however, that rather than a calculated risk, Lafourcade's fascination with folklore is more an exploring at herself, her background and the influence of her elders (not least her parents)
"It started with the collaboration with [the young Mexican conductor] Alondra de la Parra in 2011. Through him I re-discovered Mexican and Latin American folklore. In connecting with Lara I realised what my dream as an artist was. It changed my approach towards music, stages and audiences, and also my standards when writing songs. Exploring great artists such as Violeta Parra, Atahualpa Yupanqui, Simón Díaz and Roberto Cantoral helped me have a stronger sense of self as a Mexican, a Latin American and as an artist. I feel very proud of where I come from. As a composer that enabled me to make songs such as "Mexicana hermosa", "Tú sí sabes quererme", or the bolero "Soledad y el mar", "Mi tierra veracruzana" which flirts a bit with son jarocho" [Veracruzan rhythm] and "Rocío de todos los campos" [an elegy to the Mexican modern dancer Rocío Sagaón, who died in 2015].
Indeed, the audiences at Lafourcade's concerts are noticeable for the generational diversity. She agrees.
"It's very nice to see people of all ages, and how they're really open to listen to whatever we have to offer. I love that because I've allowed myself to play without locking myself into specific styles, and to explore other things. So that was my dream come true!"
When you consider her background, the unconventional path Lafourcade has taken should be of little surprise, however. Natalia grew up watching her father making and playing harpsichords, and her mother, María del Carmen Silva Contreras (Macarsi), taught music in such an inventive way that a method was named after her: The Macarsi Method of Musical Education.
"I was talking with my mom the other day, saying how lucky I was that I had a really happy childhood. I was all the time seeing them play and teach music and that marked my life. There was music paying all the time… from Beethoven to Erik Satie and Brahms or Bach. Also traditional music, Violeta Parra, Astor Piazzola. Mom also listened a lot to Armando Manzanero, Agustín Lara. Music was always very present…
…Later I grew interested in other types of music, like Björk, PJ Harvey, later Fiona Apple, Ella Fitzgerald, Billie Holiday, Nina Simone. After listening to a lot of music from abroad, in English, I eventually returned to Toña la Negra, José Alfredo Jiménez, Chavela [Vargas], Juan Gabriel, La Lupe."
Natalia was 10 when they moved from Veracruz to Mexico DF where rock and pop was more prevelant. Café Tacvba, Aterciopelados, Julieta Venegas, Jumbo, and Gustavo Cerati were her first choices then.
"I also loved Pedro Piedra, Javiera Mena, (US/CHile), Joni Mitchell, Nick Cave, Nick Drake, Bob Dylan, Silvio Rodríguez… Francisca Valenzuela, and Mon Laferte. From Mexico Little Jesus, Zoé, Vicente García, Carla Morrison. And I'm forgetting many", she explains, "I listen to everything, everything. I embrace every rhythm and learn from all of them, even reggaeton…
….In Mexico City we all wanted to be rockers. I had my own rock band… But then, I realised that what I loved was melodies and lyrics. So little by little, music became more and more personal to me. For instance, at the very beginning of the work with 'Musas', I wanted to record the songs but they were so personal and intimate that I was doubtful. Fortunately my management team loved it and said this needed to be my next project and so it was. For me this was beautiful because it meant that they liked something that for me was very pleasurable."
It sounds strange that with such meteoric success, Lafourcade has never played in London apart from two very small concerts near London Bridge some years ago. The very good news for those attending the show is that Musas Vol 2 will have just come out by then.
"Because we never stopped playing in almost three years, we're now still presenting both albums together Hasta la raíz and Musas with my own band and Los Macorinos", she explains, before offering a real scoop, "In London we'll be also presenting new songs from Musas Vol 2!"
Natalia will perform at KOKO on February 12th For tickets go to www.comono.co.uk
Cuba's natural setting, with its own historical and cultural...
From garage parties in Panamå to the awards ceremonies of Miami, how...