FEELING AZUL
The Legendary Blue Demon Junior is heading back to London to thrill Lucha Libre fans for one night only in spectacular fashion under the dome of the Royal Albert Hall, 30 years to the day, he tells Elizabeth Mistry, since his professional debut on 11 July 1985 in Tijuana alongside his father the original Blue Demon.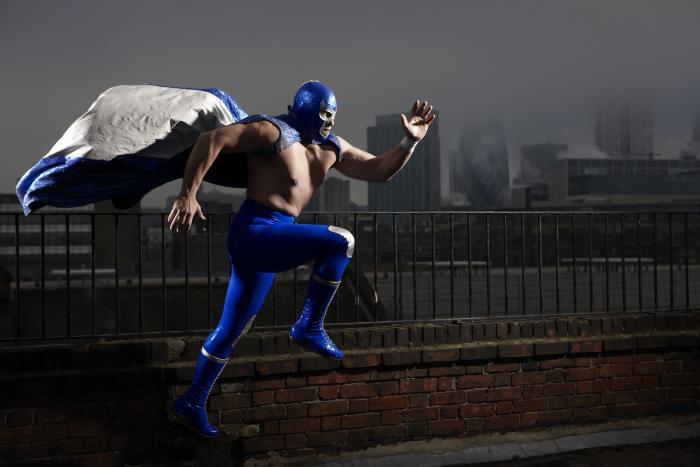 Lucha Libre traces its origins in Mexico to the early part of the 19th century. The first recorded fights date back almost 100 years. In all that time Lucha has not only retained its allure - an acquired taste admittedly - but has now become so popular that in the US and Mexico you can see it on TV or online pretty much 24 hours a day thanks to the insatiable desire for the sport.
With demonstrations of exaggerated swaggering bravado inside a boxing ring, men and, increasingly women, fling themselves at each other in a bid to bring down their opponent who invariably boasts a name that wouldn't sound misplaced on a superhero (or heroine).
Demonio Azul (Blue Demon) is Mexico's biggest Lucha Libre brand, and Jr. now marks 30 years since his father's debut in Mexico where he has built up a fanatically loyal following.
"I started fighting under another name - Kid Blue - because I didn't want my dad to know what I was doing. But he found out pretty quickly and it was after that when he told me if I was going to be a success I had to train properly and also finish university (he is a qualified engineer).
"Most importantly he told me that I would fight under his own name - it was his decision and one I didn't expect or dare hope for."
The name Blue Demon carries as much weight as he does (he maintains a stable fighting weight of around 94 kilograms), given that it was passed down to him by the original Blue Demon who along with his wife, Goyita, (who also acted as his erstwhile manager) adopted the future Luchador when he was just six weeks old.
As for the mask, the original Demonio Azul famously declined to remove it in public, even when out of the ring. His son continues the tradition, so much so that when he first met his own wife, she wasn't sure of his real identity. She of course had known Demonio Azul for years, as her father was also a famous Luchador.
Even on shopping trips, Blue is pictured in his blue and silver mascara which stretches all the way around his head and is laced tightly so there is little chance of a familiar body part poking out.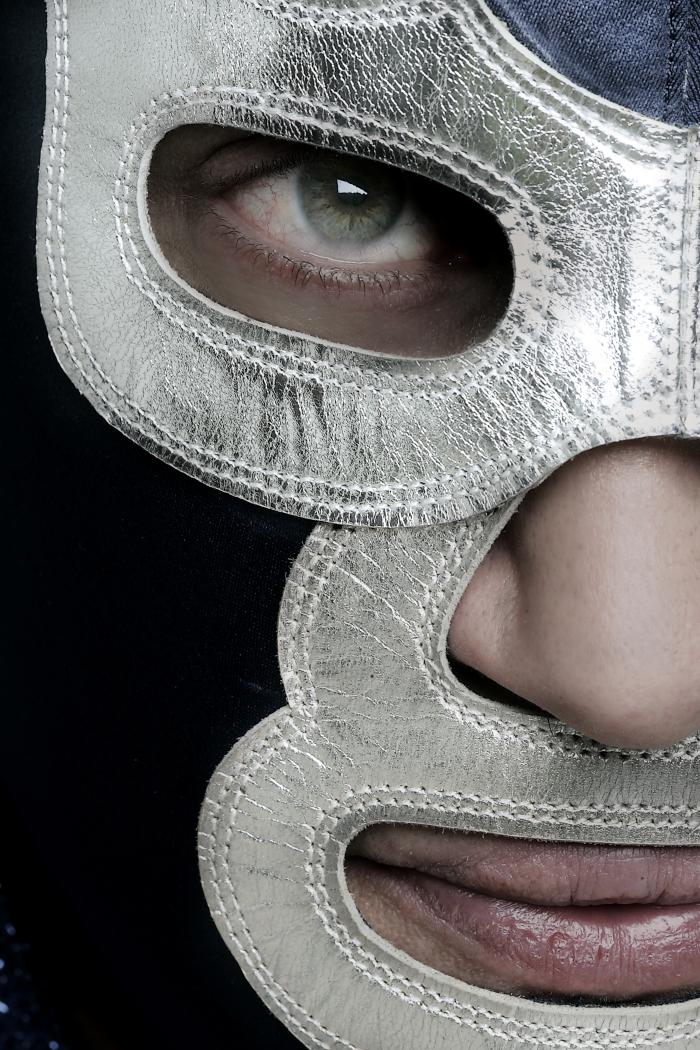 His face, he says, is for his family - he has two daughters who haven't shown an interest in following in his footsteps though he hopes his nephew may do in the future.
Of course, the enforced 'mystery man' stance only serves to fuel the personality cult; "it is part of the lucha persona and is an honour to carry as I travel" he say. Those travels include the Lucha TV show in the US which he works on with Mexican American film director Roberto Rodriguez.
Lucha - which is loaded with symbolism - the masked fighters (of whom BD senior was probably the best known along with El Santo) prize their faces and their privacy highly. Losing a lucha de apuesta - where the loser has to give up his mask - is seen as hugely shameful.
"I am especially excited about returning to London, the great city and fighting in the venue of venues Royal Albert Hall." Says Blue. "Although I hope that the portions of food that you serve have got bigger since I was last there. In my opinion they are too small in the UK."
"Lucha is perfect family entertainment," he adds, pointing out that Mexican audiences range from veteran fanaticos to babes in arms. There may not be too many juniors at the Royal Albert Hall this summer - but there will be mucha (mucha in italics) lucha.
For infor and tickets to Lucha Libre ta The Royal Albert Hall go to https://www.royalalberthall.com/tickets/lucha-libre/default.aspx
Corina Poore talks to Gustavo Salmerón, who made a unique film about...
Cello & Piano concert on June 14th 2018 - 7 PM at Burgh House...