Football's Bohemian
After a very successful career in the Spanish and Italian football leagues for Valencia, Lazio and Barcelona, Gaizka Mendieta felt the urge to experience the most acclaimed league in the world. At 29, the Bilbao-born Spanish international was loaned to Middlesbrough, then offered a four-year contract in the Premier League and has been a UK resident ever since. What most of his fans, both in Middlesborough and in Spain, didn't know about, while Mendieta was making and scoring goals, was another passion: Music. It increasingly became an obsession that has lasted way beyond his football career. Surrounded by tons of records in one of the most famous record shops in East London, Rough Trade East, Gaizka Mendieta talks to Latinolife about his passion for music and recalls his brilliant career.
by:
Santiago Peluffo Photioby Eduardo Vida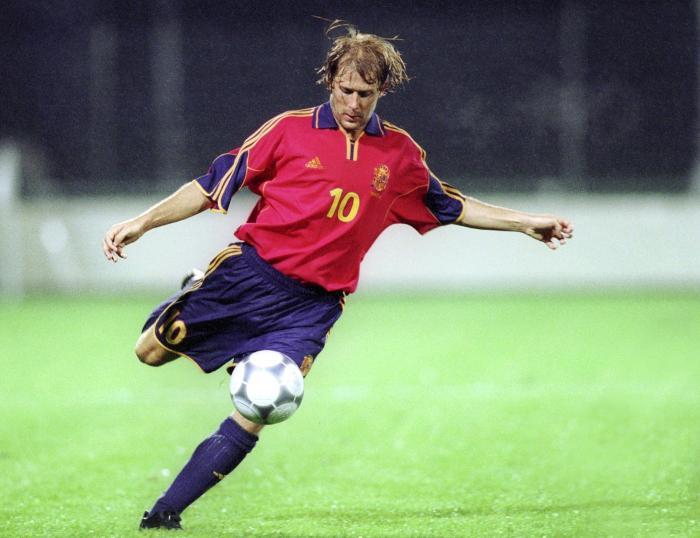 "I've always loved England," Mendieta explains. "I was living under the sun in Valencia and I used to come to the UK for holidays... for the cold weather," he laughs.
But there was another major reason that the Spanish international and loved player of Valencia and Barcelona, felt attracted to Britain: the music. Mendieta is an all-time music addict. Since he was a teenager, he would get into record stores and spend hours going through Funk, Soul and House vinyls, cassettes and later CDs.
"When I was 14 I used to travel around Spain during football ompetitions and as soon as we had a free afternoon, I would check for record stores," he says. "As there was no google yet, I would use the yellow pages to look for the addresses of the stores."
After Gaizka's retirement from football, he could finally follow his other passion and started travelling around the country and internationally, not as a footballer but as a DJ, playing in venues like Liverpool's The Cavern Club or Kensington Roof Gardens as well as international festivals
How did you become a DJ?
In Valencia I used to go very often to a record store and I became friends with the owner. He would play music certain weekends back in the 90s. So one day he invited me and I loved mixing songs and watching people's reactions.
But you were still an active player at Valencia FC.
Well, if we played early on a Saturday I would go late that night and wear sunglasses and a hoodie so people wouldn't recognize me and I wouldn't get into trouble with the club. I can say this now because I'm retired (laughs).
You wouldn't be able to do it nowadays, right?
I loved that type of freedom I enjoyed, but nowadays if any player does a private party and it's everywhere on Twitter. These things really limit your life outside football...
What is it about being a DJ that you like so much?
There are a lot of similarities between life as a footballer and that of a musician. As a footballer I loved following the songs and the connection you have with the public in the stadiums. Now, when I DJ I get Valencia fans come with the jerseys and it reminds me of the good times with the club. Music and football fans are both really great.
As a DJ you have played in some great venues.
We did an event in The Cavern in 2014 in which we mixed some football and music with debates, drinks and some mixing. Then I played recently in a festival in Murcia and will go to Ibiza in the summer. It's still a hobby for me, but I enjoy it 100%.
What other things did you start doing after retirement?
I moved from Middlesbrough to Luton when I became a Premier League pundit, and I also started a business with some friends; we opened a chain of Spanish restaurants in England. These things keep me busy.
Was it tough when you quit football, in 2008?
Not really because I was always very relaxed. I had other interests and aways tried to combine football with other stuff, like music. So when the time came, it wasn't that hard for me to absorb it. I still miss playing, of course...
Any plans of becoming a manager?
I'm doing an intensive course in Northern Ireland because here in England takes over a year to get the certificate and then many years before you can actually teach, even though I played professionally. I might try coaching in a few years, perhaps.
And what about your job as a pundit?
I like it because I analyse and explain what I've lived as a player. It's also useful for my manager career. I try to tell the audience stuff that they might not see, or is not that evident on TV.
Finally, you have played in the three main leagues. Which one is the most competitive?
I think the Spanish league is the most complete, especially if you look at the Europa League and Champions League, where most teams in quarters and semi-finals are from Spain. Trainings are tougher in Spain than in the Premier League and there is even a different approach to the player's diet. Overall, I think Spain and Italy have evolved faster than England, and you can see that in recent World Cups as well.