FUNK FOREVER
Los Amigos Invisibles is arguably the most globally recognized music act from Venezuela since Oscar D'Leon (the Salsa legend on their new album). Breaking onto the international scene on David Byrne's (Talking Heads) Luakabop label, the Grammy-winning mix of Funk, Venezuelan dance music and a heavy dose of kitch, have continued to draw fans from around the world, from expat Venezuelans to urban hipsters. Constantly reinventing themselves, and now relocated in Mexico, the world's favourite Latin funk band has found an extra gear with two new albums. Los Amigos, now with two new members, took a moment out of their ever busy touring schedule to talk to Latino Life ahead of their London gig this Sunday about the their own future, that of the music industry and, ofcouse, Venezuela.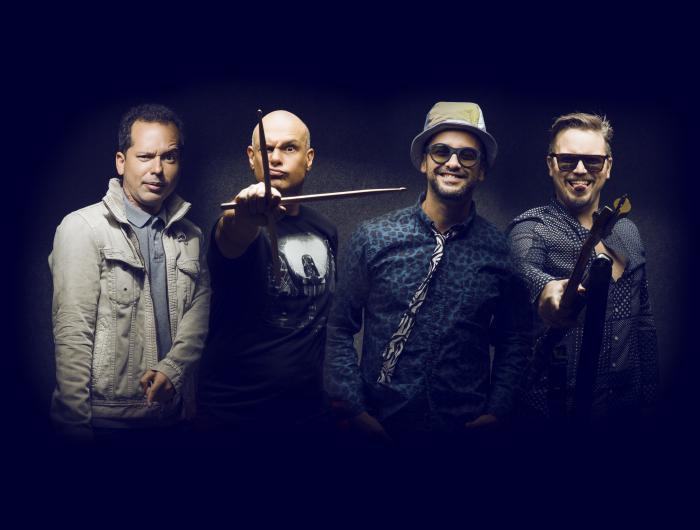 LatinoLife: New album, new crew, new tour, you seem to be busy, what's happening in Los Amigos world?
Los Amigos Invisibles: Keeping busy man, that's the way of the artist, if you don't keep busy you die. This year we've been working on our new album which will be released on February 2017.


LL: You've had some changes with two new members, how is that shaping the new Los Amigos?
Amigos: It's like a football team, some players come and others go and you have to adapt your strategy according to the abilities of the new guys, that's where we're at, reinventing ourselves again…so far, so good. Fans of the two former members aren't that happy about it but for most fans, it seems to not matter that much. They keep supporting the band and are intrigued about what we're going to come up with next.
LL: How does the new sound compare to your former sound?
Playing live, it's pretty much the same. On the new album you'll start to feel the changes. You can feel the same spirit of the band but the sound coming from guitars and keys is more approachable, less accentuated, and you'll notice a heavy baseline, super funky. (view new single below)
LL: Tell us more about the new album and who is participating
Amigos: The Album is called ….and will be out in February 2017 and we'll have some very special guests, all of them very big stars in Latin America: Los Auténticos Decadentes, Kinky and our idol Oscar D'Leon. We're also introducing the singer of Elastick Bond, a band from Miami that's creating some noise.
 

LL: Oscar de Leon in your new album, any comments on that?
Amigos: Simply awesome, a dream come true. The song is beautiful and he did and outstanding job. We're SO looking forward for that song to come out…


LL: You have survived many changes in the music industry, how do you see los Amigos in the next few years and the new changes…
Amigos: We actually just signed a very innovative deal with a Mexican label. It's more a joint venture than a record deal. Every part comes into the deal with it's equivalent in money. For example, we pay for the album and videos, and they match the money we spent with their spend on marketing throughout the Hispanic region. The deal it's awesome, now we just have to work hard and see the results. Aside from that, as long as we still get along and people go to our shows we'll keep doing this for a while.
LL: It's hard to avoid the whole Venezuelan situation these days, how is that affecting your work, being one of the biggest act in that country?
Amigos: Venezuela is a mess and everybody knows it. It's the biggest market for us and yet we haven't been able to play there in the last 18 months. When a radical ideology takes control of any country, it destroys it. Radicalism sucks. Thankfully we've been able to succeed in other territories too and that's been helpful, but it's sad not to be able to play in our own country, for us and for our fans.
LL: It seems like Funk is back, with the likes of Bruno Mars, Farrell Williams etc getting so big on the back of Funk. What are your thoughts on that and are you able to capitalize on the trend?
Amigos: Well its what we do so, for us Funk has never gone away! But I know what you mean. For us is the same, we keep working and working whether is back or not.
LL: What can we expect in your London gig?
Amigos: London it's a party town man, people get crazy in our shows. Hope we can see a little bit of that again.
Los Amigos Invisibles will be playing at the Islington Town Hall on Sunday at 8pm Click here for tickets, which will increase on the door so we advise to buy before.
Corina Poore talks to Gustavo Salmerón, who made a unique film about...
Eddy Vents has been surrounded by Lusophone music from the early...