Gaucho, Smithfield
The chandeliers give the cowhides a definite impression of city opulence than Gaucho's den, but the authentic tastes of the Pampa (and more) are unmistakable and comforting.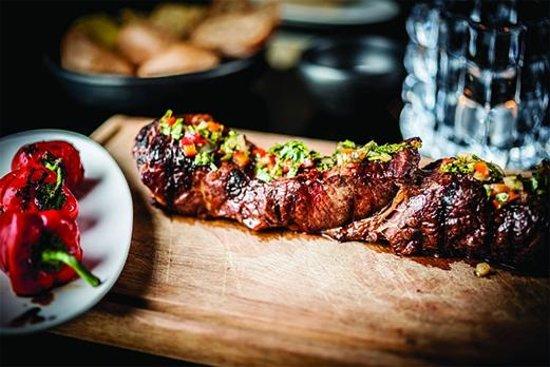 There's no better location for a meat restaurant than one overlooking Smithfields, trading in livestock since the 10th century, and reminiscent of Buenos Aires' own Abasto market.
Inside, the chandeliers give the cowskin-lined seats and walls more a style of city opulence than gaucho's den. But a glance at the menu is enough to bring you back to the Argentina you know; classic starters from the parilla such as the provoleta – a delicious grilled cheese sprinkled with herb - and empanadas filled with humita (sweetcorn purée). A beef empanada is, of course, a must have, especially as they are oven-baked rather than deep fried as in most London Argentine restaurants.
Argentine purists might scorn at the inclusion of other Latin American dishes, but as a lover of Causa – a Peruvian savoury trifle of potato and seafood in mayonnaise – I couldn't resist the Soft Shell Crab Causita with smoked paprika mayonnaise. For the record, this is the best Causa I've had in London, and that's including the city's plethora of Peruvian restaurants.
And now down to business; la carne. I usually go for the bife de chorizo, but was taken aback by the vast selection of cuts on offer. No wonder the waiters are so well versed in their meat knowledge, for it's much needed. Our final choice were the cuts unique to Gaucho; media luna de vacío (tender flank) and tira de ancho (Spiral cut, slow grilled). Both were absolutely delicious; no need for any sides apart form a green salad and a large dollop of the indispensble chimichurri (a gaucho dressing of chillis, herbs and oil)
Surely no room for desert, you are thinking. Well it's surprising what room you can find when confronted by Argentina's most famous ice cream brand, Freddo. Their Dulce de Leche beats Haagen Dazs's imitation any day. I loved the fact they have Don Pedro, probably Argentina's most classic desert; whipped ice cream, walnuts and whisky. It's delicious and encapsulates the brilliance of Argentine cuisine; simple yet fantastic raw materials, brilliantly executed.
93A Charterhouse Street, London EC1M 6HL
A book which tells the story of the Amazon and its ports-towns near...