The Gentleman with the Bad Ass Voice
Celebrating his 40 years in the music industry with a world tour, Gilberto Santa Rosa shows no sign of slowing down. Jose Luis Seijas caught up with the Puerto Rican icon to discover that the rumours were true: he really is 'The Gentleman of Salsa,' as often referred to - the nice guy of Latin music.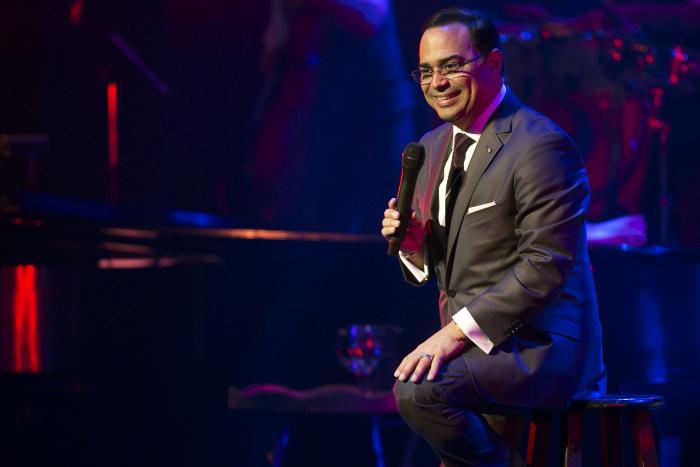 There have been a lot of salsa singers, but only a few have become living icons of Latin music. Some of them have a great catalogue of productions but are not great performers. Some of them are great performers but have a weak discography. A lot of them have great voices but can't really improvise - a trademark of any self respected sonero. Some of the great improvisers struggle with the more subtle notes of the bolero and slower songs. But Gilberto Santa Rosa has it all - the voice, the sonero chops, the live show and a discography of more than 35 solo albums (including six grammys) to back it all up. He's accrued the adoration of millions of fans worldwide, from the hardcore salsero to the newbie salsa rookie plus the recognition and respect of his peers.
Latino Life: You have been already recognised as one of the top salsa singers in history, but there are a lot of great salsa singers who have not been able to stay on top long. You are already on your 40th anniversary and still going strong, what is your secret!
Gilberto Santa Rosa: Well obviously there is the hard work and the years of commitment. But like you say, I have met people who are really talented and very hard working who unfortunately have not been able to maintain their careers for long. You have to take into consideration the people who have contributed to keeping us up there, who believe in what you do, that your work should be known and they help make that happen. Sometimes we artists believe that we discover music and that it is only us who make things happen. But I have been very lucky in that many people have helped me.
LL: Your style of singing is very unique and distinctive. How has that changed since you started?
GSR: Well when I first started I didn't really have a style, I had no deep musical knowledge. I was young, I had talent and instinct but what I knew was very basic. So I started listening to the greats for ideas. For example as an improviser I looked to people like Cheo Feliciano, Chamaco Ramirez, Marvin Santiago…and I have to mention Justo Betancur. These guys made me go Whao! And from the singing side, the quality and interpretation, I have to say Andy Montanez, Pellin Rodriguez, Tito Rodriguez, obviously, Machito. I like Machito a lot, Miguelito Valdez, Benny Moré. I adapted those influences and worked them into my own style. I am always listening, always learning, even from my contemporaries.
LL: Such as…?
GSR: Of my contemporaries I would say Axel Martinez who sadly died very young. He was a great improviser and also a very good lyricist and you know what, I am glad this is the very first time I have the opportunity to mention him. I had a great admiration for him. There are people such as Cano Estremera who has an extraordinary capacity for improvisation, Jose Alberto "El canario" who has a very spontaneous style..even Oscar D'Leon who might not even be considered from the same age, we actually were talking the other day and found out that we pretty much started at the same time! Charly Aponte, Jerry Rivas are also great improvisers! Now we have in Puerto Rico a guy called Willito Otero, Juan Pablo Diaz.. and I am sorry I am just mentioning the Puerto Ricans ones, there are some fantastic singers from Colombia and Venezuela, also Panama and I apologise for not knowing all those names but yeah I like listening to loads of people… but hey, I just jumped a generation of soneros, Victor Manuel's generation (laughs) I didn't mean to! Victor Manuel also Michael Stuart those guys have a gift for improvisation!
LL: You have an amazing discography, how have you managed to do that given the changes the music industry have gone through.
GSR: A big part of my career and of anyone who is successful in this industry, if they are honest, is down to luck. I love recording and I think I have got better at it as years go by and I like it more than ever before. I have been privileged to record as a solo artist over 30 productions but it has been down to hard work, consistency, luck and the fact that I made recording an integral part of my career. Something that has been key in my career too is the fact that we Latinos have migrated around the whole world and taken their culture. Salsa dancing is popular everywhere, from Tokyo to Finland. That has allowed my music to get to parts of the planet that I never dreamed of reaching and has also allowed my music to stay relevant.
LL: If you had the chance to change what salsa sounds like today, what would you change?
GSR: I wouldn't change a thing. When salsa started to change around 30 years ago, with the popularity of Romantic salsa, the purists were outraged, but this change brought benefits, because it rejuvenated the genre. The problem now is different and has to do with a changing industry. There are so many media platforms and so much going on, that it's more difficult to be heard as an artist. What was an advantage has become a disadvantage. There usual structure, the balance between the traditional media and the new social networks, is gone and artists and the industry are unsure about how to promote their music.
LL: Puerto Rico's influence around the world in terms of music is really incredible; the 'Despacito' phenomenon, the reggaetón explosion, which must make you proud. But do you wish these young artists were singing salsa?
GSR: Ha ha! There a few of them who do have that singing talent and they have a lot of rhythm and expression that is vital in popular music. I recorded a duet with (reggeaton artist) Don Omar and was surprised to see Don doing it so well. He sang very well but also did really good when it came to the soneos (improvisations), so if Don Omar at any point would like to flirt with salsa he could do it and be successful. The problem is with the live performances. You know with all that technology they can make you sound great on record but when it comes to live (laughs)…but I have seen some of them live I say to myself "Caramba" that kid has the talent to make a career as a salsero.
LL: Indeed the soneo (improvisation) seems to be a dying art and good ones are timeless! In the past the "soneo" was a fundamental part of great salsa, but is that true now?
GSR: …indeed, even if you had a good voice, 'te mataban en la ralla' (they could kill you in the gap). But sometimes we tend to make the artists responsible for the changes that our music go through, when the audience has moved on. Maybe the singer's capacity for improvisation is not longer that important, maybe now the most important thing is to be able to communicate other feelings and touch people's heart. At one point it was the biggest challenge salsa singers had but now the main challenge is to be able to move your audience. Still people really enjoy it when the soneo is put into motion, it's just not a priority. Before, people used to come to concerts and value that part of the concert, and if you were not up to scratch with your soneos they would give you hell (laughs). It could be the death of a singer (more laughs)
LL: One of my favourite soneos, apart from your classic 'Perdoname' obviously, are the ones that you did with the Willie Rosario Orchestra on 'Lluvia.'
GSR: Thanks a lot! I'll tell you something that happened to me…about a year ago I had the honour of recording with Eddie Palmieri, which i hope will come out in 2018. It all happened so spontaneously, so true to the essence of salsa that I did not allowed myself to prepare for the improvisations that I was supposed to do. I decided to accept the challenge to go and improvise over what they had done because Eddie had said some beautiful things about me in a previous interview, praising me as a sonero, so I couldn't just turn up with a notebook full of ideas when the man himself has told everyone that I was the real deal(laughs). So it was a beautiful experience for me and a fantastic challenge to put my abilities to the test!
LL: I am sure you past the test with flying colours!
GSR: Ha ha, as Don Pablo Milanes would say 'todavia quedan restos de humedad' (there is still a trace of perspiration)
LL: So for the 40th anniversary tour, what is going to be your repertoire? from beginning to end of your career or just the latest stuff?
GSR: That is something that I decide as we go. There is audiences that listen to me that are young and don't know that old repertoire. I play to mainly Latino audiences, but in countries like Venezuela, Colombia and Panama they know my music with the maestro Willie Rosario, also in Peru. But I will play some of that repertoire on this tour and bits of all the rest of my discography as a solo artist. It is a very comprehensive play list, we try hard to please everyone.
LL: thanks a lot for your time and we will see you in London soon!
GSR: My pleasure! Thanks for the taking the time to do this interview!
Gilberto Santa Rosa will be playing at The Coronet Theatre this Saturday, 25th November tickets here