HOLA London @ The 02
Summer Showers Couldn't Rain on Hola! London's Parade of Latin Stars including Juan Luis Guerra, Juanes, David Bisbal and Sebastián Yatra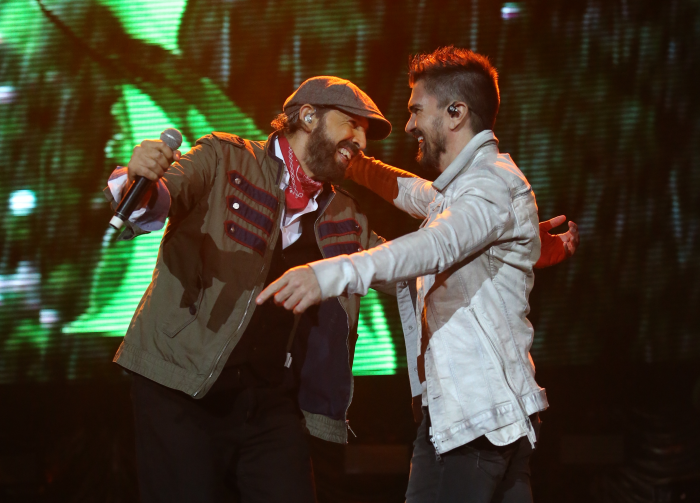 As the chants of Otra! Otra! (One more! One more!) finally died down and people headed for the doors of the O2 Arena on Saturday night, the sea of happy smiles perfectly summed up a day of food, music and dancing that brought together Latinos from all over London for a five-hour concert that served up hit after hit from the legendary headliners Juanes and Juan Luis Guerra.
Top of the bill was the multi-Grammy-winning Dominican singer-songwriter Juan Luis Guerra, who said previously that playing to a packed house at the Royal Albert Hall in London in 2013 was one of the highlights of his very long musical career.
After filling the massive O2 with adoring fans and performing a duet of his most famous song "Ojalá que Llueva Café" with the ever-popular Colombian Juanes he might have a new highlight.
Billed as the Biggest Latin Musical Festival of the year, Hola! London was a gamble that paid off. It is a major undertaking to bring four Latin music acts to the O2, especially when the organizers chose to combine a mega-concert with a free Latin food and music festival outside the arena. Luckily, despite some unseasonal wind and rain, London's ever-growing Latino community showed a lusty appetite for this kind of big ticket event and turned up ready to party in the way that only Latinos can.
The free festival was a treat in itself, with Mexican music from Mariachi Fiesta UK who played a set of sing-along classics like Cielito Lindo and La Cancion del Mariachi. Also from Mexico, Hortensia Celis and her Mestizo Folklore Group livened up a dull day with splashes of bright colour as they swirled their long skirts to music from Veracruz and Jalisco and dragged up members of the audience for an impromptu Mexican Hat Dance.
Later, the salsa was in full flow – and not just the avocado sauce slathered over the arepas at the Guasacaca food stall. DJ Johnny G brought some musical sunshine to the proceedings and set the mood for the Dominican merengue and bachata to come by spinning some hot tropical tracks, while Rene Alvarez Y Su Cuban Combination brought the Latin swing, laying down dance-friendly Afro-Caribbean beats for the crowd of eager salseros gathered around the stage.
Inside the venue there were so many yellow shirts and sombreros de vueltiao it looked like some were still celebrating Colombian Independence Day, but the Latino community in London has become increasingly diverse in recent years and there was a wide mix of nationalities in the audience. I shared a row with a Guatemalan, a Mexican, a Nicaraguan, an Ecuadorian and a Slovakian. Behind me were at least three generations of one Bolivian family, from grandma to granddaughter, all enjoying the show together Latino style.
It was the young Colombian up-and-comer Sebastián Yatra who got the fiesta rolling with his Latin-pop song Traicionera, a reggaetton-lite that saw the first Colombian flags appear in the crowd.
Next up was hearthrob actor and singer David Bisbal, who was bound to get a good reception, given the clusters of young Spanish girls edging to the front to get long-distance selfies with their hero, who dutifully struck poses as he bound around the stage in his Instagrammable black-and-white trousers. Belting out power ballads like "Fiebre" with all the passion and stage presence that took him to the final of Operacion Triunfo, Spain's answer to X-Factor, Bisbal shared the emotional delivery that all the artists brought to the O2 and will certainly have earnt himself new fans.
It was Juanes and Juan Luis Guerra, that set the place alight, though.
Arriving on stage to rapturous applause, the Colombian troubador did what he does best, delivering his bitter-sweet stories and social commentary in a way that is so direct and intimate that he could have walked on with an accoustic guitar and had the same response from the audience. Everybody in the arena seemed to know every word to every song, Early international hits like La Camisa Negra and Hoy Te Pido, merged seamlessly with more recent tracks like La Luz and Fuego, from his new album Mis Planes Son Amarte.
A bearded, cloth-capped Juan Luis Guerra – looking remarkably similar to how he did in those early videos of Bilirubina and Burbujas de Amor – gave a clear demonstration why he deserves his place in the pantheon of Latin greats, making the floor shake with hit after hit.
Almost speaking the lines of Niagara en Bicicleta, with its catchy Tranquilo Bobby refrain, it was remarkable how the singer can lay out a serious social message – the lamentable state of hospitals in the Dominican Republic – with the lightest touch, and without interfering with the joy of the music.
Meanwhile, his huge band at the back expertly blasted out the punctuated brass trills and merengue beats that were born in the Dominican Republic but which Juan Luis Guerra popularized around the world.
Just as the low point outside was the drizzly shower that put a slight dampener on events, the high point was the two top stars dancing in the rain, when Juanes joined Juan Luis Guerra on stage for a spirited rendition of Ojala que Llueva Cafe that had the whole O2 crowd chanting along, a huge tribute to a song that came out in 1989 and has become a timeless classic of Latin music.
As the audience filed out of the O2, some carrying their shoes after dancing too hard, the conversation turned to future events. "We should do this more often," I heard from a young Ecuadorian couple, "it's years since we danced merengue".
Hopefully, the huge success of "Hola! London" will encourage the organizers of other Latino-focused events, like Carnaval del Pueblo, that there is a large community of Latin music lovers in London, and they want more.
Cuba's natural setting, with its own historical and cultural...