The Immigrant's View
Ana Asensio's award-winning debut film 'Most Beautiful Island' is an unnerving psychological thriller set in the Big Apple that has been receiving rave reviews. I The film is based on Ana's own experiences living in New York as an immigrant, where she became the character in a film, that she later made. Corina J Poore met up with the multi-talented up and coming female Spanish director, actor and writer at the London Film festival and got a glimpse of the dark world that led to this interesting film.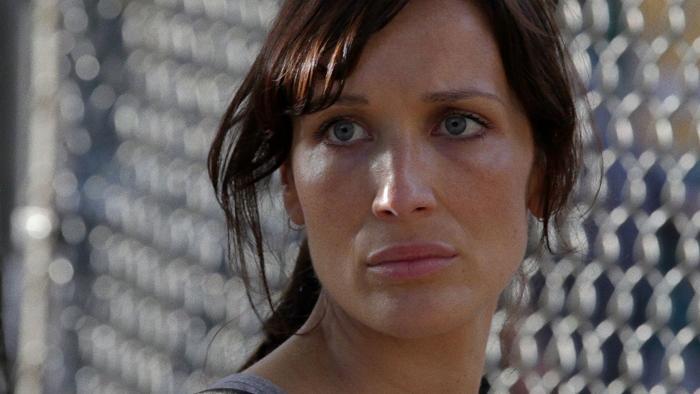 'Most Beautiful Island' is a chilling, suspenseful psychological thriller, which touches on horror combined with social realism, inspired by Asensio's own personal experiences in New York City.
As well as having written the screenplay, produced and directed Most Beautiful Island, a brilliant debut film set in The Big Apple, Ana Asensio plays the lead role of the young Spanish immigrant Luciana.
This film brought to mind an interview I once had with the remarkable Spanish actor Fernando Rey, shortly after having appeared in what turned out to be his last film: The Other Side of the Tunnel. When asked why he had never turned his mind to directing, he replied: "I could never direct, I don't have big enough demons in my head."
Well, Asensio certainly has these demons and has used them to great effect in 'Most Beautiful Island'.
Born in Madrid, Ana Asensio started out in acting in theatre, film and TV, having studied Acting and Philosophy. She appeared in many popular TV series, including 'Nada es para Siempre',(Nothing is Forever) and 'Planta 25'. Her US film credits include 'Zenith' (Vladan Nikolic),'The Afterlight' (Craig Macneill and Alexei Kaleina) and 'The Archive' by Oscar winning director Ethan Spiglan.
Frustrated at having little control over the direction of her career, she decided to move to New York City in 2001. However, things were no easier there, as she was an unknown and had to start again from scratch to persuade people she was a versatile, talented actress. While transitioning from her student visa to obtaining a social security number that would enable her to work legally, Asensio encountered the dark and dangerous world that so many new immigrants endure in New York:
"I went to learn English … the year passed very fast and I still couldn't speak good English, but I decided to stay thanks to a sponsorship offer from a model agency. I used my last savings to pay a lawyer who he left me waiting and waiting. Nine months went by and then I had no more money left, but I was determined not to throw in the towel because I needed to test my own limits in New York, it was my resistance!
"I became the character in the film, I hadn't decided to make yet… a woman determined to survive, constantly trying to seek the maximum benefit from a desperate situation. I could see myself trapped in a foreign country, with no friends or family and with no proper control of the language… and that inspired me to tell the story of a type of immigrant we don't normally see."
We're accustomed to refugees [fleeing] from appalling situation like war or extreme poverty, but you also have amongst them immigrants who are highly educated and well-prepared. People who had a life, and then suddenly find themselves in New York facing harsh new challenges. They are vulnerable to finding themselves in difficult situations … that was my fundamental inspiration... also… I had a similar experience to that in the film, when I want invited to do a job that turned out to be very different, and I felt totally trapped and I was terrified. In the film, it is fictionalized, but the truth is that it came out of that genesis of experiencing extreme vulnerability."
Asensio cites John Cassavettes, Andrea Arnold, Krzysztof Kieslowski, the Dardennes Brothers and in particular, the Romanian director Christian Mungiu (Four Months, Three Weeks and Two Days, 2007) among her greatest influences.
She is fascinated by their take on a socio- realism that can penetrate the skin, with fine observations that takes the spectator so close that it can be stomach churning. This realism touches on a mood of surreal, if not supernatural horror in 'Most Beautiful Island', as we get pulled into the heightened suspense: -
"From the first moment I knew I wanted to relate a story that took place in less than 24 hours, and that we would be right on the character from one moment to the next. I was aware from the start that I wanted to create a story with a great deal of tension, so that the spectator could experience the anguish and the anxiety of the character."
Asensio's film does not fit easily into any particular genre, going over frontiers from one to another as it does. There are elements of horror, surrealism and fetichism, even a feel of cinema vérité. But she is clear that these things do not concern her. She prefers films that do not fit neatly into any particular category, and in the event, this film is neither pure drama nor a straight forward thriller, but an unnerving combination of many elements. Asensio wanted to explore the way that reality can shift, sounds become altered and a character can be so disturbed that she would see things with different lenses, allowing the elements of horror to come in.
The two leads, Luciana (Ana Asensio) and Olga (Natasha Romanova) did their own stunts: -
"I didn't want to use doubles, I wanted the film be so immediate and real that it would have been a betrayal of my own philosophy of authenticity. I wanted it to be truly authentic, so we made sure you could tell there were no body doubles."
There are terrifying moments, which belie her admiration for films like Polanski's Revulsion, as in the bathroom scene, (I will say no more!) and Asensio admits that in her own life, she experienced genuine panic attacks, even while filming, an experience that she wanted to convey. It's no coincidence that one of the co-producers on this production is none other than the king of gory horror movies Larry Fessenden (Glass Eye Pix) These are not gratuitous moments but add to the vivid experience of a person falling into a living nightmare, the experiences felt by people who have nothing else left but the dream of the opportunities they were seeking in the big Apple. As Olga says, to comfort Luciana who is tired of facing endless challenging 'possibilities': "The possibilities are why we're here!"
Asensio plans to continue writing and directing, although she found that doing everything was totally exhausting and she lost an immense amount of weight. She is very happy for having been able to work with Fessenden and Jenn Wexler, whom she found helpful and generous. Making a film can take a very long time, 'Most Beautiful Island' took 6 years and she loved every minute, seeing it as a fascinating journey, but she was always aware of how important it was to learn from others as well, including Fessenden
This film is like a parable, delving into the depths to discover what lies beneath the experiences of so many immigrants all over the world. Despite the various elements, the story remains fixed on the themes of survival, vulnerability, betrayals, broken dreams and the people who fight to rise above these experiences: -
"The thing is that when you are an immigrant you live in the here and now. Your decisions are taken from day to day and are totally based on: 'what do I need today' to get my rent paid… so they don't kick me out tomorrow?' So, the decisions have no perspective. There is no ability to see the big picture of: What does this means in my life [long term]?
You're so centred on survival… you're not in a world that you have created in which you can make decisions on where to go… it is pure survival… decisions are left for tomorrow. I believe that that only immigrants suffer that level of vulnerability, as they have no support, neither legally, financially or emotionally… I mean… they have no family or friends. The film has many levels, in the sense that each spectator can interpret things their own way, and so in a sense it is quite open. For me personally, the lead character is living in a sort of limbo, in which she is anguished, suffering a sense of culpability that she cannot overcome and that is why these things happen to her during the course of the day. She manages to redeem that guilt, almost in an accidental manner … she has not sought it as such, it simply happens. So, for me, it is not so much an echo of what might have happened to her [before she came to New York], but that she has found herself in a purgatory limbo where she has to atone to be able to move on."
'Most Beautiful Island' is being released in the UK by Bulldog Film Distribution and will reach our screens on December 1st 2017.
Awards: Grand Jury Award for Best Film 2017 SXSW Film Festival, Best Life & Liberty Film 2017 Sidewalk Film Festival
Nominations: Sutherland Award, Best First Feature at the LFF and the FIPRESCI Prize.
Director: Ana Asensio
Writer: Ana Asensio
Producer: Ana Asensio/ Larry Fessenden/ Noah Greenberg / Chadd Harbold/ Jenn Wexler
DOP Noah Greenberg
Music Jeffery Alan Jones
Cast: Luciana- Ana Asensio, Olga- Natasha Romanova, Dr Horowitz- David Little
A book which tells the story of the Amazon and its ports-towns near...