Immortal Tango
Argentine Tango Maestro German Cornejo brings his new show to London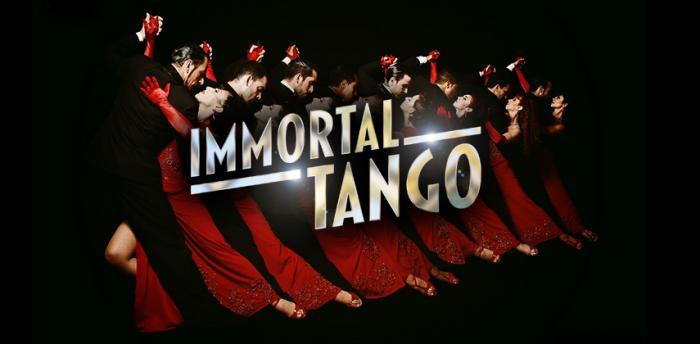 The ever-restless creative impulse of Argentine Tango dancer and choreographer German Cornejo, has generated great expectations in the dance world. His previous success, Tango Fire brought a genre that was either the protected domain of milonga purists or the bastardized perversions we saw on Strictly, back to its own cultural context in spectacular fashion. High quality tango music created the frame for a group of outstanding dancers, whose acrobatics never clouded the sensual intimacy of Latin America's most beautiful dance.
This time with Immortal Tango, German is clearly aiming for the masses, having his dancers flaunt their routines to movie hits such as Abba's Gimme Gimme Gimme, I have Nothing from the Body Guard or, predictably, Titanic's My Heart Will Go On. The message is clear: Tango's relevance in an ever-changing musical world. Purists may call it Tango for Dummies and, admittedly, there a a few cringe moments – not helped by the curtain filter you have to peer through to see the dancing in the last acts of the first half.
But after the interval, classic tango is back with a bang, in red dresses and sharp suits. A very strong second half, with some stunning choreography, not least a male couple dance and a threesome with two men and the effortless grace and skill of Gisela Galeassi, brought satisfaction to all. There were flashes of brilliance by the main couple in particular, dancing to Skyfall, and the white costumed finale provoked gasps from the audience.
Even for the purists, the outstanding quality of the musicians, including the main singer, and the dancers, which has become German's trademark, had its redemptive value. Evita's Don't Cry for Me Argentina, sung by the wonderful voice of Antonela Cirillo, seemed oddly fitting and moving. And once the audience's Piazzolla lovers got their fix of Adios Nonino, a chance for the band to show how fantastic it is, even a hard-core tango lover couldn't possibly resist the undeniably good fun of seeing glamorous dresses ditched for hot-pants, American college socks over heels, and men in t-shirts and jeans as the cast danced Tango to Footloose. All in all, despite some misses, seeing an original master's imaginative take on Tango is always worthwhile.
Immortal Tango is on at The Peacock Theatre until March 19th
Click here for tickets
Cuba's natural setting, with its own historical and cultural...