Iphigenia: Crash Land Falls on the Neon Shell that was once her Heart (A Rave Fable)
A challenging multi-media and a multi-layered play by Caridad Svich, an Argentine- American playwright, with a richness of references that are not entirely lost even to those who never read the Greek Myth. It debued at The Clumsy Bodies Theatre - a brand new theatre company based in Battersea, run by two artists who describe themselves as "queer, and non-conforming" and appears at the Edinburgh Festival this week.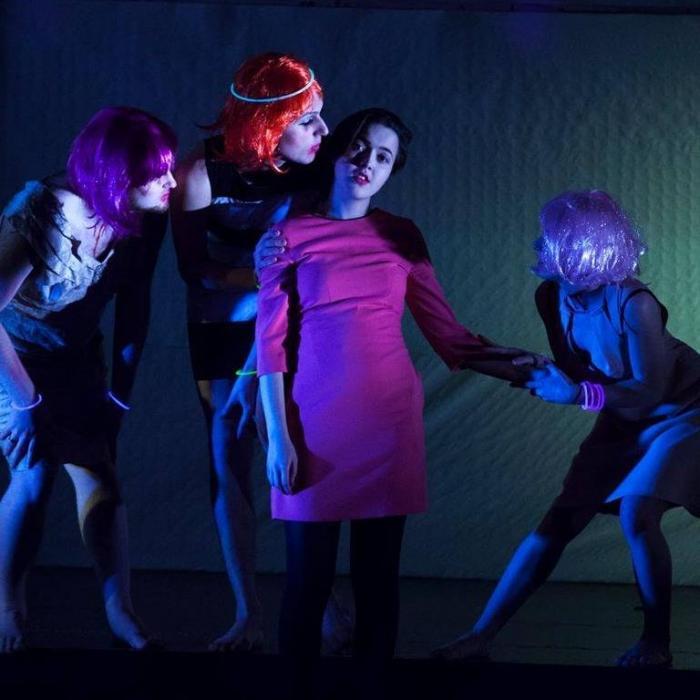 Svich's work is multi- faceted and multi- media as she explores difficult themes, crossing boundaries and invoking references, be they mythical, social or political. She has rightly received many awards, including the OBIE for a Lifetime Achievement.
'Iphigenia' is a character from Greek mythology. Originally a secondary character, Svich brings her to the fore and gives her a voice. This element alone is a strong factor in much of Svich's work. Giving a voice to the unheard.
In this play, Svich interweaves the horror of the murdered girls from Ciudad Juárez, casting their ghosts as a chorus in a Greek tragedy, representing her desires, fears and conscience. Taken in part from the story as in 'Euripides in Aulis', the youthful and innocent Iphigenia is thrust into the story, being asked to give her life to save others. In the original myth her father Agamemnon, kills his own daughter to appease the Goddess Artemis whom he has aggrieved. He is under pressure from his followers and army, as it is believed Iphigenia's death will calm the revengeful Artemis and allow the winds to rise and carry the ships to Troy to rescue Helen.
Here her father is cast as the General Adolfo, the ambitious dictator of an un-named Latin American country. Iphigenia is his pampered and 'beloved' child. Desperate to avoid her fate, she seeks refuge taking a wild journey into the belly of the darker side of society, ending up at a rave held in an aircraft- hangar, where the 'chorus' of the dead play out their desires and horrors, seeking pleasure, and where she meets the legendary androgynous Achilles.
But as they say, 'your destiny is found on the road you took to avoid it', as so Iphigenia is sought out by the father, who despite professing love, wants her dead. Will his daughter's death elicit the sympathy he needs to be re-elected? Surely people will vote for a leader who has just lost his daughter?
With original poetry and song, Iphigenia is given a voice at last, in this Brechtian rave set against a brutal backdrop of Ciudad Juarez. The text and lyrics are written by Svich but the music is more flexible and each production produces its own, as its multi- media projections which are an integral part of the story. There are parts where the poetry and text becomes overpowering, but the overall effect emphasises the feeling that Iphigenia is trapped by the 'weight 'of her pre-ordained destiny, should she therefore give in on her own terms, and keep control of her own fate?
Jess Rahman-Gonzalez and Sam Kindon worked particularly well together, she has a very strong presence on stage, and the erotic buzz around her, created by the chorus of garrotted Suarez girls, fuelled by drugs and the dead, added phantoms and dystopia into the mix.
"Erase me" say the girl
"Erase every part of m so I can make myself into something new."
On August 12th 2017, it will be performed at THE SPACE on Niddry Steet, (V9) Edinburgh EH1 1TH
Clumsy Bodies Theatre
Artistic Director/Producer Oli Smith
Assistant Director / Producer Jess Rahman-Gonzalez
Movement Director Marcus Bell
Composer Jennifer Walton
Technical Director - Caitlyn Ivory)
Stage Management - Jess Rahman-González)
CAST
Iphigenia - Jess Rahman-González)
Achilles - Sam Kindon)
Violeta Imperial / Camila - Emily-Kate Stuart
General Adolfo / Yvonne /General's Ass Micky Shaw
News Anchor ( on video) Peter Swallow
Orestes/Glass-eyed man Sean Tan
Luz/Virgin Puta/ Violet understudy Sara jewell
Yoli/ Hermaphrodite Prince Rebecca Rahman-Gonzalez