Juan Gabriel, Singer-Songwriter (1950-2016)
Juan Gabriel, who has died aged 66, is considered to be one of Latin American greatest singer-songwriters of all time. The Mexican wrote around 1,500 songs, many of which made hits for and brought fame and fortune to countless contemporary pop stars. His concerts, lasting up to five hours, could reduce audiences to tears. Whilst never openly gay, his flamboyant stage presence and costumes, made him a gay icon and hero of the Latin LGBT community, yet his music was embraced by the cotinents most macho audiences. He was also fiercely proud of his native Mexico and his mother tongue, refusing to sing in English. "American music has infiltrated the entire world enough as it is," he once said. "Mexican music must be defended, with vigilance… My thoughts, my feelings, my spirit, they are all in Spanish."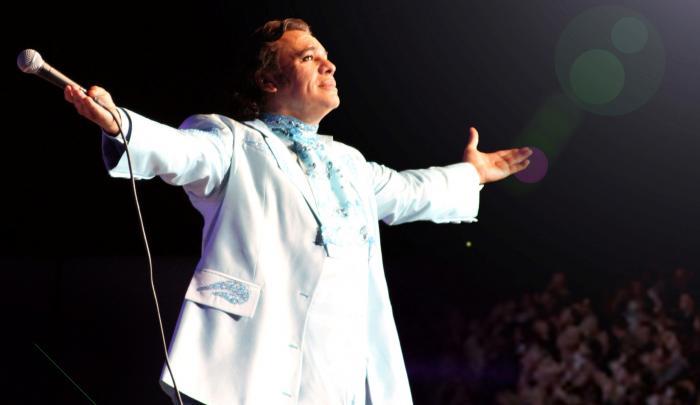 He was born Alberto Aguilera Valadez on January 7 1950 into a poor farming family at Parácuaro in the western Mexican state of Michoacan. He was the youngest of 10 children. His father, Gabriel, was taken into a psychiatric hospital when Alberto was a baby – according to one source, Gabriel then died in a fire – and his mother, Victoria, moved the family to Ciudad Juárez, near the Texas border.
She worked as a housekeeper but could not support the whole family, and she put Alberto, only a few years old, into a children's home. Despite that wrench his mother, he said, was one of the people he loved most, even though he only saw her two or three times a year during his childhood.
She died in 1974, and one of his best-known songs, Amor Eterno ("Eternal Love"), was written with her in mind. "Even though I don't have my mother's love today, I have the love of millions,'' he said. "Her love comes through all the mothers of Mexico."
At the home he was taken under the wing of one of the teachers, Juan Contreras, who taught him to make trinkets to sell. He eventually ran away when he was 14. "One day I took out the garbage and never went back," he recalled.
By then he had already written his first song – composed, he said, while he sold tortillas on the street. Two Methodist sisters heard him singing and took him in, nurturing his talent and taking him to Bible classes. Through those he spent a year at a sister church in California, where he first heard black music, then returned to Juárez, landing a spot on a local television station under the name Adán Luna.
He began playing in the nightclubs of Juárez, but he had bigger ambitions, and travelled to Mexico City. Once there, however, he was wrongly accused of stealing a guitar and spent a year and a half in prison, and was freed only thanks to the efforts of the prison governor and his wife.
But by the time he was 19, he had a recording contract and a new stage name, Juan Gabriel, taken from his mentor, Juan Contreras, and his father, Gabriel.
His first album was released in 1971, featuring the song No Tengo Dinero ("I Have No Money"), for which he received his first gold disc. He rapidly built a huge following with his prolific output of ballads, pop songs and mariachi numbers, many of which were covered by other Latin American artists. He was Grammy-nominated six times and kept up a relentless touring schedule; he died of a heart attack a few days after a sell-out show in Inglewood, California.
He became a noted philanthropist, opening an orphanage in his home town, financing numerous others and performing several benefit gigs a year for children's homes.
He had several run-ins with the authorities over unpaid taxes, and there were rumoured links with the Cali drug cartel, though he denied the claim made in a book written by the son of a Colombian drug trafficker that he had performed at a cartel party. His recording career was interrupted by an eight-year hiatus in the 1980s while he was successfully fighting his record label, BMG, for control of his music.The scandals were relatively little compared to the adoraton he received across the Latin American world,
"One of the most amazing things about him for me, was that such an obviously gay artist was so adored in probably one of the most machista countries of Latin America. He was an artist that everybody loved. No matter how homophobic you might be you couldn't help fall in love with him for what he has given to the world." says top London Latin DJ Jose Luis.
Despite his gay following, he would admit nothing, even after the Mexican government launched an anti-homophobia campaign in 2005. Although his songs were staple fare in the drag bars that straddle the Texas border, he told one interviewer who asked outright whether he was homosexual: "You don't ask about what can be seen."
A former (male) secretary claimed in a book that the two had had an affair; Gabriel would neither confirm nor deny it.
He is survived by four children, 3 of tem adopted with a lifelong friend, Laura Salas.
Alberto Aguilera Valadez (Juan Gabriel), born January 7 1950, died August 28 2016