Just Another Lonely Latin Hit?
We've seen it before, the querky pop tune with a tropical feel that gets under the UK's skin for a while. Every so often they hit this cold little island, create a Latin craze and then disappear. In the nineties we had 'Mambo no.5' and 'Livin' La Vida Loca' and in the noughties we had 'Gasolina'. So is this summer's Latin hit 'Despacito' any different? Amaranta Wright thinks so, and explores what the record-breaking song says about the changing nature of the music industry.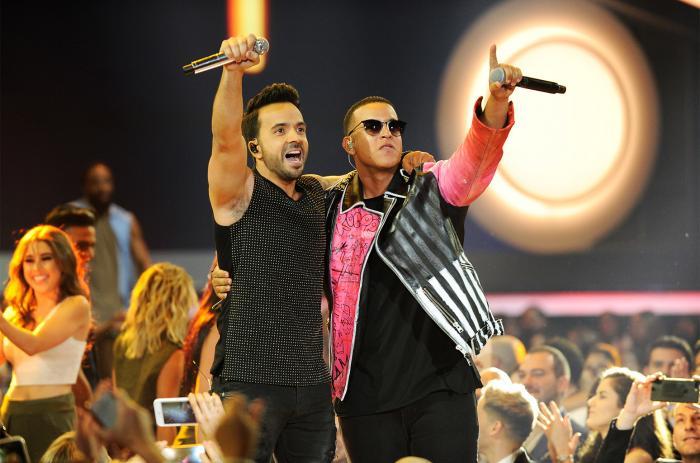 The UK is notoriously stubborn when it comes to embracing music in another language. No matter how catchy the tune, consumers can never quite bring themselves to take it seriously. It may move the stiffest hips, some even find themselves singing along, but it will never quite escape that damning adjective 'cheesy' and surpass the ironic inference, to acquire the perception of coolness.
One cannot help think that this time, however, things are different. The eleven week chart reign of 'Despacito' featuring Daddy Yankee and Luis Fonsi, has been already followed by another Latin track at no.14 'Subeme la radio' (Enrique Iglesias and Zion and Lennox) and J Balvin's 'Mi Gente' at no.12. The UK's biggest girl band 'Little Mix' has even teamed up with Latin boy band CNCO to chart Reggeatón Lento. It's the first time ever that four Latin songs have appeared in the UK's Top 20 at the same time.
So what's different this time?
The word on everyone's lips is 'streaming'. 'Despacito' is officially the most viewed song in Internet history, accruing more than 3bn views on YouTube. The Puerto Rican hit was already no.1 for four weeks in the UK before Radio 1 (the UK's traditional hit-maker) even played the song. It flew over the heads of mainstream radio and, as if not knowing what to make of it, the only media coverage referred not to the value of the song itself, but to the viral phenomenon. "Thanks to streaming services, Latin hits now have more visibility in countries that previously might have ignored them," wrote the Guardian in a brief article. There was no analysis of the song or interview with the artists (Fonsi was erroneously referred to as a reggeatón artist), perhaps for fear of drawing attention to the obvious; that gone are the days of traditional media influence over music consumption.
Looking back, you can understand why those one-hit-wonder 'Latin' tracks never led to anything; they weren't authentic expressions of their genre. 'Mambo no.5' was a parody of a genre sung by a German, and Ricky Martin's 'Livin' la Vida Loca' was a bi-lingual pop product packaged for export. Both these hits were, in different ways, driven by the music industry and their collaborating media. They were anomalies that expressed nothing deeper. By contrast, 'Despacito' expresses something much deeper: Latin America's great pop-writing tradition, the authentic and appealing beat of the Latin Caribbean, oh, and the power of YouTube.
The Bigger Picture
It's not the first time that authentic Latin music has caused a stir in the UK. Remember Buena Vista Social Club? Those cool Cuban dudes who produced sounds that mesmerized the world? Yet, essentially, the Buena Vista CD was confined to the book shelves of the middles classes.
"For me, there are two waves of Latin music success that set the precedent for what we saw this summer," says Jose Luis Seijas, the UK's leading urban Latin DJ. "Buena Vista and 'Gasolina', the first authentic Latin urban pop track that became a UK hit (2005), but this wave we have now is more likely to stay because there is a bigger picture going on."
That bigger picture is the mainstream success that urban Latin music is enjoying, not only across Europe but across the globe, in the clubs, on the radios, and of course online. 'Despacito' topped the charts in nearly 50 countries, the most viewed and liked YouTube video ever; more than Adele and Katy Perry. And the track was well on its way to being a global hit before Justin Bieber jumped on the bandwagon.
Why and how did this happen?
Latin music experts suggest that global audiences have been groomed to receive a pop-reggaetón song after years of dancing to 'tropical' beats. DJ Jose Luis has seen the change on dance floors all over Europe, from the UK to Spain, where Latin tracks, once dismissed as folksy, are being embraced like never before. "In Spain, Latin music has gone from making summer anthems (canciones de verano) to being the nation's pop music all year round. In clubs in London, it's the Spanish and Asian kids who are asking for J Balvin, not Latinos. Sometimes, I get the impression that Spaniards think reggeatón their music. They sing the lyrics like they are their own."
According to Wayne Marshall, an ethnomusicologist who teaches music history at Berklee College of Music, this sense of ownership or familiarity can be partly credited to the wide use of tropical beats in pop tunes of the last 10 years. In a recent article in Vulture he claims: "Ed Sheeran's 'Shape of You', released earlier this year, owes dancehall reggae money. Ariana Grande's 'Side to Side' sounds an awful lot like it was built atop a subtle rearrangement of Junior Reid's "One Blood." Jose Luis Seijas adds that Clean Bandit's 'Rockabye', Major Lazor's 'Lean On' and Lethal Bizzle's 'Fester Skank' more directly employed reggeatón beats.
Jose Luis, who pioneered reggeatón in Europe with his now legendary club night, La Bomba, suggests it was simply a question of time: "Latin America has been making great pop for years. And reggeatón pop is easy for DJs to play because it's soulful, accessible, but also edgy because it has that street element."
He adds: "Globally, Latin pop artists are the new movers and shakers; these are cool guys who Justin Bieber wants to hang out with and make tracks with. And that's the bottom line; there is nothing to be ironic about anymore. There is no gimmick element to it."
Indeed in Despacito, reggeatónero Daddy Yankee and seasoned pop act Luis Fonsi (who may have previously thought reggeatón risky) make a perfect duo; Fonsi helped make reggeatón more palatable and Yankee maintained the tracks' credibility for hard-core reggeatóneros.
More importantly, as Marshall explains, two crucial elements helped give 'Despacito' its universal appeal: the primal Jamaican and Puerto Rican 'Dembow' beat that drives the song, stems from one of the oldest African-derived rythmns that has long threaded its way through the Americas. The second is 'Despacito's' use of four of the most common chords in popular music over the last century. In essence 'Despacito's co-author, the Panamanian song-writer Erika Ender, who has contributed to over 40 hit singles in multiple markets, followed the harmonic pattern of a classic pop hit.
Is beat more important than language?
'Despite not being in English' is the key phrase used by British media in its alarm at the success of Latin tracks. But we live in a global consumer society, where most people don't speak English and perhaps even English consumers are less interested in riding the language high horse than the media thinks.
'Despacito' is only one of a host of Spanish-language reggeatón acts making chart history in recent years, including Enrique Iglesias ("Bailando" No. 8 spot with 2.3 billion views), Shakira at No. 24 (with one of her Spanish songs), J Balvin at No. 35, and Nicky Jam at No. 45.
Marshall claims that YouTube is ushering in a new era in music consumption, where people are having a vote, and perhaps they don't have the language prejudice that the media and record labels assumed they did labels dictated what they listened to. He muses: "In a moment of resurgent isolationism and xenophobia, there is something reassuring about a popular vote that elevates Spanish to the US' No. 1 language for most of Trump's tenure to date."
Andy Wood, who has been promoting Latin music in the UK for 30 years, comes to a similar conclusion. "It's interesting that, at a time when Brexit is dominating the media, non-English language music is the most popular in the UK. Maybe it's a kind of a reaction against Brexit. Perhaps the music and lifestyle that reggaetón artists portray is attractive to people at the moment."
It also helps, Wood points out, that reggeatón lyrics "are not very sophisticated." Indeed, many have remarked on the catchiness of the word despacito, as key to the song's success.
Those who have followed reggeatón for years may already be growling at pop's appropriation and sanitization of the genre. But they can also be reassured by the fact that one of its original creators, Daddy Yankee, is back at the top and reminding the industry that what recently made history is still reggeatón. "We've been on this wave for a long time. Now it feels good that the whole world gets to surf with us."
The new wave, is indeed an urban Latin wave, and although nobody can predict how long it will last Wood for one is reassured by "the longevity of reggaetón. It has been around for a while and different people are working with it now, and maybe that means it will be around for quite some time to come."
The bigger question is, now Latin music is taking on a life of its own, how will the labels and music media, react? They had no role in creating the hype, but you can be sure as hell they'll want to make a buck out of it. But can they keep up when it is consumers and not the industry that are ahead of the game?
Wayne Marshall is the co-editor of 'Reggaetón' (Duke University Press, 2009). DJ Jose Luis runs the UK's leading reggeatón website www.reggeaton.co.uk and La Bomba at 02 Academy www.labomba.uk. La Bomba's special Chrristmas Party takes place on Decmebr 29th https://www.fatsoma.com/labomba
Corina Poore contributed to this article.
Cuba's natural setting, with its own historical and cultural...
From garage parties in Panamå to the awards ceremonies of Miami, how...