King Messi: Eternal Logic Defier and Record Breaker
With a hat-trick against Sevilla, Messi took his La Liga goal tally up to 253 to break a record that had stood untouched for almost 60 years. Lewis Blakeman takes a look at the Argentine's career, and argues that he doesn't have to win the World Cup to become the worlds greatest ever player, Messi doesn't have to win the World Cup.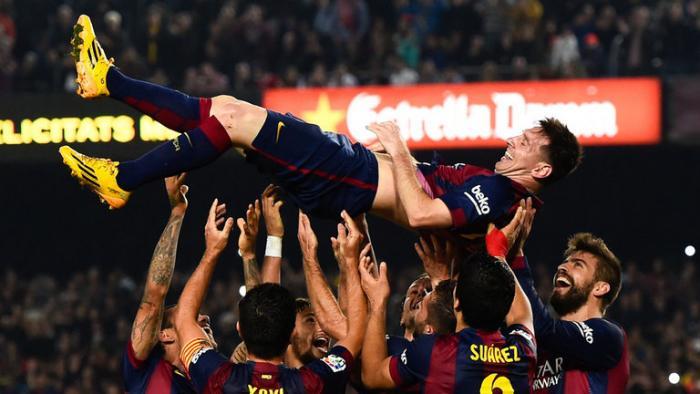 Given all that he has achieved during his career so far, the fact that Lionel Messi is only 27 doesn't quite add up for me. To hold the records for most goals in a La Liga season (50), most Ballon d'Ors (4) and most goals in a calendar year (91), all by an age in which most players are expected to reach their peak, is quite simply staggering. His latest achievement, surpassing Telmo Zarra's record of 251 La Liga goals, has left me with no doubt whatsoever that by the end of his career, Lionel Messi will be the undisputed greatest footballer of all time.
With four and a half years still to run on his Barcelona contract; Messi could feasibly reach 350 La Liga goals. Granted, fans were probably saying the same about Zarra's record back in 1955, but to imagine another player scoring more goals than Messi is almost impossible. Giving his views on Messi's achievement, Barça manager Luis Enrique stated "He is unique. It won't be repeated. We have the fortune to enjoy it."
Enrique is absolutely right, we do have fortune to enjoy it; and the surreal thing is that we probably have another eight years or so to enjoy it considering Messi's age. Whether he remains at Barça or not is beside the point, Lionel Messi will continue to dazzle us wherever he plays his football.
His record-breaking goal came in the 72nd minute of Barça's 5-1 victory over Sevilla. After a neat one-two with Neymar to split the Sevilla defence, Messi found himself open at the far post with the goalkeeper stranded. All he had to do was stick out his right leg and direct the ball into the empty net. As the ball crossed the line Messi's momentum slid him into the net, while a great smile broke out upon his face as he looked up at the erupting Camp Nou crowd behind the goal. He then ran off to celebrate with his teammates, who hoisted him into the air in celebration of his achievement. To round off the great day Messi added a third goal and fittingly earned himself the match ball as a souvenir of his great achievement.
The goal was not dissimilar to his first ever Barça goal, which came on May 1st 2005 against Albacete. Again playing a one-two with a Brazilian (on this instance Ronaldinho), Messi found himself free in the box, though this time he opted to lob the ball over the goalkeeper to send the Camp Nou into rapturous applause. From that day, the young Argentine from Rosario went from strength to strength, and began to establish himself in the Barcelona starting line-up. By 2007 he was one of the world's best players. In March of that year he scored an El Clásico hat trick at the age of just 19, and a month later in a fixture against Getafe, scored a near-perfect replica of Diego Maradona's goal against England at the 1986 World Cup – which is seen by many as the greatest goal of all time.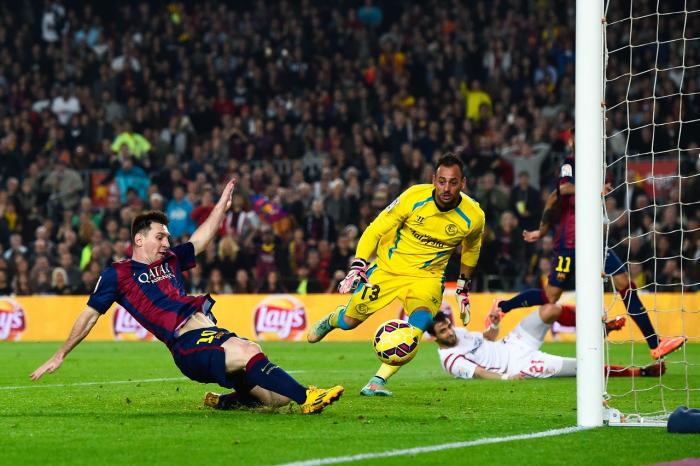 Lionel Messi continued to improve, and particularly flourished under the guidance of manager Pep Guardiola between 2008 and 2012. In 2009 he formed a ruthless partnership with Samuel Eto'o and Thierry Henry, as the three attackers scored 100 goals between them in a season where Barcelona won the Copa del Rey, La Liga and Champions League. After Guardiola's departure Messi still continued to astonish, netting a record 91 goals in the calendar year of 2012, and has since won his fourth Ballon d'Or among other impressive accolades.
Fortunately for us as fans, the entertainment is far from ceasing now that Messi has the La Liga record. After another hat-trick midweek, he now holds the record for most goals scored in the Champions League with 74 goals, just ahead of Cristiano Ronaldo. For the next few seasons we can expect to see the two rivals battle it out for the overall lead before the time comes for one of them to retire or leave European football.
When comparing the two, an accusation often levelled against Messi is that he has never proved himself in another league, unlike Ronaldo who starred with Manchester United. In his defence, avid Messi supporters would argue that he doesn't need to excel in another country to prove his worth, and rightly so. Even if he were to retire tomorrow, Messi would still go down as one of the football's greats; therefore if he can reach 350 La Liga goals, and win more trophies and awards in the process, surely that is more of an achievement than finding success with a new team.
To become the worlds greatest ever player, Messi doesn't have to win the World Cup, he doesn't have to leave Barcelona. What he does have, is eight or so years left of his career to achieve all he can – be it with Barça or not – and hopefully set unattainable records that over the course of history will prove him to be football's greatest ever star.
Argentine rock band Los Fabulosos Cadillacs (aka LFC) set the place...