La Follía de Corelli - music video with Lina Tur Bonet and Ángel Haro
A superb collaboration between Lina Tur Bonet, the renowned baroque violinist and the Spanish visual artist Ángel Haro has resulted in possibly the first ever Classical music video. Taking the music of one of Arcangel Corelli's works called FOLLIA, blending shapes, light, colour and textures by Angel Haro with the music and the figure of Lina Tur playing, they created a video that explodes with the music of Corelli's composition.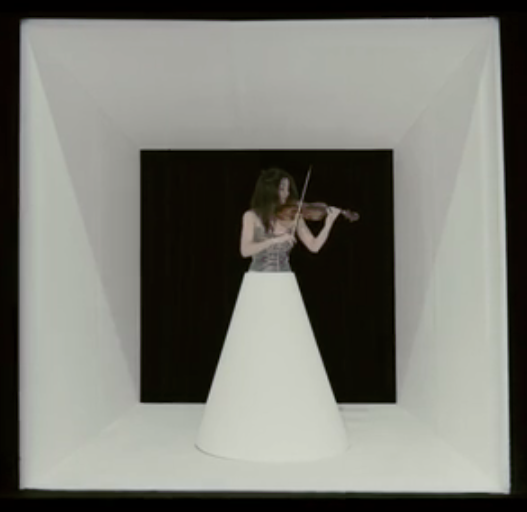 The video was premiered in London at the Cervantes Theatre as part of the 'Made in Murcia' cycle. The idea for the video ' La Follía de Corelli' arose when the violinist Lina Tur and the artist Ángel Haro met. She had been deeply impressed with his work when visiting one of his exhibitions, and when, later, they met through a mutual friend, the creative spark between them flourished and they immediately resolved to work on 'something' together.
Both of them are fascinated by interdisciplinary works and when she had recorded La Gioia, her new double CD on Corelli, they chose to focus on one of her favourite sections, on the Follia in particular, which is about 11 minutes long. They saw that it would work and consolidated the idea of developing it as a classical music video.
As Ángel Haro explains:
"Taking into account that Corelli has such clean structures, his simplicity of form that has great proportions, I liked the idea of using geometrical shapes, so I established a space that, as you can see, is formed mainly by two elements, one is the pyramid trunk that is reclined and a false cube, which in a sense is a baroque image, no? So, with those selected elements, I then placed Lina within them. I didn't prepare a storyboard in the style of a publicity commercial, because I did not want that rigidity, that closed aspect, especially taking into account what Lina had told me about Corelli. I wanted to create a definitive structure on which it would be possible to improvise. We shot the video chronologically, so that there are moments when the elements intervene and it's not possible to go back. So we had to continue forwards and allow the natural changes to take place. Lina had to accompany that visual improvisation with her own musical ornamentation and it was therefore very complicated… a follía of sounds, shapes and colours."
Working in this way was problematical as it is one thing to create improvisation in a static place, but in a video, they had to cope with the complications of lighting, and camera positions. It was filmed over a very intensive three days and as Ángel Haro, explained it was exhausting for all of them:-
"We were enclosed in the studio for three days shooting, and Lina has… apart from being a magnificent violinist, she has astounding stamina because to play that piece the number of times that she did, is unbearable, and in effect she hurt her hands. But as you can see, the video is intense because she is really playing as we recorded, although the final sounds track was the CD recording, she played live throughout the shoot."
It was poignant that the choice of geometrical images in the video had a particularly significance for Lina as she describes: -
"When I was in Rome, I went to the Pantheon because that is where Corelli is buried. I went to pay him homage and tell him about my CD… when I looked up, as you may remember, the Pantheon is a vast hemispheric cupola which has a series of square indentations that are not exactly like those that Angel created, but the idea was almost the same…. I really think that it was no coincidence that those images in the Pantheon re-appeared in the video."
Lina Tur's new double CD La Gioia- Corelli Violin Sonatas Op V, (which inspired the video), recorded with her group MUSICA ALCHEMICA is a tour-de-force comprehensively encompassing some of the best work of Arcangelo Corelli. Her violin has a powerful effect on the listener, these sonatas are really quite beautifully played, not only by her but the whole group of Musica Alchemica. The superb Dani Espasa stands out on the harpsichord. Having played together for some time there is a clear bonding as the dialogue of improvisations develop. But the whole orchestra is superb as it has brought the authentic baroque sound to life by playing instruments that are not commonly seen or played today. The Theorbo, a large form of lute, with a long neck, the archlute, and the Violone which is the ancestor of the double bass. The virtuosity of the players adds to the baroque feel of the sonatas. There is peacefulness to the sound that is truly mesmerising.
Though Arcangel Corelli was trained in Bologna, he refined his mastery of the contrapuntal tradition in Rome where he later remained and was eventually buried in the Pantheon. Known as the 'Bolognese Archangel' Corelli was the top 'pop' star of his time. Phenomenally popular he enjoyed success with Royal courts and the Church. That was the pinnacle in those days, forget the X- factor, that was where you made your name in the 18th century, and he became the best paid musician at the time, amassing a large collection of fine violins and a substantial fortune. His virtuosity was such that his role in the development of violin playing is significant, with many musicians using him as their main point of reference. He was criticized for limiting himself to the central ranges of the violin, but it was a deliberate choice, as he felt they most resemble the human voice. The violin is one of the instruments with the most harmonics hence the richness and emotive power of the music.
Corelli's music is particularly fascinating as Lina Tur points out, because unlike other classical composers like Beethoven, or even Mozart, the instrumentalist was expected to improvise around the basic composition, much as a jazz musician would today. Naturally, it did not involve dissonance as it would today, as they followed the norms of the time, and as Lina stresses: "… there are three hundred years in between!" Even so there was a great deal of freedom and musicians made their names through their individual styles of 'ornamentation' as they called it then, exactly as modern musicians might do today when playing their solos. An Eric Clapton of his time on the vioin. Also, much like today although all the members of the orchestra improvised, they carefully listened out for each other, developing over the years, a special rapport, adding to the freedom they could feel and explore.
This is why Lina Tur likes to state that 'Music is liberty'.
La Follia de Corelli – Video link / https://vimeo.com/205064649
Director and set design: Ángel Haro
Cinematographer/ filmmaker: Joaquín Clares
La Gioia - Corelli: Violin Sonatas Op.5 is available on Amazon and other retailers.
Lina Tur and Musica Alchemica: Lina Tur Bonet: Violin / Dani Espasa: Harpsichord and organ / Marco Testori: Cello /Josep Maria Marti: Theorbo-guitar / Manuel Minguillón: Lute & theorbo/ Sara Agüeda: harp / Guillermo Turina: cello/ Andrew Ackerman: violone ( ancestor of the double bass).
Cuba's natural setting, with its own historical and cultural...
From garage parties in Panamå to the awards ceremonies of Miami, how...