La Tortuga de Darwin @ Cervantes Theatre
A delightful, thoughtful and hugely comical experience at the innovative Spanish Theatre initiative in Southwark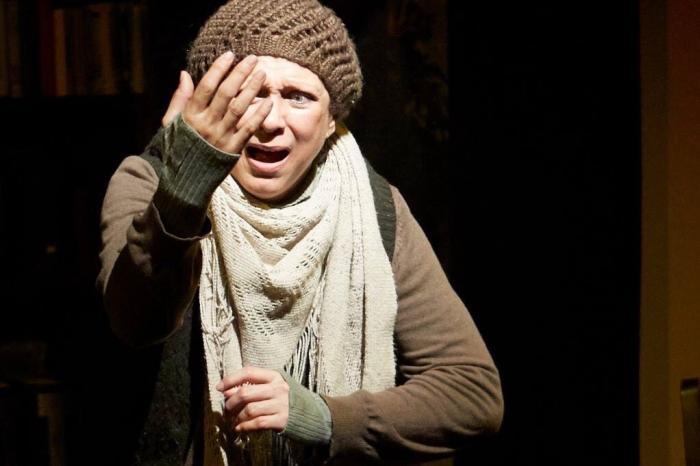 The Cervantes Theatre has not been around that long. Southwark council offered the vacant and undeveloped railway arch on Union St. to the Spanish Theatre company and it was a formidable challenge for them to gather together the necessary funding to develop it into the theatre it is today. They had a host of generous individuals and companies who contributed as well as a crowd funding effort that finally made it all possible.
The results are magnificent. It is a comfortable and intimate theatre with a roomy and pleasant bar upstairs. Also, the high quality of the productions already presented have proved it was worth every effort. After a successful inaugural run at the end of last year with Blood Wedding (by Federico Garcia Lorca), they have moved on to the work of a contemporary playwright.
La Tortuga de Darwin (Darwin's Tortoise) is this latest offering, directed by talented director Paula Paz. This piece, written by the renowned Spanish playwright Juan Mayorga, delights, amuses, and moves the audience effortlessly. It is a witty, funny and thoughtful play, challenging on an intellectual level, as well as astonishingly sad in parts. The premise demands the suspension of belief, as a very , very old lady, who arrives at an historian's home commenting and pointing out historical errors in his life's 'oeuvre', is, in fact, none other than Harriet the tortoise that Darwin brought home from the Galapagos islands in 1935!
This imaginative idea expresses one of Mayorga's pet theories, that "theatre is the art of imagination". As he said in a recent interview: " I imagined a tortoise who was almost 200 years old, that had lived through eleven popes, and thirty five North American presidents, two world wars, the October Revolution and Perestroika". What theatre needs he insists is: "… fundamentally, an eloquent actor and the complicit imagination of the spectator. .. it is an impossibility for any actor… there is no actress, neither old nor young who could be a 200 years old tortoise! It is an impossibility only brought to life thanks to the imagination of the audience." This proves his point that theatre is one of "the most direct and diverse mediums to share the human experience."
All these issues and qualities are present in this superb productions presented in both English and Spanish. The two leads, the Venezuelan actress Gledys Ibarra, and Gilly Daniels, the well-known English actress who started out her career singing in 'Hair', have both shown a deep understanding of the character, beautifully directed by Paula Paz. It is a very demanding role, physically and emotionally. The protagonist is on stage throughout. This play is proves to be an inviting space for thought. Mayorga has written finely –tuned supporting roles that bring out the depth and emotive qualities of the Harriet's story. Paula Paz wisely gathered a group of talented and experienced actors and the cohesive qualities of her direction have resulted in two excellent productions.
With perfect comic timing that enforces the emotional content, with La Tortuga de Darwin, the playwright Juan Mayorga proves that he is worthy of his reputation as one of the top contemporary playwrights in Spain, part of a group known as the Bradomin Generation. He has written more than 30 works, including Darwin's Tortoise ( 2004) Reykjavik ( 2012) Way to Heaven (2004) Hamelin (2005) and his latest play, The Mapmaker. Darwin's Tortoise has been a global success, and it is no coincidence that it has been translated into many languages, and presented all over the world.
Paula Paz had not seen any previous productions and was pleased to come to the play with fresh eyes. When Juan Mayorga came over last week to see the production he was very impressed with the original and bold approach. Coming from a background of ballet (where she gained fame as a soloist with various top ballet companies), Paz developed a feel for the use of space and how sound design can affect it and the whole environment. This comes through vividly in this production.
Highly recommended, this production will be on till March 18th 2017, try not to miss it! La Tortuga de Darwin, written by Juan Mayorga, is being presented in both Spanish and English (translation by David Johnson) by Spanish Theatre Company directed by Paula Paz.
Prizes: La Tortuga de Darwin won Mayorga the MAX Prize for Best Author in 2009
English Cast
Harriet : Gilly Daniels
Professor: Philip Nightingale
Beti: Becky Black
Doctor: Patrick McHugh
Spanish Cast
Harriet: Gledys Ibarra
Profesor: Álvaro Ramos
Beti: Lara Grube
Doctor: Jaime Menéndez
Corina Poore talks to Gustavo Salmerón, who made a unique film about...
This month's dancefloor hits by award winning Cuban DJ, Javier...