Latin Flare
Love is really all that matters when it comes to relationships, so it is with great 'Flare' that the BFI brings a sizzling new selection of movies, including from Latin America, to celebrate Gay, Lesbian and Trans film-making. Corina J Poore talks to Brian Robinson, one of the chief festival programmers about the film selection and how this remarkable festival has evolved over the years.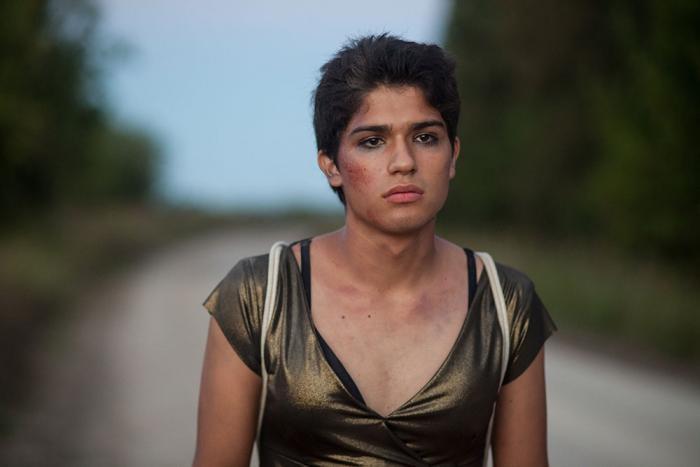 From its humble and somewhat tentative first season in 1977, Flare has grown through various names - from the initially sobre 'Images of Homosexuality' to 'Gay's Own Pictures' in 1986 and 'The London Lesbian and Gay Film Festival' in 1988- into one of the world's longest running and most important LGBT festivals. This year, the festival boasts a selection of Hispanic and Brazilian features and shorts of exceptional quality. Among them Good Manners (2017) a disturbing Brazilian film about Clara, a lonely nurse from the outskirts of São Paulo, who is hired by the mysterious and wealthy Ana to care for and protect her son after he is born 'not looking like a human'.
Brian Robinson, who has been involved with the festival from the early days, enthuses about the selection: -
"There is a really wonderful short called 'Neptuno', by Daniel Nolasco, about a swimmer who becomes obsessed with another swimmer at the baths. Then there is a French short called 'Ursinho' [Dir Stéphane Olijnyk], which is set in Rio de Janeiro. A young man working as a cleaner becomes obsessed with a very expensive Copacabana rent- boy. Both these films take us to slightly unusual places, where we do not normally go, they have a real tension. I think that the audiences in cinema should really try and see some of these shorts because they will be surprised. Festivals are really important for these films to be screened and seen."
A collaboration between two Brazilian filmmakers, Filipe Matzembacjer and Marcio Reolon, created a brooding and fascinating film awash with abandonment, yearning and loneliness. Titled Hard Paint (Tinta Bruta, 2018), with overtones of 'Moonlight' (2016) it won the TEDDY Award for Best LGBTQ Feature at the Berlin Film Festival. As Brian Robinson explains: -
"This will be [Hard Paint's] UK premier at its screening at the BFI Flare. It's set in the harbour town of Porto Alegre. There is a disturbed young man who seems to make a living by performing on a webcam and using neon paint in a distinctive way. Then he finds out that his numbers are falling because someone else has copied his act and they eventually meet & become lovers., It's a complex & interesting story, but it's about the power to resist and create your own spaces in a society that may not be that accommodating. So, it's quite dark, and it has within it, a message that sometimes you have to fight back, and that resistance is possible."
Chilean director Sebastian Lelio has also excelled with 'A Fantastic Woman', a film that carried off the Oscar for 'Best Film in a Foreign Language',(see review & interview http://www.latinolife.co.uk/articles/fantastic-woman-2017-dir-sebastian-...). A milestone in many ways, this film has brought up the question of whether it makes a difference if a trans character should always be played by a trans actor, given the criticism in some circles of Hillary Swank in Boys Don't Cry.
Brian Robison is of two minds of the subject: -
"Wherever possible one should have trans people playing a trans character but actors have to be allowed to act! We have had a situation where there are many talented trans actors around, and they are certainly not given as many roles as they should be. There is also a nuance and an understanding of what it means to be trans in every situation. So, it becomes a part of the drama. There are definitively two sides to this issue… I don't think it would necessarily be totally desirable, in every case, to have an astronaut playing an astronaut…it starts to become a little bit controversial."
'Marilyn' (2018) is an Argentine/ Chilean movie directed by Martín Rodríguez Redondo. Set in rural Argentina, it is the powerful tale of a young man who dares to challenge the status quo and turns up at the carnival in his local town dressed as an attractive young woman called Marilyn. The other young men know who he is, but find they are both attracted and repelled by her. He pays the price but also finds a way of fighting back.
Among the Latino gems is a superb documentary about a man called Antonio López: 'Antonio López 1970: Sex, Fashion & Disco (2017)'. He was a sort of rival to Andy Warhol in terms of his night life person, his designer friends and models, and he was an inspiration to a very young Grace Jones. and Jessica Lange. The film has great footage from the time & lots of fabulous interviews about what it was like being within the circle of Antonio Lopez in New York in the 1970s.
Brian says Flare is a far cry from its initial season in the summer of 77, which 'blew me away' and made his want to ge tinvolved.
"People now look to us to see what we are selecting. We know that if a film is screened in our festival then some of the 200 or so other LGBT festival around the world will definitely be interested. Film makers come and tell us about the big things that happen to them afterwards. So, we are a sort of portal festival and one of the few that is actually owned & operated by a cultural body, in the case, the British Film Institute."
This year the festival will screen over 50 features, more than 90 shorts and a wide range of special events, guest appearances, discussions, workshops, club nights & more. The festival Gala opener is My Days of Mercy (2017), an emotional love story between two women from vastly different social & political backgrounds, with wonderful performances by Ellen Page (Juno- Inception) and Kate Mara (House of Cards, The Martian).
The closing Gala night will feature Steve McLean's imaginative and sexy film, Postcards from London (2017), featuring Harris Dickinson (Beach Rats), the film is set in the world of high-class escorts in Soho. A sequel to his earlier Postcards from America (1994), it is, in a sense, both an homage to Derek Jarman and a celebration of the homo- erotic in Baroque art.
The centrepiece will be the World Premiere of UK feature documentary, A Deal with the Universe (2018), the debut from former BFI Flare programmer Jason Barker, which tells the inspiring tale of a very different kind of pregnancy.
Sometimes it is hard to believe that it is 51 years since the Sexual Offences Act of 1967 legalized same sex relationships. In the early days, attending a gay film festival was like a political statement, says Robinson: -
"The people who went were often activists who knew each other from demonstrations or night clubs, and at the very beginning the festival was just one week long, it is now 11 days, which is longer than Cannes and Berlin. Audiences have increased…we are very comfortably over 22 thousand. When we did a survey a few years ago, we found that over 10 % of the audience were straight, and we think that it's very important that people can understand how other people live their lives and how they love… You know, gay people do, they watch Romeo & Juliet."
Mass market movies like Brokeback Mountain, Milk, or now A Fantastic Woman have had an important effect on people's attitudes explains Brian Robinson :
"In the early days of the festival, we were interested in just an image of a gay man, a lesbian, or a trans person because they weren't there, in the mainstream, and there was nowhere else where you could really see these people. Now, there are many more images available in the mainstream and this has been an extraordinary year for representation. I would never have believed that a black gay film could have won a top prize at the Oscars, [Moonlight + 'Best Picture' 2017] or that a trans film like A Fantastic Woman could have won 'Best Film in a Foreign Language'. We have come a long way, but there are still many, many films that you wouldn't get to see easily in a cinema anywhere else. That is why we exist."
The BFI Flare London LBGTQ+ Film Festival will be on from March 21st – April 1st 2018 at the BFI Southbank. Tickets are on sale via www.bfi.org.uk/flare.
Cuba's natural setting, with its own historical and cultural...
From garage parties in Panamå to the awards ceremonies of Miami, how...