LATIN LONDONER #2 FERNANDO MONTAÑO
Originally from the city of Buena Aventura on the Pacific coast of Colombia, dancer Fernando Montaño is now a soloist with the Royal Ballet. Twice a winner of the LUKAS Personality of the Year (2013 and 2014), Fernando has performed for the Queen and Michele Obama, modelled for Vivienne Westwood, and has been honoured by the city of New York and the President of Colombia. From January 2016 Fernando will be judge on the first ever series of 'Dancing with the Stars' in Colombia. He is a patron of the charity Children Change Colombia.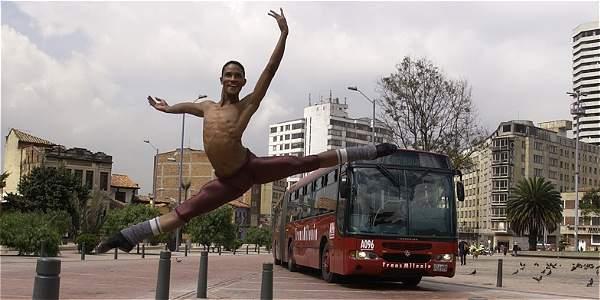 My earliest memory is when I told my mum I wanted to be a dancer at the age of 4… I loved ballet when I was a kid. At fourteen I got a scholarship to the National Ballet School in Cuba, where I won several prizes, and subsequently joined the Cuban National Ballet. While I was working in Italy at La Scala and the Teatro Nuovo di Torino, I was spotted by the director of the English Ballet School, Jane Hucker, and invited to audition in the UK.
The most influential people in my life have been my family - especially my mum - and all the teachers I've had, as well as mentors like Vivienne Westwood.
The thing I most love about London is the freedom I have here. At the beginning it was difficult, not speaking English and having to overcome the death of my mother when I first arrived. But my love of dance has always carried me through, along with my self-belief and determination.
The British audience is very polite and generous. From the very beginning, I have felt a lot of love and care from the British people.
Colombians are a very happy and friendly people and like to dance salsa a lot. We are also very hardworking and passionate about what we do.
What makes me most happy is being able to deliver a good performance and go to bed knowing I have learned something new and positive.
What makes me unhappy and angry is prejudice of any kind. Being a black ballet dancer, I have felt prejudice at times in my career. You have to find the best ways of dealing with it.
I have been supported by some very special people through hard times and good times, and I feel very grateful to them. I'll always try my best to make them proud of me.
I don't idolize or admire any one person in particular because I think everybody has something which can be admired, and personally I'm always learning valuable things from different people.
If I could go back in time, I'd go to the time of El Dorado.
The song I'd like sung at my funeral is Handel's Lascia ch'e io Pianga
Tell us a secret. A secret is a secret.
Cuba's natural setting, with its own historical and cultural...