Latin Londoner #3 ..Emeris Solis
Emeris is one of Europe's best Latin percussionists and the epitome of the Latin immigrant who has earned success in London through his craft. Chilled, good humored, and professional, he is a master in Colombian folklore, especially in the music from the Pacific coast. He now co-directs a new collective under the name of La Kasha, which fuses Afro-Latin folklore with London's cutting edge electronica.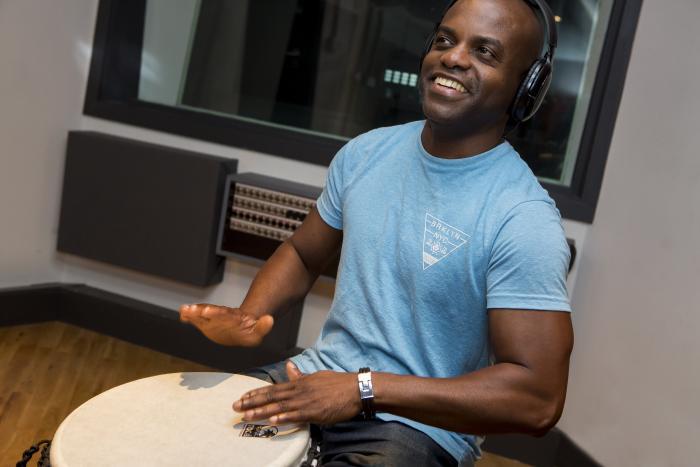 I've inherited my musicality from my mother, but my father has been the most influential figure in my life. My first memory is playing the drums. I was 6 year old. Later many people thought it was a waste of time going to music school, but my father always told me to follow my dreams whereever they took me. And I've inherited my calmness and steadfastness from him.
The artist that has most inspired me is Alekuma Cantaoras, a Colombian folklore group mixing music from the Atlantic and the Pacific coasts. It was the first time I worked with people from the both coasts of Colombia, including the best tamborero, el maestro Batata.
The event that has had most impact on my life is the Peace process in Colombia. Even though I am far away, I know what it means. I grew up surrounded by violence, and the fact that we are finally achieving peace makes me feel most optimistic and gives me energy.
What I most like about London…is the freedom and independence I have. As long as you don't break the law, you can just do what you want to do without anyone batting an eyelid.
My favourite question is…Are you ok?
My least favourite word is… Parce, which is Colombian for 'mate' but for me it has bad connotations and sounds like when some people are planning to do something bad. I know its not rational, it's just a feeling.
If I could go back in time...I'd go back to my home town Guapi, on the Pacific coast in Colombia, a hundred years ago.
At my funeral,I'd have them play….nything in the Currulao Rhythm
I'm most excited by…all my projects for this year, especially La Kasha, which fuses my heritage with the influences and technology that surround me in London.
A book which tells the story of the Amazon and its ports-towns near...