A Little Private Heaven?
Is film the last refuge of poetry? Or a refuge of dreams? At the BFI Flare London LGBTQ+ Film Festival, Corina J. Poore talks to Brazilian film maker Guto Parente, director of Inferninho (My Private Hell, 2018), about his film that illustrates how a little slice of extraordinary life can survive in the dark.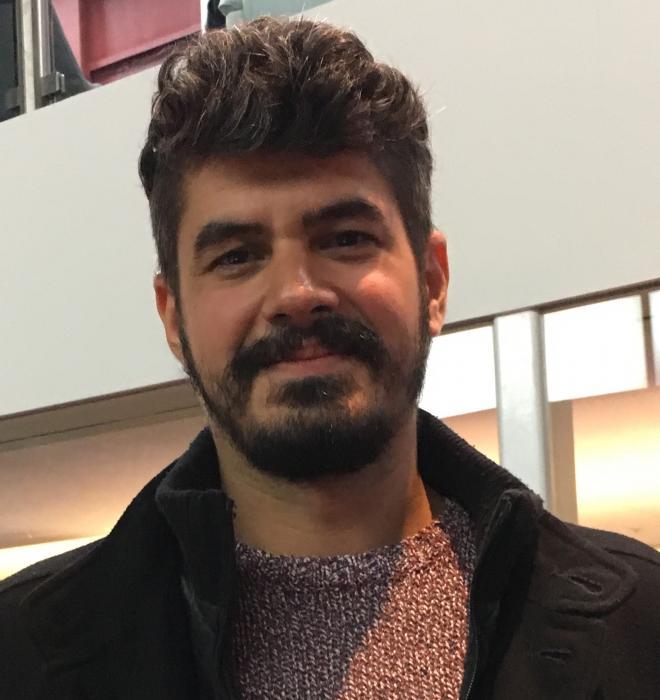 My Own Private Hell / Inferninho is an almost imaginary space, a bar in an unknown district in an unknown town. Perhaps next door. To a group of misfits, who cannot really survive out in the hard world, this Inferninho Bar is home.
This bar space is la metaphor that we never manage to see. It is a presence at all times, in the shadows, a dark, intimate space into which we stare, like voyeurs, but is really only created in our minds.
In reality, Inferninho bar is not so much a little hell, but more of a little heaven where this fascinating group of individuals can be themselves. They supposedly work for little or no pay, but that is not why they are there, they belong, they are like a family: be they a human-size rabbit, (played by Rafael Martins), a silver man, a sailor (Demick Lopes) searching for a home, or the trans owner of the bar who dreams of leaving. We are transported into this world and we cannot fail to be moved.
Like in some of Cassavette's films, the camera focuses on the faces, on the souls that inhabit this space. We never get a clear image or a long shot. There are some tables, some chairs and objects, a harmonica played by a mute, a singer, Luizianne (played by Samya de Lavor) who hangs on each hypnotic note as if she could never let it go, surrounded by a shimmering backdrop, but it is all a part of her existence. After suffering an attack with blows to her head, she sings gradually more and more out of tune and, more and more entranced, we go along with her.
As the Director Guto Parente emphasizes, the visual language was of huge importance to this production: -
"We knew this film had to be a 'character- based' film, even the bar space is a character, so, we wanted [its image] to be built 'outside the frame', in the imagination of the audience. We always thought of the bar as a dark place. We thought that the idea of lots of blacks & shadows, that have a depth of their own, would stimulate the imagination. When you can't see, you have to imagine... the idea was that the bar space should not be a clearly understandable space. We wanted to concentrate on the faces… (we wanted to infuse a fairy tale quality too)."
"There is something very important to be mentioned here, in that the art direction played a very, very important role... the whole art department, the production designers, the costume designers, they all had a lot of creative freedom… in the whole process, so they brought us many ideas, and when they would come with the costumes and the objects and the make- up… that is when we realized that we really had to get closer and closer, and the idea of being really close [with the camera] took shape."
A sailor enters this space and for a while upsets the balance – then the whole place is threatened with demolition, of being bought out with a compulsory purchase order, so they are told, to make way for a faceless and vast new development, over which they have no powers to resist. At first, they are all shattered and intimidated, it is like a dagger in their hearts, but they decide to find a way to survive.
Deusimar (a wonderful performance by Yuri Yamamoto) is the trans owner of this bar and her love story is part of the hinge around which this motley crew revolves, each one for a reason of their own. It pulls together those who have nowhere else to go and each in his way, contributes his humanity to find a way out. Deusimar is the central character around whom everything moves, starting out tough and even ruthless in her business, but her love for the sailor Jarbas changes the dynamics and exposes her vulnerabilities, putting everyone's lives at risk.
Deusimar
This is a film that every audience reacts to in a different way, leading to interesting results, as Parente describes:
"It's crazy because each time I really want to watch it again, … it is not something very common. When you make a film, the process is so long and you go through it for a year or two years, and sometimes, when you release the film, you just don't want to watch it anymore, but … it's crazy, because every time I watch this film, I see a new film because the film only exists in its relationship with the audience, so, you think you created something and then you show it to people and the film is not yours anymore, and people tell you what [ they think that ] you created, and [ you realize] it has taken on a life of its own. We are now going to present the film in Uruguay and Buenos Aires at BAFICI & then we are going to Spain, so I am very curious to understand what film will be shown, [or what will they read into it…] and what will they see? The film was premiered in Rotterdam, we had 4 screenings there and each one was …different, the reactions and what people tell us they understood after the screening [changed], so it's very exciting."
At a time where in Brazil there has been a 30 % increase in LGBT motivated attacks, this gentle film is a timely reminder of our humanity. Parente is very concerned with the direction that politics are taking in his country: -
"I have a [new] project I am working on. I just got some funding and this is going to be a Science Fiction film…Brazil is going through a complicated political moment. We are facing the rise of a strong Conservative structure, which is very hard, so I wrote a Science Fiction script that takes place a few years into the future, where, as now in Brazil, [there is] a theocratic government and the story is about people having to run away and having to organize a resistance and find a way to survive. This idea of a dystopian reality is like … you try to imagine the worst [scenario] … and then from that, you try [to change] the present, [and see] what you can do… to avoid that result. So, you look to the future… those dystopian stories… like Orwell's 1984!"
Guto Parente spent little time in film school and is largely self- taught. When he started out having decided film was to be his path in life, there were no film colleges in his area. He was born in Fortaleza in the North East of Brazil in 1983. Despite being the 5th largest city in Brazil, the Escola Pública do Audiovisual de Fortaleza was created relatively recently, & he managed to go for a spell, now, he gives lectures there himself!
He was a core member of an artist's Collective called Alumbramento, and initially they just got together and participated in each other's films, with a small hand-held movie camera. With his colleagues Pedro Diógenes (his co-director on Inferninho), Gabriel, Luiz Pretti and Ricardo Pretti they produced a number of films. This eventually led to the creation of Tardo Filmes, his production company, with his production partner Ticiana Augusto Lima who produced the horror/comedy The Cannibal Club (2018).
Guto Parente's productivity is impressive with a large clutch of shorts and now feature films that are making waves around the world but being based in Fortaleza has not been a help in terms of distribution, so they are very pleased to have finally established a connection with a German distributor (M-appeal) for 'The Cannibal Club' (2018), which, like Inferninho was also premiered at the Rotterdam Film Festival.
The sailor
Having worked for years in collaborative productions, Parente finds he always likes to have a free exchange of ideas: -
"… there are some [films] where the direction was only mine and the scripts [as well], but even in those cases, I felt the importance of hearing and exchanging ideas with all the crew in a very intimate way. I am not hiring people just to make what I want, [ to follow orders] I want people close to me that I admire, that I like the way they think, so we can build the film together… I did not come from a [traditional] industry formation, being self- made, so I have never been on a set with people I don't know with big commercial ambitions. I came from the idea that we work together with the intimacy of people, exchanging & hearing what others have to offer."
He is also a multi-tasking Director. This collaborative work meant they would share the tasks in hand and sometimes, in some films, he might edit, in others be the cameraman or the producer. One area he prefers to have others to help out is the sound and music department. In Inferninho, these elements are a powerful presence in the film at all times. As he says, Music is another character in the film: -
"We have two different [strands or] keys for the music in the film. We have the songs that are sung by Luizianne which are all composed by a woman from Fortaleza, who is one of the biggest composers in Brazil but, although she has composed over 400 lyrics, she is not that well known. Her music has been played by many big bands and things like that, but she is not very famous. We find her music is very touching and then there is another music character, which are the compositions that were made for the film by two musicians from Fortaleza, Felipe Lima and Vitor Colares. They composed some atmospheric music and instruments. They used guitar distortions and synthesisers… all the music that is played by the mute character… so there are these two different strands or sound characters. We would like to release the sound track on its own".
And so they should, this is a film that engenders much empathy, with an strong undercurrent of humour, warmth and irony that shows that life can be worth living.
Official trailer:
Directors: Guto Parente & Pedro Diógenes
Writers: Guto Parente / Rafael Martins/ Pedro Diógenes
Production: Amanda Pontes/ Caroline Louise
Music: Vitor Colares, Felipe Lima
Cinematography: Victor de Melo
Production Design: Taïs Augusto
Set Decor: Ramírez Gurgel / Daniuel Muskito
Costume: Filipe Arara/ Isaac Bento
Make-up: Gutto Moreira
Cast: Yuri Yamamoto, Demick Lopes/ Samya de Lavor/ Rafael Martins/Tatiana Amorim.
Cuba's natural setting, with its own historical and cultural...
From garage parties in Panamå to the awards ceremonies of Miami, how...