London's Best Guacamoles
The world seems to have gone avocado mad. This delicious, healthy fast-food is no longer Latin America's best kept secret. In the UK alone avocado sales have soared to an astounding £142 million in past year. Petitions have apparently been started to introduce an avocado emoji on the iphone and recent statistics revealed that British shoppers are spending £9 million more on avocados than on oranges. In the light of the nation's obsession, we decided we'd give you a list of the best places to find yourself the classic avocado dish, that gorgeous green guacamole. Enjoy!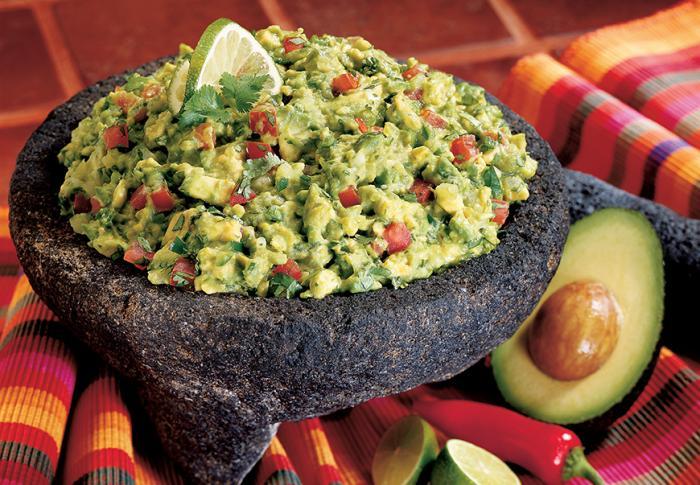 DF
The first test of a Mexican restaurant is the guacamole. It represents the entire ethos since you can immediately taste whether it is fresh. (Believe it or not, some restaurants buy it in a jar rather than make it in the kitchen.) Surprisingly for a fast-food chain, the DF version of guacamole passed the 'fresh test' with flying colours. And not only was it fresh but extremely tasty; its tomatoes and onions seasoned and sweetened by other secret ingredients.
Cost: £4.95
Lupita
Lupita's guacamole for two is a meal in itself, loaded with onions, tomatoes, coriander olive oil, jalapeños and lime juice. Preparation at the table is a visual feast, something normally reserved for steak tartare, so you know you've ordered something special. The olive oil was a new ingredient for us and the homemade tortilla chips were the icing on the cake. Expensive perhaps, but one of the best in London.
Price: £10.95 (for two)
Cantina Laredo
This restaurant prides itself on using 100% fresh ingredients and cooking everything from scratch so we were expecting big things from their guac. And preparing the guacamole in front of you shows they take their promise seriously. Their 'Guacamole en Molcajete' (molcajete being the traditional Mexican mortar and pestle utensil used for crushing herbs and spices) has a unique flavour. The molcajete is made of porous basalt so it often carries over flavours from one dish to another. Salsas and guacamoles prepared in it have a distinctive texture and taste. Served with warm tortilla chips, we were thoroughly impressed. Also good value for money.
Price: £7.50 (for two)
Café Pacífico
You'll find Café Pacífico in an old banana warehouse in Covent Garden. We tried their classic guacamole and this stuff packs a punch. Unlike guacamole purists out there, it is loaded with spices. If you like your avocado old school it might not be for you, but we loved the subtlety of flavours and the generous servings, although a tad more expensive than other restaurants.
Price: £6.50
Coya
We asked Coya's head chef for their secret ingredient and they sent us a little list of what goes into their guacamole. The addition of fresh chilli is what gives it a great kick, and together with its incredibly smooth texture, creamed to perfection, is what really makes this guacamole stand out. Served with corn tortillas, shrimp crackers, and a variety of chips, it is simply delicious.
Price: £4.50
Mestizo
Mestizo's guacamole is super freshly prepared, served with tortilla chips and an impressive coriander-flecked Pico de Gallo salad on the side. The tomato features more than in any other guacamole in London and that's no bad thing. Mestizo is a modern restaurant offering an updated take on Latin food, but can still provide that genuine taste of Mexico. This guacamole is not to be missed.
Price: £7.50
Wahaca
When we spoke to Wahaca's chef about what makes their guacamole so special he said simply "It's the avocados. The very best are the big, green, fleshy Haas avocados that Wahaca buys directly from South America." Wahaca's guacamole is finished with red onion which makes it extra zingy. Served with the tastiest of tortilla chips, this guacamole is a must.
Price: £4.25
For more advice www.thelatinacook.com
Cuba's natural setting, with its own historical and cultural...
From garage parties in Panamå to the awards ceremonies of Miami, how...