London's Mexican Love-in
Forget the Mexican moment, London is having an officially sanctioned Mexican love-in with British and Mexican governments having de- clared 2015 the year of Mexico in the UK and the UK in Mexico. Whether it's the 'New Mexican Wave' movie or the latest 'Mex Mex' restaurant opening, people are finally learning to appreciate the difference between California and Baja California (don't even try explaining that they both used to be in the same country at one point). To celebrate, Elizabeth Mistry seeks out the best of Mexicanidad in London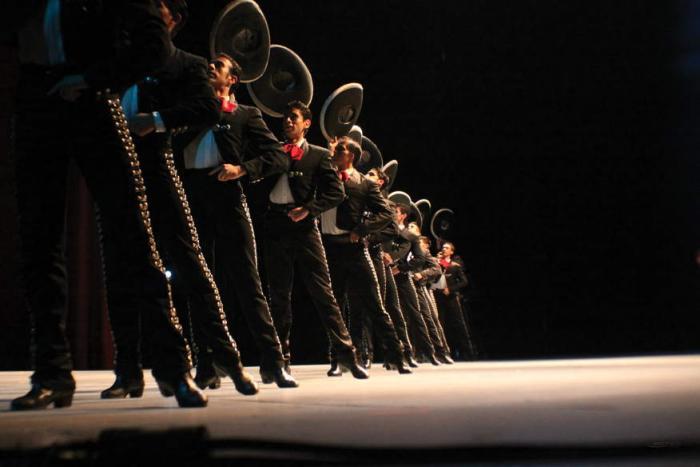 5 MEXICAN MOVERS AND SHAKERS
THE LAWYER
A partner at Nader Hayaux and Goebel, Yves Hayaux moved to London to open the UK's first permanent office of a Mexican law firm and soon after set up the Mexican Chamber of Commerce. In 2015, he plans to take the Chamber to the UK regions in a bid to "challenge perceptions about Mexico as a place to do business...when people think of Mexico I would like them to think about young, hard-working, creative individuals." www.mexicanchamberofcommerce.co.uk
THE SOCIAL ENTREPRENEUR
Not only did she set up her own social enterprise in London, matching young people to apprentice ships, Laura Vanessa Munoz. is co-founder of BritMex, a networking organisation set up to facilitate bi-cul- tural partnerships between amongst future leaders in Mexico and The UK. www.britmexgb.com
THE ARTS PROMOTER
When Daniela Fernandez and her Mexico-based partners decided to showcase a number of up and coming artists in London in 2014, they had no idea how quickly the project, Shaped In Mexico, would snowball into a week-long event at one of London's highest profile venues. www.shapedinmexico.com
THE MESCAL AMBASSADOR
Ten years ago Eduardo Gomez was drinking "low- grade mescal" on holiday in the state of Oaxaca. Today he is the UK's best known Mexican spirit expert whose mission is to educate the British public so they can truly appreciate tequila and its distant relative, mescal. This year he plans to build on the highly successful London Tequilafest (September 2015) - a two day showcase that brought more than a dozen drinks produc-ers to a curious and increasingly sophisticated audience - by adding an extra date
in Liverpool in July. www.tequilafest.co.uk
THE MEGA GROCER
In pursuing her mission to share her passion for her Mexican heritage. Katya Torres, developed her online Mexican supermarket into an international brand. Winner of 2014 Entrepreneur of the Year, the Mexican mum is establishing Mexican food as a firm favourite in the UK. Having just have sold the franchise to Sweden the company is already on course for international domination. www.mexgrocer.co.uk
5 MEXICAN ARTISTS IN THE UK IN 2015
DANIEL GUZMÁN
South London's Drawing Room is currently exhibiting 'Chromosome Damage' the first UK solo show from Daniel Guzman. His earthy-toned sketches of Aztec deities are on show until late February.http://drawingroom.org.uk/exhibitions/ Chromosome-Damage
CARLOS AMORALES
When Margate's Dreamland sold its famous rollercoaster to Mexico it set in motion a cultural exchange that continues with the arrival of Carlos Amorales' new musical sculpture 'We Will See How Everything Re- verberates'. Visitors are invited to play the cymbals and see what happens. 14 March - 6 September 2015. www.turnercontemporary.org
DEBORA DEL MAR CORPORATION
It really is her name. Inspired by the art and ubiquitous branding she sees around her, the artist formerly known as Debora Delmar will make her UK debut with a solo outing at Modern Art Oxford in May.http://deboradelmarcorp.com
FRIDA ESCOBEDO
Architect Frida Escobedo sees art and architecture as complimentary - her work is perfect example of how the two blend. Now she is set to bring her vision back to the London Design Festival in September.www.londondesignfestival.com
ABRAHAM CRUZVILLEGAS
Having previously established himself as artistic recycler with 'autoconstruccion' at the Tate in 2011, Cruzvillegas has now bagged the first Hyundai commission for the gallery's cavernous Turbine Hall. All will be revealed in October. www.tate.org
5 MEXICAN PLACES TO EAT

LUPITA
With soon-to-be-three branches across the capital, Lupita serves London's best quality Mexico City-style street food. Worth going early as it isn't unknown for things to be taken off the menu once they sell out. www.lupita.co.uk
WAHACA
During the 2015 year of Mexico in the UK, the chain of restaurants started by former masterchef winner Thomasina Miers will be bringing over several big name chefs fromMexico including Alejandro Ruiz from Casa Oaxaca and Enrique Olvera from Pujol. Branches all over London. www.wahaca.co.uk
MESTIZO
Mother of three, Marysol Alvarado came to Britain in 1996 and after several years of looking in-vain for traditional Mexican food she opened Mestizo in Euston, which celebrates its 10th anniversary in March. www.mestizomx.com
MEZCAL CANTINA
Well located in Dalston hipsterville, this authentic cantina is a fine establishment with big portions and authentic Mex-Mex. Try the flautas. www.mezcalcantinabar.com
TAQUERIA
Born from the success of founder Dodie's Cool Chile Company, Taqueria reopens in the Spring following a refurbishment. Still churning out tortillas on the premises with the aid of 'El Monstruo' this West London spot will have a shiny new look and new ceviche-style dishes. www.taqueria.co.uk
5 MEXICAN THINGS TO DO THIS YEAR

WAVE A DAFFODIL
Considering Mexico's fondness for morose British bands, it's no surprise to learn that ex-Smiths frontman Morissey has a cult following. In April comes Mexrissey – where Mexican musicians give his music their special brand of ranchero melancholy. http://www.comono.co.uk/live/mexrissey- mexico-goes-morrissey-2/
JOIN IN, SIGN ON AND LISTEN UP
If you fancy meeting Mexicans making a difference, check out community groups such as www.mexicoamigo.co.uk, or volunteering with www.lovelifehope.com and www.london- mexicosolidarity.org. For all things Mexican log on to themexicanlondoner.co.uk or mexicanwave.com and Hecho in Mexico, a one hour internet radio show ever Monday presented by London-based Hortensia Celis at www.radioextra1.com.
LORD MAYOR GOES MEXICAN
In November 2015 the 800th anniversary of the event will be celebrated. Therefore, the private sector of Mexico will include a parade float displaying decorations related to the country and the presence of Mexican companies.
BALLET FOLKLORICO DE MEXICO
Mexico's national dance company return to London for the first time in more than twenty years. Forty dancers and sixteen musicians present this captivating spectacle of live music and dance drawing on Mexico's rich and varied history. The Ballet Folklórico de México has travelled to more than 60 countries and has been praised universally by the critics and audiences of millions.www.comono.co.uk
GET IMMERSED IN MEXICANIDAD
Shaping up to be one of London's annual September fixtures, Shaped in Mexico is a five-day pop up immersive art show bringing together over 20 talented and award winning artists, designers and musicians living in or inspired by Mexico. The event is the brainchild of Platform-C, a contemporary pop-up format gallery in London and its sister gallery in Mexico, Distrito 14. This year entails an open call for participation in which artists - Mexican by blood or creative choice - can put themselves forward. Watch this space.www.shapedinmexico.com
Elizabeth Mistry is a freelance journalist and former Mexico correspondent for The Herald.
Follow her on Twitter @ElizabethMistry
After a debut La Ciénaga (The Swamp 2001) that shook the world of...
Moqueca is A Classic from Bahia, mixed seafood and fish stew made...