Marlon's Lechona
Colombians love pork, and this stuffed pork, presented with a whole head attached, is the ultimate party feature served for Christmas, birthdays and any special occasion. It's filled with pigeon peas and cooked rice (deliciously yellow from Annatto spice) then baked under a crispy skin. My favourite way is to cook the pork belly in sous vide, which makes the meat very tender and extra juicy. The yummy crackling tops it and I also like to add a British touch - apple sauce - as well as my own homemade gravy. I often do this for Quinceañera parties – girls´ fifteenth birthday celebrations, which are still very popular within the UK Colombian community.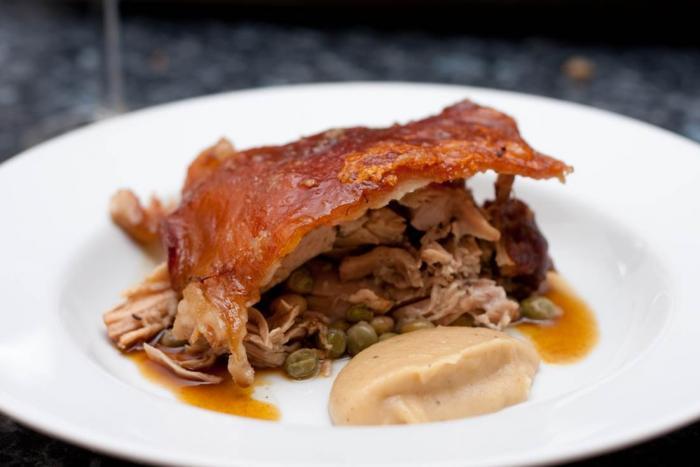 INGREDIENTS
Marinade
2 scallions
¼ onion
1 tsp ground cumin
2 tbsp Annato oil
salt & pepper to taste
Filling
1kg pork belly with skin
3 scallions, finely chopped
2 cloves garlic, finely chopped
1tbsp ground cumin
500g cooked rice
300g pigeon peas
salt & pepper to taste
METHOD
Prepare the marinade by blending all ingredients in a food processor into a paste, add some water if necessary. Cut the meat into large pieces and massage the marinade into the flesh. Place in a pouch, seal and leave in the refrigerator overnight.
Cook in sous vide at 85ºC for 16 hours. Then chill.
In a small roasting tray assemble two sets of layers of meat, cooked rice and pigeon peas. Then another layer of meat and finally the skin.
Preheat oven to 180ºC. Bake for 1½ to 2 hours or until the crackling is golden brown and crispy.
Marlon rruns a supper club in Battersea. To attend the next one clink here
Cuba's natural setting, with its own historical and cultural...