Martin Morales' Afro-Peruvian Selection
The influence from Africa is felt in many corners of Latin America and in Peru its light shines brightly through its incredible food, art and above all, its music. It is woven into the texture of Peruvian society and features vibrant colours and patterns. Involving traditional elements through percussion and harmony, vocals and dance steps, Afro-Peruvian music makes its presence felt in coastal Peru's many festivities. Its epicentre today is Chincha, the region where this enigmatic culture is most prevalent. Its name symbolises the beginning of a party immortalised by the saying 'Vamos Pa' Chincha', meaning, 'lets party'. Peruvian Restauranteur and music enthusiast Martin Morales shares his most cherished tunes.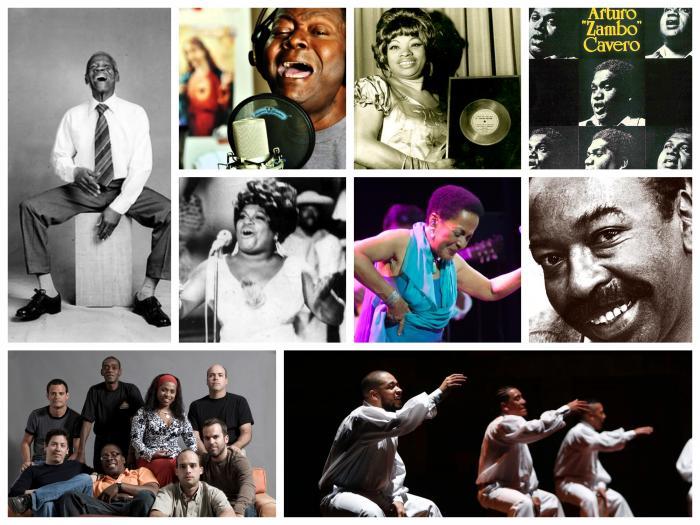 1. NICOMEDES SANTA CRUZ - 'RITMOS NEGROS DEL PERU'
This song is in fact a poem, or 'decima' which is a kind of poem and is featured on the seminal album Cumanana, the work that launched and established Afro-Peruvian music in 1964 following a rich but largely unchronicled recorded history. Nicomedes is the father of Afro-Peruvian music and movement. This is THE work thats starts all works of Afro-Peru.
2. ARTURO CAVERO - 'CONTIGO PERU'
Cavero was the Afro-Peruvian singer I most admired when I was a kid and to this day my favourite singer of all time. I met Cavero when I was in my 20s. He was kind, warm and funny. His tone, vocal personalising and phrasing is second to none and this work, like several of his, is a patriotic lament, much loved by all Peruvians.
3. LUCHA REYES - 'REGRESA'
Lucha was her namesake. A fighter. She struggled with racism, sexism and discrimination all her life as well as an abusive partner. Notwithstanding, she has become, in my mind, THE voice of Afro-Peru. This poignant song means 'return' and chronicles the painful story of a loved one which she yearns to come back into her life.
4. NOVA LIMA - 'BANDOLERO'
Novalima's Rafael Morales came up to me whilst I was djing in Notting Hill many years ago with his first demos. I loved them straight away, so I signed their first single and wrote the sleeve notes to their brilliant first full Afro-Peruvian album AFRO.
5. LUCILA CAMPOS - 'TORO MATA'
Credited as being written by the great Caitro Soto, this poignant song linked with bullfighting and the struggle by Afro-Peruvians in their liberation from Spanish rule is beautifully interpreted by the great Lucila Campos. I found this track on an album I collected and recently played it out and it took the roof off Ceviche Old St as people loved it.
6. PERU NEGRO - 'INGA'
Founded by the pioneer Ronaldo Campos, Peru Negro was established as a music, dance and culture group in 1969. This is one of their most representative songs, sung and performed at many of their concerts. I once went to their restaurant show in Barranco in the 90s and met Ronaldo. Charismatic and determined he explained to me the ethos behind Peru Negro and how they have managed to tour the world with their band. It was a phenomenal night and one which I will cherish forever.
7. CAITRO SOTO - 'ALCATRAZ'
Carlos Caitro Soto was a leading composer, musician and performer of Afro-Peruvian music. His compositions have become standards in the Afro-Peruvian repertoire and none more so than Alcatraz. A song and dance sung at every classic Afro-Peruvian event; its dance involves a man and a woman dancing in a ritual of courtship and includes lighting a fire on a handkerchief; a true spectacle to watch.
8. PEPE VASQUEZ - RITMO DE NEGROS
Peru cried and cried when Pepe passed away in 2014 at just 58 years old. He came from deep ancestral cultural heritage: his father was Don Porfirio Vasquez otherwise known as the Patriarch of Black Music, and on his mother's side is family was De La Colima, whose family includes Susana Baca, Ronaldo Campos and Caitro Soto.
9. BAYUMBROSIO FAMILY - 'VARIOUS'
Don Amador Bayumbrosio better known as 'Taita' sadly passed away in 2009, had 15 children who all became musicians and dancers of Afro-Peruvian culture. They live in El Carmen a few hours away from Lima and are the most important family of Afro-Peruvian culture in Peru. I stayed with them at their home once and will do again later this year to experience their music, dance and food. They are a great representation of the heart of Afro-Peruvain roots; a living cultural institution.
10. SUSANA BACA - AFRO-BLUE (Koop Remix)
Afro-Blue is a jazz composition by Cuban congo artist Mongo Santamaria which here Susana has reinterpreted fusing jazz and Afro-Peruvian rhythms and sentiments. I first met Susan at an event at her home when she signed with David Byrne's Luaka Bop. I'm a huge fan and Im also a fan of the band Koop which I signed in the mid 2000s.
Chincha Sundays - Afro Peruvian fiesta at Ceviche Old Street (2 Baldwin Street, London, EC1V 9NU)
September 3rd/October 1st/November 5th 12-6pm
Live: Master percussionist Kieffer Santander & friends
DJs: Martin Morales & Cal Jader (Movimientos)
http://www.cevicheuk.com/news?id=525182
https://www.facebook.com/events/175644742978505/