Memorable Films: Hectór Babenco and 'The Kiss of the Spider Woman'
Commemorating the death of one of Latin America's great film directors, Hectór Babenco, who succumbed to a heart attack a year ago today at the age of 70, Corina Poore remembers his most memorable film 'The Kiss of the Spider Woman'
Just after his family has escaped Nazi Poland, Hector Babenco was born in the seaside resort of Mar del Plata. Argentina, on February 7th 1946. Babenco's mother was a Polish Jew and his father was a Ukrainian, with whom he fought so much that he left home at 18 for Spain. The he struggled with homelessness and worked as an extra on spaghetti westerns. When Babenco finally returned to South America he chose to settle in Brazil, where he worked taking photos of customers in restaurants and sold encyclopeadias door-to-door. These experiences living on the edges of society remained with him and he used them to good effect in his films.
The Kiss of the Spider Woman (1985) featuring William Hurt as Molina and Raúl Julia as Valentín, is perhaps Babenco's most famous film. It was the first ever independent film to be nominated for an Oscar. William Hurt won the Oscar for Best Actor, and Babenco was nominated for best director.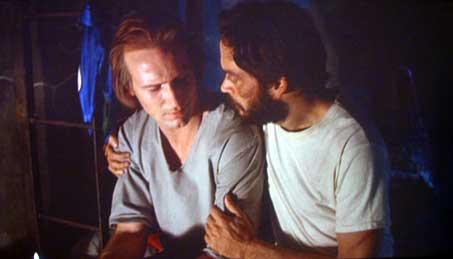 Previously, Héctor Babenco had a hit with Lucio Flavio (1977), about a notorious Brazilian bank robber, which was a daring exposé of police corruption, death squads and torture. This was first screened at the height of the brutal Military Regime in Brazil, which was a dangerous thing to do. It was followed by Pixote (1981), the moving tale of a homeless street kid in São Paulo, prompting references to de Sica's 'Shoeshine' and Buñuel's 'Los Olvidados'.
Babenco had by now established some powerful themes that were to recur in many of his subsequent films: How do people behave when trapped, either physically within prison walls or due to the dire circumstances of their existence? How do people maintain their human dignity, even their compassion, when faced with appalling physical circumstances and a society that wishes to destroy them?
This was powerfully depicted in the astounding Carandiru (2003) set in what was Brazil's largest and most crowded jail. Carandiru is based on the first- hand memoirs of Dr Drauzio Varella, who was in charge of an HIV prevention programme at the notorious prison and who got drawn into the complexities of the intimate lives of the inmates. The film only came about because Dr Varella was persuaded to write down his experiences by one of his cancer patients outside the jail. This was non-other than Héctor Babenco, who then vowed to make a film better than the book itself, in honour of the Doctor's work in saving his life.
The real-life stories of the grossly overcrowded prison (it had double the 4000 maximum of prisoners allowed) are profoundly moving, all the more so, as a fairly innocuous argument over some laundry escalated into a massive riot, (October 1992) that left 111 inmates dead, in what is now known as The Carandiru Massacre. The prison was subsequently razed to the ground.
These themes were echoed again in Ironweed (1987), set during the Great Depression, It was filmed a couple of years after 'Kiss of the Spiderwoman', in which Meryl Streep and Jack Nicholson superbly underplayed two homeless drunks to great effect, which earned them both Oscar nominations. Babenco went on to make another 8 or 9 films and yet, it is The Kiss of the Spider Woman that remains the most unforgettable.
The' Kiss of the Spider Woman', the story of two cellmates incarcerated in the same cell during a brutal Military dictatorship somewhere in South America, was adapted from the Argentine writer Manuel Puig's book of the same name. This book was itself a milestone, written entirely in dialogue with no physical description at all, except for some ambiguous footnotes. Leonard Shrader does a masterly job of creating the screenplay while still respecting the original. The book, written in 1976, was banned in Argentina until 1983, when the democratic government of Raúl Alfonsín took over in Argentina.
The film was made on a relatively low budget (US$1.8 million) and the actors agreed to forgo their pay in lieu of box office returns. Initially Burt Lancaster was scheduled to play the effeminate, homosexual window-dresser Luis Molina, but eventually William Hurt made the role his own, with Raul Julia as the political prisoner Valentin Arregui.
The gay Molina had been jailed for 'corrupting minors' and the film had a phenomenal resonance at the time (1985) as the HIV/Aids issue had just hit the headlines with a vengeance, and there was a great deal of festering prejudice against gay men, let alone on screen! As Hurt, who won the best actor Oscar for his performance, said at the time: "We had something to say about not just gay rights, but about feminine and masculine relationships, and the nature of courage and what it means to speak the truth to a power so much greater than you are."
Valentín, on the other hand, was a militant political activist, obsessive about his cause, and until he was captured, was part of a revolutionary group trying to overthrow the government. Valentin is tortured relentlessly, but only believes in rationality and empirical truths, while Molina copes with the despair at his incarceration by endlessly recounting his favourite movies in great detail. Valentin is very brutal to Molina: "… you wouldn't know reality if it stuck a spike up your ass!" He is contemptuous of his tales, rejecting them as bourgeois and a superficial distraction from the important goals of life as per his personal political beliefs.
"Life is as trivial as your movies! says Valentin Arregui, to which Molina replies: "Unless you have the keys to that door, I will escape in my own way, thank you". Despite their ideological incompatibility, partly through Molina's simple acts of kindness as he nurses Valentin's wounds, they form an intimate bond and this relationship changes them both forever in different ways.
The film opens with Hurt describing a scene from one of the films: "… well… she's somehing a little strange…that what you notice… that she's not a woman like all the others…she seems all wrapped up in herself…lost in a world she carries deep inside her…"
This beguiling opening sets the scene between what is and what seems, and we gradually understand the passion and depth of the subject. Through the claustrophobic tension, the deeper themes of manhood, love, compassion and even heroism, unfold slowly through the narrative which is anything but trivial. The threat of betrayal lingers and produces a layer of suspense over the credible and genuine affection that grows between them.
Of course, things are never quite what they seem and unexpected depths are subtly introduced with simple gestures and few words. The movie plots are woven in, films-within-the film, with fantasy scenes, be they a Nazi crime melodrama or a film noir thriller about a spider woman. All these scenes are played by the superb Sonia Braga, who also appears as Valentín's lover, fusing reality and fantasy. What initially appears to be only the development of a relationship between these two people begins to show a darker side, with unexpected developments.
Kiss of the Spider Woman, was tipped at the Oscars by the Shawshank Redemption. This production managed to bring together two top actors, a good story and a superb director, all at the top of their game, with so much originality and a deep understanding of how to develop a story, so that it is both brutal and poignant, and totally memorable at the same time.
Kiss of the Spiderwoman (1985)
Director: Héctor Babenco
Luis Alberto Molina: William Hurt
Valentín Arregui Paz: Raúl Julia
Leni Lamaison/Marta/Spider woman: Sonia Braga
Novel: Manuel Puig
Screenplay: Leonard Scrader
Producer: David Weisman
Cinematographer: Rodolfo Sánchez
The Film is available on DVD & Blue-Ray