MERCEDES RUIZ @ SADLERS WELLS
Mercedes Ruiz' fiery charm and intimacy leave her audience spellbound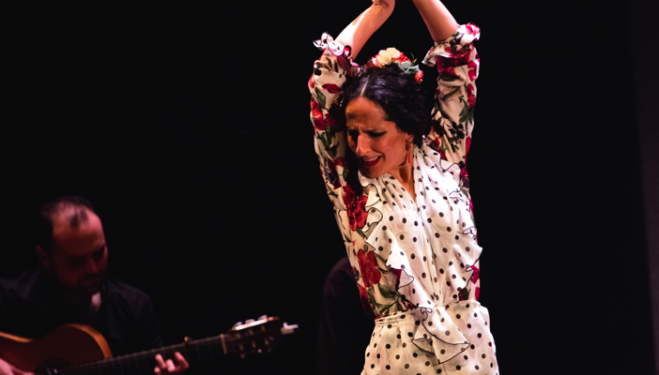 First an admission. I am not a flamenco expert, indeed I know very little about this distinctive Spanish art form. But from the moment Mercedes Ruiz appeared on stage, with her back to the audience, and began clicking her fingers, she held my complete attention.
There was no set, no gimmicks, no jazzing it up or pushing the boundaries. Just traditional flamenco, brilliantly performed. Ruiz snapped her fingers, stamped her feet, played the castanets, twirled her shawl and danced with intensity, yet joy, sometimes still and introvert, and at other times like a whirling dervish.
The show is called Déjame que te baile, or Let me dance for you, and that's what Ruiz did. She danced for the audience, her gaze and wide smile directed for the most part at us. But she was also dancing for and with her musicians, improvising rhythms and creating a conversation.
Special mention must go to the wonderful guitarist, Santiago Lara, as well as the two singers, David Lagos and David Carpio, who duetted with Ruiz and sang solo, in very different styles. Lagos had the more melodious tones, while Carpio's idiosyncratic voice reminded me of a muezzin's call to prayer - I got the sentiment, but sadly not the words.
At the end, all the musicians, including the clappers and percussionist, took it in turns to play the guitar and show off their dance moves. Ruiz urged them on, but ultimately, it was she who was the dancing queen. The audience went wild.
Flamecno Festival carries on at Sadlers Wells until Feb 26. info and tickets here
Cuba's natural setting, with its own historical and cultural...
From garage parties in Panamå to the awards ceremonies of Miami, how...