Mexico's Ranchera-Pop Anti-Diva
Blending traditional Mexican ranchera sounds with elements of the Pop and Rock she grew up with in Tijuana, Julieta first landed on the Mexican Rock scene in the nineties and has since won a Grammy, been nominated for two Latin Grammys, including for her latest album Algo Sucede and become one of the most prominent artists in alternative Latin music. Latino Life interviews Mexico's rare anti-Diva ahead of her stripped-back, accordion-led show at the Barbican next week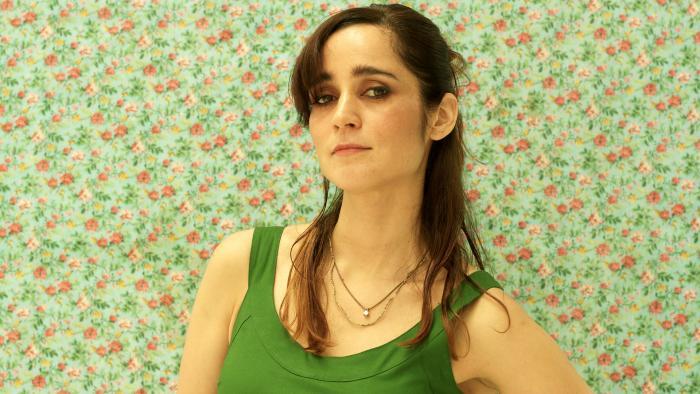 Julieta Venegas doesn't seem to stop. When the phone call comes through, Julieta is in the Canary Islands, just about to take a plane from Fuerteventura to Tenerife, and play one day after in Gran Canaria. A few days after touring continental and insular Spain, she will land in the UK for a day, then France, Switzerland, Russia, and back home after several more stopovers in the US.
After last year's presentation and tour of Algo sucede (Sony, 2015), the album that won the Latin Grammy Award for Best Pop/Rock Album, the Mexican composer and singer is on a parallel tour called Parte Mía, all with a six year old daughter in tow.
The talented Mexican artist born in 1970 in Long Beach and raised in Tijuana began to play piano when she was eight, before continuing with theory, singing lessons, and cello. Through her teen years she played in several bands and composed prolifically as she developed a unique style. In 1996 she recorded Aquí (Here) her first solo album with BMG, produced by renowned Gustavo Santaolalla. Although she gained enormous prestige throughout the next five years playing with some of the most important Latin American artists it was not until the albums Sí (Yes, 2003) and Limón y sal (Lemon and salt, 2006) when she gained popularity in the Latin America.
Two years later she recorded Julieta Venegas MTV Unplugged (2008), the album she presented in London about a decade ago with a big band of more than 10 musicians including and a brass section and string quartet, quite a contrast to this year's trio.
Latino Life: You seem to be very busy these days, Julieta….
Julieta Venegas: Yes, we are super busy, with shows almost every day. But it's also super cool. This is a more intimate tour than what we do with Algo Sucede which allows us to change the pace and breath fresh air. The Parte Mía Tour is a trio, with Matías Saavedra Fierro and Sergio Silva. We all play a few instruments, and instruments are an important part of this show. We also wanted to return to the essence of the songs. We're happy because we really enjoy playing together and its going really well.
LatinoLife: How is it touring with a young daughter?
"Touring has changed quite a lot. Although we're now doing 14 shows in about 1 month, in the middle I go back to Mexico and bring Simona (6), and then we'll do the rest of the tour with her, and with our families. The truth is, I've been travelling quite a lot, but never for very long. We try to fit all our shows in short periods so that we don't have to be out of home for long."
Latino Life: And how is a typical day at home in Mexico?
JV: "When I'm back for only a few days, in between tour dates, I run behind Simona all day, I help and accompany her in her things, cook, and do things like that. I don't do any writing. I regularly don't write when I'm on tour, really. But once I've finished a tour and I'm back home I re-establish a routing and start to write and to work on new projects. I work pretty much during office hours, from 10am to 5pm. I go to my studio, only two doors away from home, and I lock myself to write and record stuff. At 5pm I'm back home and that gives Simona and me our dynamics, so that we know what time we'll be back at home and spend time together."
You have worked with some of the most renowned Latin producers such as Gustavo Santaolalla and Cachorro López. How have they influenced your work?
"What I mostly want from producers is their help to get the most of each song. So they help me structure with the structure and to get the internal balance right. I always loved the side of the arrangements and always worked well with that. But I used to be quite messy when writing, with choruses that did not repeat later or things like that. The songs are the essence of everything, and if they are not well finished, the resulting quality of the album is poorer. After writing, for instance I like someone to help me separate what is good from what is not so good. The selection is then more objective and not purely related to the need I felt to write them. A song also needs to make sense within the whole album, so they help me with all that. I've been very lucky with the people I've worked with. With Cachorro we also work a lot with the sound and explore where to go. With him, as with Coti [Sorokin] we have composed some songs together and we have a great complicity."
Julieta Venegas performs hits from across her career including 'Me Voy' and 'Limón y Sal' with Matias Silva and Sergio Saavedra. Tickets at https://www.barbican.org.uk/music/event-detail.asp?ID=20369